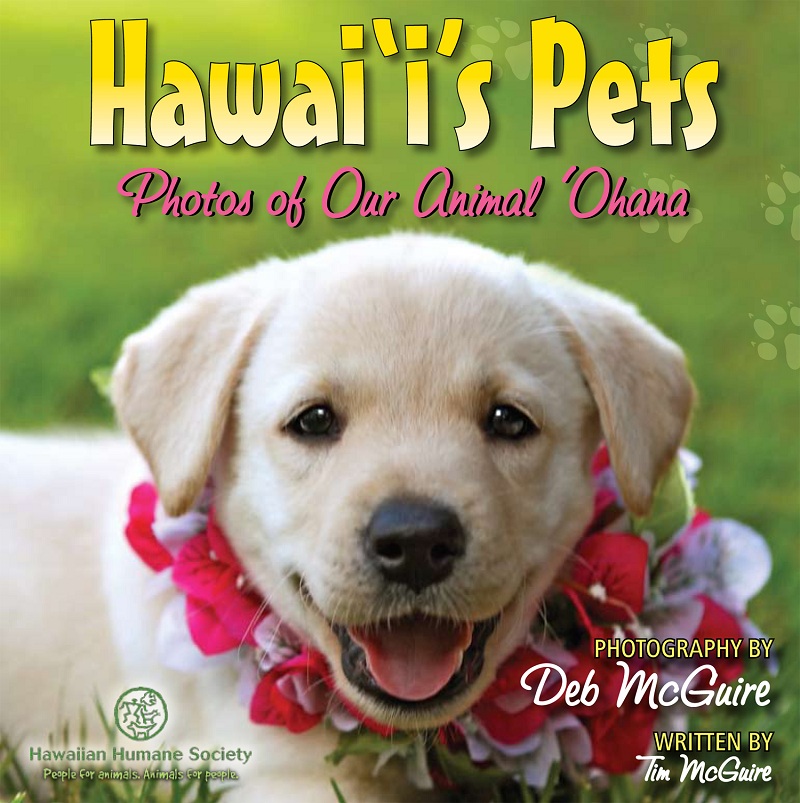 How can you not be drawn into that cover?  I first saw it on Mutual Publishing's Facebook page months before it was released.  Those puppy dog eyes, and puppy dog ears, nose, tongue; I was surprisingly eager to check this book out.  [Full Disclosure:  I admit I have a soft-spot for scrappy, little puppies.  I also thoroughly enjoy Animal Planet.]
When Hawaiʻi's Pets: Photos of Our Animal ʻOhana finally came in, I quickly tore into its pages—just ask Misty.  Deb McGuire's full color photographs of the animals are both charming and delightful.  This book is obviously geared towards pet/animal lovers, and if you're looking for up-close-and-personal shots of animals with big personalities, then this is the book for you.  Deb does a fantastic job capturing each pet's demeanor and unique characteristics in vivid close-ups and profiles.
If, however, you're leaning less towards the Pets side of the book title and more towards Hawaiʻi, then you may be slightly disappointed.  Misty and I both agreed that the book could have better represented Hawaiʻi with more local scenes or props that weren't too beach-generic.  However, as if to rebuke my own minor criticism, Deb McGuire offers this tip on page 75:
[gn_quote]Despite all the beautiful scenes these islands offer, sometimes it's best just to keep the background simple and make your pet the star.[/gn_quote]
Well, what do I know about pet photography!  🙂  After all, the stars here are the pets and most of the photos are high quality portraits, often capturing a specific emotion, action, or just plain adorableness.   When scenery did come into focus I felt the most effective areas were not necessarily the beach shots, but scenic photos with landmarks such as the Arizona Memorial and Mighty Mo in the background.  One of our favorite photos is of a (I believe) bassett hound standing on the curb in Chinatown, looking off to the side as if in deep thought or anticipation of where to find some good Chinese food.  I'd recommend Char Hung Sut if he's ʻono for manapua.
The writing itself is relegated primarily to large-print captions of the photographs, with content ranging from cute to corny.  More useful are the photography tips that sporadically pop up throughout the pages such as capturing glam shots before action shots (so your pet won't look dirty) and great ideas for how to turn those pictures of your pet walking away from you into a photo-op that tells a story. The photo tips were interesting and practical and we wished there were more.
Unfortunately, Hawaii Book Blog's favorite canine-turned-model Chi Chi Bun was nowhere to be found in this book!  I'm not sure if he (or she) was contractually unable to appear in Hawaiʻi's Pets due to his (or her) lucrative modeling career, but certainly the inclusion of a superstar like Chi Chi Bun would bring a heft of star power to this already charming photo book.
All kidding aside, Hawaiʻi's Pets is a cute pet photography book that animal lovers of all ages will enjoy.  While the textual content is nothing short of cheeky captions and useful but too-few photography tips, the colorful photos of lively and personable pets will spur the imagination of any animal-loving child or child-at-heart.
One final important thing to note:  Mutual Publishing is donating a portion of the proceeds from this book to help the thousands of animals that the Hawaiian Humane Society serves.  If the puppy dog eyes on the front cover didn't get you, then this act of generosity towards helping animals surely will.
Hawaiʻi's Pets: Photos of Our Animal ʻOhana
Photography by Deb McGuire
Written by Tim McGuire
Mutual Publishing, 2011
Hardcover, 96 pages
ISBN: 1-56647-951-7