There is a great sense of preservation at Kaneohe Library.  When speaking with Thomas Churma, we felt that under his management the library had a strong sense of safeguarding its past by balancing it with technology of the present.  There is no greater example of this focus than in Thomas Churma's goal of digitizing the book Kāneʻohe: A History of Change. This book is essentially a report that was written at the request of the U.S. Army Corps of Engineers for "a narrative history of land and water use in the Kaneohe Bay area from the earliest available records up to 1950, when urbanization burgeoned."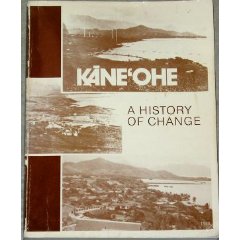 Published by Bess Press, Kaneohe is a book filled with statistics and facts; history and developments.  It is divided into the following major sections:  Introduction, Population, Land History, Cultivation/Agriculture, Water/Forests, Marine Environment, Endangered/Threatened Species, History of the Pali Road and Aerial Photographs and Changes.  Most of the book was authored by three Bishop Museum staff members:  Dr. Dennis Devaney, Invertebrate Zoologist; Marion Kelly, Anthropologist; and Lee Motteler, Geographer.
The book starts with an informative introduction by Marion Kelly detailing the relationship between Hawaiians and their environment.  It provides the reader with a quick base with which to compare the drastic developmental changes that will occur in later sections. Kelly ties together the nature of this relationship through various ancient Hawaiian legends, and how this influenced their customs and lifestyle which managed their connection with the land.
Man's relationship to the land in Hawaiian society can be summarized by two principles.  One is that everyone had the right to all things required to live; the other is the principle of conserving and generally taking care of their resources (mālama ʻāina).
Koʻolaupoko, which is the district of land encompassing Kaneʻohe Bay, is divided into nine ahupuaʻa, the largest of which is named Kaneʻohe.  I learned a lot of things reading through this book that I wouldn't have known before.  Don't be scared by the lists and graphs, it is actually rather fascinating to see the way the countryside transformed from fish ponds and taro patches, to sugar and rice patches, and then military and suburban sprawl.  This is a unique way of tracing the history of Kaneohe, through analysis of its biological, agricultural, anthropological and topographical changes.  Viewing the aerial photos, one of the more noticeable impacts of development is the decimation of the native coral in Kaneʻohe Bay.  In addition, a great number of ancient fish ponds that dotted the shoreline of the bay are no longer in existence, and in many cases have been filled with underground dredges to create the neighborhood communities that are still around today.  I don't live on the Windward side, so the impact of the visual changes aren't as significant to me, but I imagine it must be somewhat interesting to know your house is on the site of a former native Hawaiian fish pond.  Me?  I live on what used to be a shallow salt lake, apparently.
Kāneʻohe: A History of Change isn't the kind of book you would necessarily pick up for a leisurely read, unless you really garner great pleasure in history as told through research statistics (I'm like that sometimes).  But I think it provides a wonderful resource for students or academics in getting concrete biological data on the transformation of Koʻolaupoko from a rich fishing and farming land into the population center it has become today.  The writers actually do a terrific job taking all of the research data they give and drawing summaries and conclusions on the impact of each stage of development.  I would consider it the de facto data guide on Kaneohe, and because of this is an essential study tool that should be shared and reviewed by everybody.
Ultimately, I hope that Thomas Churma sees his goal of preserving and sharing the history of Koʻolaupoko come to fruition.  If everyone provides a bit of demand for the book, maybe we can help him achieve this.
Kāneʻohe: A History of Change
by Dennis M. Devaney, Marion Kelly, Lee Motteler
Honolulu, HI:  Bess Press, 1982 (2nd edition)
271 pages