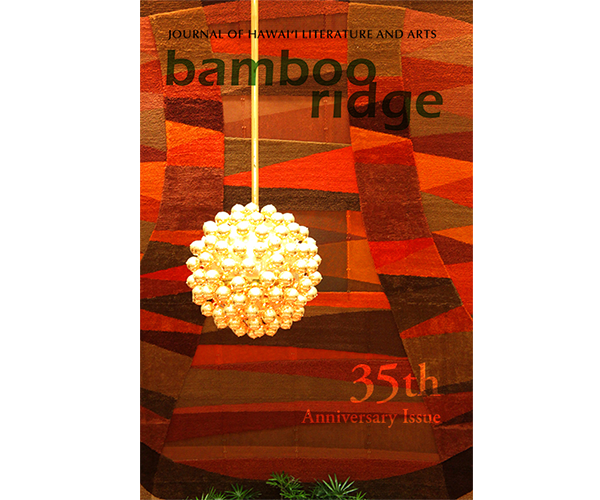 Bamboo Ridge Press has been an institution in the local literary world for the past thirty-five years, spanning 104 issues sharing the work of over 900 different authors. Every year, the publisher releases two volumes: one anthology and a single-author collection or book. For the 35th anniversary issue–an anthology–Eric Chock and Darrell Lum begin transitioning Bamboo Ridge for the future, doing so with the help of guest editors Lisa Linn Kanae and Lee Cataluna.
Opening the book are the Editor's Choice Awards picks. Christy Passion's poetry kicks off the collection with a lingering bang and fizzle. Her poems read of loss, both literal in possession and figurative in dreams and expectation. Though the feel is often melancholy, her use of words and imagery are sharp and jarring, like "the slap of metal zippers hitting the dryer door." Best Prose choice, Kevin Won continues with "Daniel 12.3," a funny and charming tale from the perspective of a "Rain Man" like boy who can see physics equations solving in the air, but can't see his mother's face. It is both scientific, frightening, and heartwarming.
In between is a nice portrait of weaver Ruthadell Anderson whose works adorn some of Hawaii's most notable art museums and public spaces. Included are glossy, color photographs of some of her favorite work.
The rest of Issue #104 reads of some of the best names in literary local writing. R. Zamora Linmark feeds us his unyielding stream including a raucous take on a Filipina 'The Help;' Juliet Kono's protagonist decries the loss and reclamation of her name; Lanning Lee delights with some "Amish Friendship Bread Starter;" Tyler Miranda get the Pidgin-kine ads, Cathy Song violently lamenting those damn crowing roosters, Gary Pak taking the reader on a Korean cultural tag-along; Lee Tonouchi's storytelling with the ukubillion funny lines; and so much more from the likes of Joe Tsujimoto, Frances Won, Kahikahealani Wight, Wing Tek Lum, Normie Salvador, Joseph Stanton, Amalia Bueno, and on and on.
There's a section highlighting the best of Bamboo Shoots (try write and this could be you!) featuring upcoming writers Donald Carreira Ching, Richard Melendez and Terri Nakamura. And the collection ends naturally with some exciting new writing from our editors! Of course, don't forget to look out on page 152 to see a short local take on 'The Breakfast Club' by our very own Misty.
Be sure to help celebrate 35 years with Bamboo Ridge Press by purchasing the book (link below) for only $18 and also by attending one of the many fantastic readings that will be happening starting tomorrow (Sunday) and lasting through the week. Details are below.
Bamboo Ridge Issue #104
edited by Eric Chock, Darrell H.Y. Lum, Lee Cataluna, Lisa Linn Kanae
Bamboo Ridge Press, 2014
Softcover, 280 pages
ISBN: 978-0-910043-90-8
[gn_divider /]
Bamboo Ridge 35th Anniversary Issue Events
Bamboo Ridge Issue #104 Preview Party
Sunday, November 16, 2PM at Native Books Hawaii –
Free and Open to the Public. Free Parking at Ward Warehouse.
Featured readers:
Lanning C. Lee
Prana Joy Mandoe
Wing Tek Lum
Joseph Stanton
Kahikahealani Wight
Frances Won
M.I.A. presents 35 Years of Bamboo Ridge Press
Monday, November 17, 7:30pm. Fresh Cafe's Loft in Space (831 Queen St.)
Free and open to the public.
Featured readers:
Frances Won

Kevin Won
Misty-Lynn Sanico
Richard Melendez
Eric Paul Schaffer
Donald Carreira Ching
From Roots to Shoots, a Wine & Words Fundraiser for Bamboo Ridge Press
Tuesday, November 18. 7PM at Manoa Valley Theatre
Featuring:
Bamboo Ridge Press founding editors Eric Chock and Darrell Lum
BAMBOO RIDGE Issue #104 guest co-editor Lisa Linn Kanae
Editors' Choice Award winners Connie Pan, Christy Passion, and Kevin Won
Bamboo Shoots coordinator Lanning C. Lee
Buckaloose Gang members Donald Carreira Ching, Richard Melendez, and Misty-Lynn Sanico
Da Pidgin Guerilla Lee A. Tonouchi
AND Brenda Kwon, previewing her upcoming collection, THE SUM OF BREATHING
Out Loud in the Library presents Bamboo Ridge #104 Readers
Thursday, November 20, 5:30PM at Windward Community College Library
Free and open to the public.
Suggested donation: $50.00. Call 626.1481 for tickets
Featured authors:
Donald Carreira Ching
Richard Melendez
Misty-Lynn Sanico
Joseph Stanton
Kevin Won
Bamboo Ridge #104 Authors at Leeward Community College
Friday, November 21, 12:00PM at LCC's Student Lounge
Free and open to the public.
Featured readers:
Donald Carreira Ching
Elmer Omar Pizo
Eric Paul Shaffer
Kahikahealani Wight
Frances Won