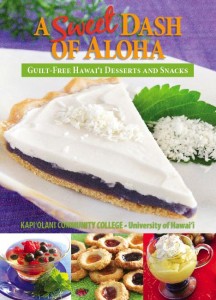 Happy New Year!
I'll admit, it's pretty easy for me to rationalize poor eating habits during the holidays. Really, it takes me no effort at all to come up with 101 reasons why I need to eat a different Christmas cookie everyday.  But then the new year comes and weeks of carefree eating catch up with me and I resolve, like everyone else, to get my butt back in gear.
That's why January is always an interesting month; it's the test of resolution endurance! For some reason when I'm on a diet I want to eat everything, even things I never cared or thought of before, simply because I'm telling myself I can't. But the collaborative contributors of A Sweet Dash of Aloha – Guilt Free Hawaiʻi Desserts and Snacks (Watermark, 2011) believe it's about providing options instead of setting restrictions. It's about "eating pono" (which I agree with, though I could have done without the health sermon served up in Chapter 1).
A Sweet Dash of Aloha is the answer to my 2012 resolution prayers, but it's not just for those of us looking to cut back. The recipes in this  book are perfect for people with dietary restrictions on sugar and gluten. It offers many delicious and tasty options so that you can enjoy the sweet life and maintain your health at the same time.
The book encourages the use of local fruits and vegetables because "quality and freshness equals better nutrition and flavor." Who can argue with that? At the back of the book there are seasonality charts for both fruits and vegetables which come in handy for those of us who want to shop at the Farmer's Market and look like we know what we're doing. There are also useful nutritional facts for raw vegetables. In fact, each recipe includes nutritional data providing fat, cholesterol and carbohydrate info per serving.
There's no guilt in ogling the glossy pages and color pictures because these recipes are all under 400 calories, most of them under 200.  As someone who loves food porn, however, I do wish there were a bit more photographs in this book. What I feel is especially useful and unique about it are the "alternative pages" where the authors talk about alternatives to sweeteners, alternatives to eggs, etc. as well as the chapter dedicated to myths about diabetes. Plus, for all you bread lovers out there—my people—a whole chapter dedicated to baking healthy homemade breads.
Overall, this book is a sweet addition to Hawaiʻi's large local cookbook selection.  Some high points to check out:  Chocolate-Dipped Macaroons (made with tofu!!), the Orange Cous-cous Cake, the Pumpkin flan, and the Chocolate beet cake. For those who prefer more savory fare, there are a handful of recipes to suit you like the Garden Tacos, but honestly, it's mostly sweet, fruity dishes in this book.  For more entree-like recipes, see this book's predecessor, A Dash of Aloha.
A Sweet Dash of Aloha- Guilt Free Hawaiʻi Desserts and Snacks
Author: Kapiolani Community College
Watermark Publishing, December 2011
Softcover, spiral bound; 196 pp.
[gn_divider]
Food demonstrations and book signing events:
SATURDAY, January 14th 11am-noon. Barnes & Noble Ala Moana
Food demonstration by chefs Alyssa Moreau and Carol Nardello
Facebook Event page
SATURDAY, January 21st 11am-noon. Barnes & Noble Kahala Mall
Food demonstration by chef Carol Nardello
Facebook Event page
*Disclaimer: HBB received a complimentary copy of this book from the publisher in exchange for our honest review.