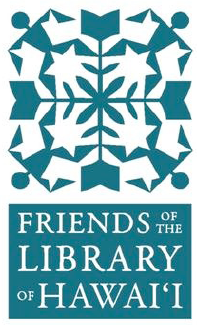 We're at t-minus 3 days until the start of the 63rd Annual Friends of the Library of Hawaii Book Sale! For those of you unfamiliar with this event, it's Honolulu's biggest book sale of the year and a prominent week for our literary community since all the funds go to support our public library system.
It's a book lovers dream as volunteers constantly fill and refill an entire cafeteria with discounted, used books. There are innumerable deals to be had and treasures to be found. The books are not only from library stacks but also donated from private collections and people in the community, so every year is a surprise! You can find just about anything of interest there–books of all genres, magazines, journals, rare items, comics, even CDs and DVDs.
HBB is usually there the first day, live blogging/ tweeting the layout and which sections look most promising so that you'll be prepared in advance for your literary hunt. Although a bit hot during the day, the Friends of the Library volunteers do a good job of maintaining the crowd and checkout lines. Alex and I love to visit after work in the evening when it's cooler and we can take our time perusing the stacks and boxes.
The only problem is lack of space for all of our new additions– Alex and I had to make a deal a few years back that we'd get rid of books before adding new ones. So, every year before the book sale we each go through our shelves and pull what we feel we can let go of, it's easier said than done. Check out this examiner.com article for some useful tips on de-cluttering your bookshelves, tune in to our twitter feed this Friday night for the early scoops on the sale, and go find your luggage carriers… cuz, oh yeah, it's book sale time!!
Support Hawaii's public libraries and go green at the same time–buy books at the annual book sale! If you can't make it to the sale, you can still donate online and help keep the libraries open.
EVENT INFO
McKinley High School Cafeteria, 1039 S. King Street
June 18 – Members' Preview Sale, 5:00-9:00 PM
New members are welcome to join at the door.
June 19-27 – Open to the Public
Daily Hours:
June 19 – 9:00 AM to 9:00 PM
June 20 – 9:00 AM to 8:00 PM
June 21-24 – 11:00 AM to 7:00 PM
June 25 – 11:00 AM to 8:00 PM
June 26 – 9:00 AM to 9:00 PM (All books 50% off!)
June 27 – 9:00 AM to 1:00 PM (All books 50¢ each)
Check out the Friends of the Library of Hawaii website for more information, photos from last years sale, membership forms and more. Or you can call (808) 536-4174