Short story anthologies are a great way to "Read Local" if you're short on time (yay puns!). Short story collections can be a convenient way to experience a diverse array of writing styles and literary flavors. They are also a useful way to introduce readers to new and different authors.
Here are two great anthologies published this year by local writing chapters. We encourage you to check these out and discover a new author today! All books are available in print and ebook format.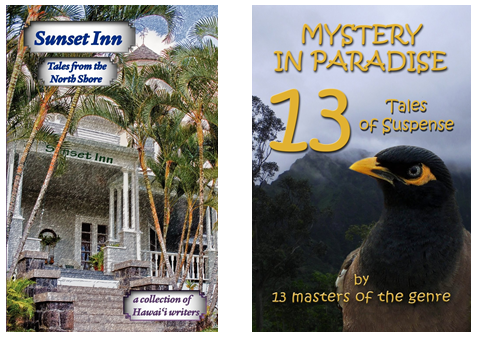 Sunset Inn: Tales from the North Shore is put together and published by the Romance Writers of America Aloha Chapter. Edited by authors Sally Sorenson, Carol Catanzariti  and Michael Little this book has stories and poems of all kinds, not just romance. It's a wonderfully specific example of how "place" enriches literature and vice-versa. With seasoned writers like Jodi Belknap, Jill Marie Landis and Patricia Wood, you're guaranteed to find something you like in its pages.
Mystery In Paradise: 13 Tales of Suspense  was recently published by a collection of authors associated with Hawaii, some of them are key members of the Sisters in Crime Hawaii group (men are welcome too!). With stories by established novelists like Gail M. Baugniet, Laurie Hanan, Tyler Miranda, Lehua Parker and more, it's packed with mystery of all types. Here's a grab you won't want to miss. And the ebook is priced just right! I hope to see many more collections from these guys… because once you're finished with these thrills you'll be mysteriously hungry for more. (I am a buffet of puns.)
After reading these well crafted bites of prose, you may be inspired to write a short story of your own. Check out these literary groups and consider joining their ranks. It's an ideal way to meet new people, talk about books, hone your skills and get feedback from some local and national pros.