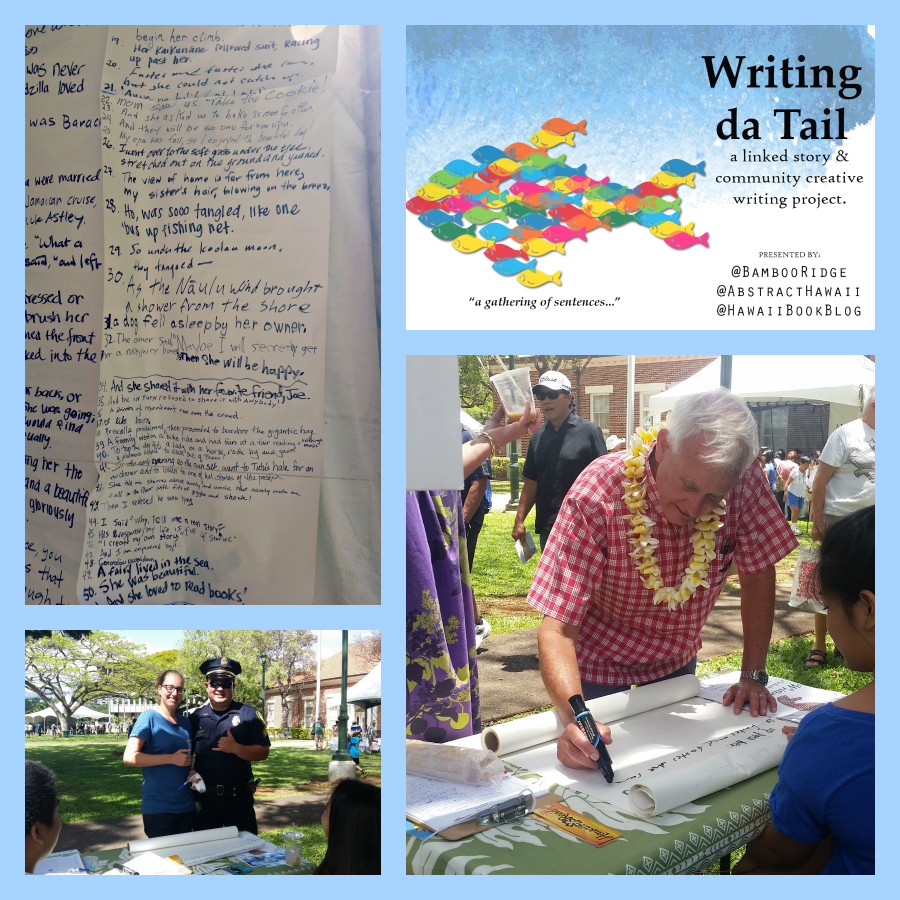 WRITING DA TAIL 2015
Mahalo to everyone who wrote a sentence and participated in our collaborative community story at the 2015 Hawaii Book and Music Festival. Our "sequel" wasn't quite as long as the story last year, but it was equally entertaining with sudden twists that were humorous, dramatic, and poignant at every turn. Writing just one sentence proved to be a challenge for most and there were liberal uses of commas and semi colons. Also, we noticed that people really love to use exclamation points. 🙂 But it was definitely fun… and we even had a visit from Mayor Kirk Caldwell, and a friendly HPD officer who were both happy to contribute a sentence.
We hope to share more community writing stories with you at other literary events in the future. Thank you to Bamboo Ridge Press and Abstract Magazine for co-sponsoring this project with us, and to the HPU students who volunteered at the writing table.
Here are both of the stories written over the weekend, each day of the festival we began a new tail (tale). For the most part, they are transcribed exactly as written.
SATURDAY

One day in beautiful Hawaii nei, there was a fish in Waikiki Beach.
Who fell in love with Godzilla.
Tragically their love was never meant to be, for Godzilla loved another.
And that other was Barack Obama.
Obama and Godzilla were married at once and went on a Jamaican cruise where they ran into Rick Astley.
Then Susan woke up, "what a strange dream," she said and left for work.
She didn't get dressed or have coffee or brush her teeth; she opened the front door and walked into the clouds.
She didn't look back or wonder where she was going; she knew she would find her place eventually
With faith guiding her, the clouds parted and a beautiful rainbow arched gloriously in the distance.
In the distance, you can see stones that collect through time to form the path that made you who you are today.
It was a path you were afraid to take and still gives you pangs of anxiety, but was the best choice.
The trees part to give way to mud and bamboo, thick and thorny.
The opening gave way to a blue pond, with beautiful golden Koi.
The tigers were still asleep yet.
Suddenly they heard a loud crash!
And instantly, there appeared seven rainbow!
One rainbow for each keiki in the woods.
The oldest keiki was the first to begin her climb.
Her Kaikunane followed suit, racing up past her.
Faster and faster she ran, but she could not catch up.
'Auwe no hoʻi! (oh! oh!)
Mom saw us take the cookie!
And she asked us to bake some more for others.
And they will be so ʻono for your opu.
My opu was full, so I enjoyed the beautiful day!
I went over to the soft grass under the tree, stretched out on the ground and yawned.
The view of home is far from here, my sister's hair, blowing on the breeze.
Ho, was sooo tangled, like one 'bus up fishing net.
So under the Ko'olau moon, they tangoed.
As the Naulu wind brought a shower from the shore
A dog fell asleep by her owner.
The owner said, "maybe I will secretly get her a nice juicy bone."
Then she will be happy
And she shared it with her favorite friend, Joe.
And he in turn refused to share it with anybody.
A shiver of resentment ran over the crowd.
"I like bacon."
Priscilla proclaimed, then proceeded to butcher the gigantic hog.
A family went on a bike ride and had fun at a fair reading and listening to music.
To top the day off a lady on a horse rode by and gave a plumeria blossom to each one of them!
Ion the early evening as the sun set, went to Tutu's hale for an ʻono dinner and to listen to one of her stories of the past.
She told me stories about Aunty and Uncle that nearly made me fall on the floor with fits of giggles and shock!
Then I realized he was lying.
I said "why tell me a real story!"
His response, "my life is full of stories."
"I create my own story."
And I am empowered by it.
Generations passed down.
A fairy lived in the sea.
She was beautiful.
And she loved to read books!
Then one day, everything changed.
And the caterpillar was gone and in its place a brand new being was exposed.
It flew for many days and nights across the Pacific Ocean until it came across a lovely princess.
One who could stand proud.
Ain't too proud to beg.
Said the BIG DOG
"I don't know what your problem is!"
Do you have a problem? Or, are you a problem?
No; each of us is a solution.
Beneath the mango tree we ponder the "why" and how we each can malama 'aina.
Then the mango fell, and hit her on the head, and she realized—take care of myself and the rest will follow; she learned to love herself and the universe took care of the rest.
She sighed and took a big, juice bite out of the mango.
A little green, she though, she was a little fearful, she'd been allergic to green mangoes as a child and remembered the rash she'd had.
It was her mother that showed her how to peel the skin from mangoes so no pieces were left,; then she would eat them with no problems, so 'ono!
If her mother did want to leave the skin on the mangoes, she cut them into halves, then the inner fruit into cross hatches—it was done so elegantly, it was unbelievable to those who thought she hadn't sliced deeply enough.
Then the mangoes exploded!
Into a delicious bread.
Became a chocolate swirl for a delicious banana bread and scooped a large Ben & Jerry's ice cream on top and called it life…
And I picked the trifecta at the Kentucky Derby today!
I like unicorns
They have beautiful rainbow halos.
But sometimes their halos fall off and they put them back on.
And they find it at the bottom of the sea… shining.
Where they laugh and sing with the mermaids.

SUNDAY

After taking a sip of "magic juice" Gabrielle started feeling a tingling sensation in her cleavage.
"I wonder what this could be" she thought to herself.
"At first it looked like a turtle, but now I'm not so sure…"
There was a pregnant pause as the scene briefly fell under the shadow of a passing blimp overhead.
Their eyes locked, neither sure of the others intentions, a passing train whistled in the distance as Jake tipped his hat and a slow smile spread across his face.
He knew what he must do next; time would tell if it would come to be.
Maybe he could fight it, but maybe he could not.
His heart tugging this way and that, he climbed in the canoe and left.
It would be a long time before he would return top that cove again.
The waves were crashing with the call of the past.
The moon reflected off the ocean, waves crest.
This was a sight like no other.
Like a mystical gem
The sky was the color of amethyst.
There was a gentle breeze blowing and the waves were crashing on the shore.
Suddenly, dark heavy clouds blew in from the north.
The trail laid out before them ready for the prints of their steps.
The path led down, descending into the deep dark forest.
No time to worry.
Time to make it happen!!
Time to live your life!
"Don't forget to take your friends!"
A preemptive move lets you lead instead of following…
The family of turtles, swimming out beyond the reef and into the deep ocean.
Vast and unknown!
His fate was sealed.
Gabrielle looked at him and said "Luca, you's a dead man."
Luca smirked at Gabrielle's remark as he has other plans.
Little did she know he actually had a romantic beach picnic planned.
However, she only saw him as her pet beluga whale.
She decided to call him Spout, the whale.
Out of the blue he said, "I love you!"
Then they both swam across the ocean.
And landed on a beach on a deserted island.
No food, no water, no one.
Just the three girls, nose to nose with the giant fire breathing dragon!
"I love you," said one of the girls, "you are hot and can fly."
But you're kind of annoying, what are you doing here anyway?
You turn around and realize you are here for the books; books, books, books!
Then you turned back around again…
And went to sleep, until the next morning when it all started again.