Press Release via Hawaiʻi Book Publishers Association: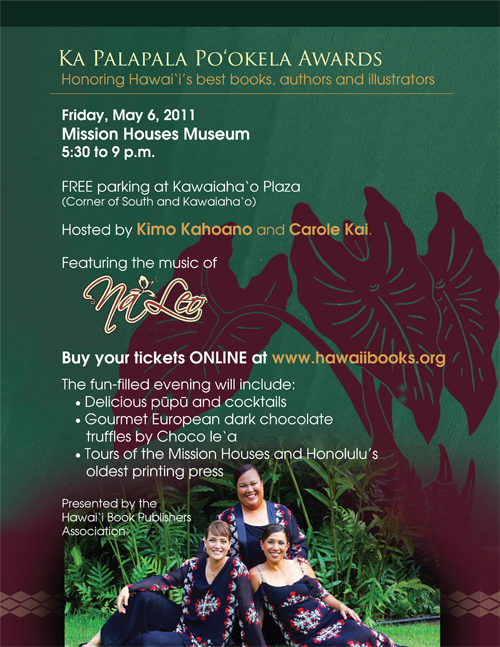 Click the flyer above to open PDF
Gala Event Celebrates the 2011 Ka Palapala Po'okela Book Awards
HONOLULU—The 2011 Ka Palapala Po'okela Awards will be presented by the Hawai'i Book Publishers Association at a gala event to be held Friday evening, May 6th, on the Mission Houses Museum grounds from 5:30 p.m – 9:00 p.m.. In addition to the centerpiece awards ceremony hosted by Kimo Kahoano and Carol Kai, the fun-filled evening will feature the music of renowned local trio, Nā Leo, as well as delicious pūpū, cocktails, and gourmet European dark chocolate truffles by Choco le'a. Tickets for the event are $30 and available for purchase now at www.hawaiibooks.org, or in person at the Mission Houses Museum store and Native Books/Nā Mea Hawai'i at Ward Warehouse.
Each year the Ka Palapala Po'okela Awards are given by the Hawai'i Book Publishers Association to recognize the finest books published in Hawai'i during the previous year and to honor individuals involved in their creation. HBPA sponsors these awards as part of its public outreach effort to enhance the recognition of book publishing as an industry in Hawai'i and support local literacy. The term "Ka Palapala Po'okela" can be translated from Hawaiian to mean "excellent or exemplary manuscript."
Tours of the Mission Houses, including Honolulu's oldest printing press, will also be on going throughout the evening. The Mission Houses Museum is located at 553 South King Street. Free parking for the awards event will be available at Kawaiaha'o Plaza on the corner of South and Kawaiaha'o streets.
For more information, visit www.hawaiibooks.org or contact Keola Akana at keakana@ksbe.edu.
###
Hawaii Book Blog is excited and honored to be a part of this year's Ka Palapala Po'okela Awards. This year they've changed the format to invite the public at large and we think that's a great idea to turn this awards ceremony into an important event. We encourage all teachers, students, readers and writers to come and celebrate the best in Hawaii's books on May 6. You can view our post on the 2010 winners here and stay tuned with HBB as we discuss and review some of the nominees for this year's Po'okela Awards.