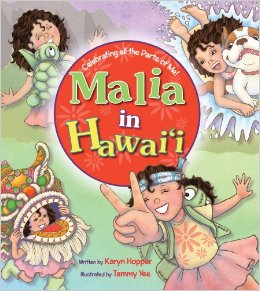 'Tis the season for new releases! Mutual Publishing has a new book from author Karyn Hopper and illustrator Tammy Yee, that celebrates the multicultural heritage of local keiki.
Malia in Hawaii is about a little girl with a long name, "Malia Sachi Ging Ging Lee." Follow along as she explores the food and activities that make up her unique background and island home.
Here in Hawai'i we are fortunate to have local publishers who support and encourage stories that reflect the make-up of our communities. There are many keiki books that showcase our diversity but this one has it all in one little girl. Malia enjoys the Hawaiian, Japanese, Filipino and Chinese food and events that make up who she is.
It's not a story with a beginning and end. It's more like a series of vignettes. Each page is a different part of Malia: Malia surfs, Sachi plays jan-ken-po, Ging Ging dances tinikling, and Lee eats stir-fry noodles.
The concept of the book is a positive one, if a little abstract for very young ones to grasp. Also, at first glance the story can be confusing until you realize it's all about the different sides of one person.
Tammy Yee's illustrations add a lot to the story with adorable details that children will have fun discovering. The multicultural aspect comes to life primarily through Yee's images. She does a wonderful job of mixing the cultural aesthetics of all Malia's ethnicities, on every page, in a way that the text does not.
I would have liked the story better if it wasn't so generalized and segregated culturally. I think Sachi should dance tinikling and Ging Ging should eat poi, they're the same person after all so why not mix it up? That's the real beauty of why we're lucky to live Hawaii–you don't have to be Filipino to love halohalo or Japanese to celebrate Girl's Day. It can be a part of your background even if it isn't a part of your race.
Overall, it's a sweet book about a busy little girl whose life is full of fun and love because of her family and her background.  Culture is important because, like reading, it enriches our lives. That's a great message for a kid and it's a good book for getting keiki interested in exploring their own heritage.
Tammy Yee will be signing books at Ala Moana Barnes & Noble TOMORROW 11/22 from 7 to 8 pm. Visit her webpage for printable coloring pages and activities for the kids. Also check out this great interview with Tammy Yee on the 'Family Reading Night' blog.
Malia in Hawaii
Written by Karyn Hopper
Illustrated by Tammy Yee
Mutual Publishing 2013
ISBN: 978-1939487-19-3