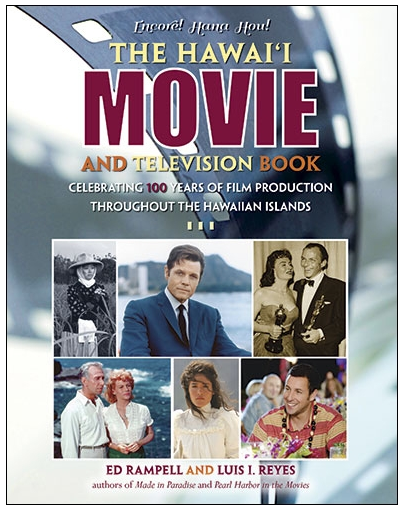 The scenic islands of Hawai'i have long been the subject and location of many television and movie productions. Ed Rampell and Luis I. Reyes have compiled a unique reference book for screen enthusiasts in The Hawai'i Movie and Television Book: Celebrating 100 Years of Film Production Throughout the Hawaiian Islands (Mutual Publishing, 2013). It's their third collaboration of island cinematic history following the previous books Made In Paradise: Hollywood's Films of Hawaii and The South Seas and Pearl Harbor In The Movies.
The title is a bit misleading, since the book focuses primarily on Hollywood films and television shows made in Hawai'i from 1995 to the present but was published with the subtitle to celebrate the 100th anniversary of the first made-in-Hawai'i feature films. There is a great deal of history in this book, don't get me wrong, it really does cover one hundred years… just not in as much detail as the disproportionately longer (much longer) sections about the new Hawaii Five-0 and the movie The Descendants.
Still, early chapters provide an overview of the start of South Seas Cinema and a quick look at the history of Hawai'i crime fighting television serials. The 'Made in Paradise' chapter, which is the bulk of the book,  has pictures, production info and critical commentary on 100 years of projects in chronological order starting in 1913.
Particularly fun for visitors and locals alike is the chapter on filming locations. I know I'm not the only one who tries to recognize/find landmarks in a movie or show that's filmed here. This book features some of the most popular locations across the major islands from Kualoa Ranch to Hanalei Bay.
A book about moving pictures should be visually engaging and this one is. Retouched, four-color vintage pictures, movie posters and other memorabilia decorate the pages. It can look a bit mish-mash but that's part of it's charm with a variety of images: nostalgic, candid, behind-the-scenes, and promotional. Authors Rampell and Reyes have truly curated a book that would please any film buff.
The Hawai'i Movie and Television Book is a comprehensive look at the scope and impact of the Hawai'i film industry and a look at how movie-making in the islands has evolved and developed. I was very happy to see info about independent, documentary and student films (not just major motion pictures and network television shows) and mentions of our internationally known film festivals. There is also coverage of films about Hawaiian life made by native Hawaiians and local filmmakers.
For those who are interested in learning more about Pacific film history, L.A.-based film historian Ed Rampell, who formerly lived in Hawai'i is also a co-founder of the South Seas Cinema Society, an Oahu-based fan club/film society.
[gn_divider /]
The Hawai'i Movie and Television Book: Celebrating 100 Years of Film Production Throughout the Hawaiian Islands
Ed Rampell and Luis I. Reyes
Mutual Publishing, 2013
ISBN: 9781939487025
Softcover, 208 pgs.