While he was attending UH Manoa's Hawaiian Studies program, my younger brother spent a semester abroad in Tahiti. We were all very excited for him, me especially, and were eager to hear about his experiences and adventures across the Pacific. We expected the usual post-cards and trinkets upon his return, but when he stepped out of the airport with a half-sleeve tattoo on his forearm my mother was gobsmacked. I secretly knew about it so I wasn't as shocked but I thought it was important for him to get it. Tattoos are deeply symbolic and personal to many people, not just Polynesians. It's a whole sub-culture and there are quite a few books out there regarding tattoo.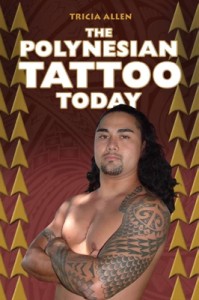 If you've been reading our "Book ends" or checking out our events calendar for April, you'll have noticed that Mutual Publishing is releasing a new book called The Polynesian Tattoo Today by Tricia Allen. They're having a tattoo contest this Saturday at Barnes & Noble Ala Moana (click here for details). Allen is not only a brilliant photographer, dedicated historian and cultural activist, she's also a tattoo artist herself. Her previous book Tattoo Traditions of Hawaii focused on traditional and modern tattoo in Hawaii and this second book was written based on feedback from readers and other tattooists.
We were lucky enough to acquire a copy of this book and decided to post a quick review about it. It's a compilation of over 200 images of people from around the world and their Polynesian tattoos. All of the tattoos are original and Allen associates the act of copying them as equivalent to stealing an identity.  Ink artists across the globe are creating beautiful tattoos based on the indigenous cultures of the Pacific.  Many tattoos featured in the book are a mixture of styles… Hawaiian, Maori, Samoan.  Polynesian tattoos are increasing in popularity and many traditional designs have been revived. The second section of the book features specific artists—where they are from, how long they've been tattooing, their personal tattoo philosophy and how they have influenced the culture.
What I especially liked about the book is seeing the diversity of people who have these tattoos, and who are tattoo artists themselves.  Each photo has a short caption with the person or tattooist's name, where they're from, and a little bit about the tattoo or what it means to them.  Although Allen does mention which kind of motifs are found in the tattoos, I think I would have liked more specifics on them.  The tattoos are so beautiful and detailed that I wanted to know which part was Samoan, or Maori and how artists are changing Polynesian tattoo by combining them or adding to them.  The book is modern yet respectful of tattoo traditions and Pacific cultures.  Most of all it's a good tribute to the people who continue to keep this art alive.
This is a great book if you're interested in tattoo culture and definitely a good book to look at if you're thinking of getting one.  The Star-Bulletin recently wrote an article on the new book and the contest event.  Or you can also learn more about the book and Polynesian tattoo by visiting the book's official website http://thepolynesiantattoo.com/. There's a gallery of photos, links to other resources, a calendar of tattoo events and more!
The book is now available in stores or online!  Or you can visit B&N on Saturday for the tattoo contest and get a signed copy!
*The Polynesian Tattoo Today was provided to us by Mutual Publishing (2010) for review. ISBN Soft Cover: 1-56647-921-5.