You've baked and frosted cookies, done some Christmas crafts, decorated the house and sung numerous carols. You've already read and watched all the classics. What can you do to keep the momentum going this holiday? Here are some new (and a few old) local suggestions for books to read with the kids this season.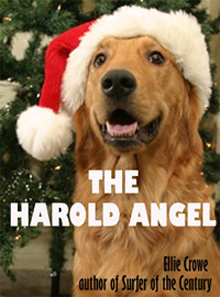 Need a funny Christmas story at the last minute but don't want to brave the crowd at the store? Download The Harold Angel  A Crazy Christmas Dog— it's a cute and convenient ebook by local author Ellie Crowe. Ellie is the author of numerous keiki books including one of our favorites, Duke's Olympic Feet [see our review here]. Her new ebook is a humorous story of Christmas from a dog's point of view. It's a short story with a lot of love, and tons of doggie antics that you and the kids will enjoy sharing. 
I love that this is an ebook! It's quick and delightful. No stress, just fun and it'll have you wondering what your own four legged friends are thinking this Christmas.
If you do have time to stop by the store, I totally recommend picking up the new Geckos 12 Days of Christmas book that Alex just reviewed. Or teach kids about the gift of love by reading Little Mouse's Hawaiian Christmas Present.
These might be a little harder to find, but the books on our 2009 Christmas Book for Keiki list are all wonderful reads. Whatever you choose, the main thing is that you read together and celebrate together!