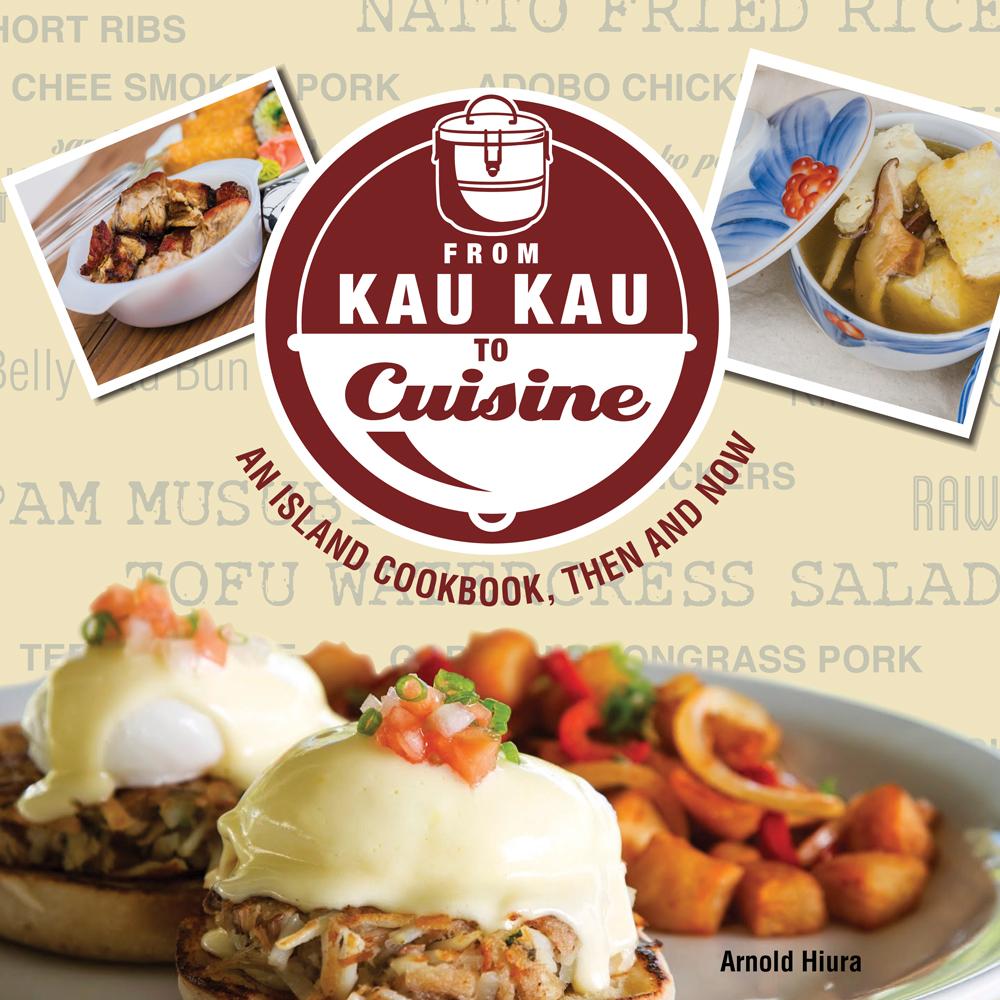 Just take a moment to enjoy that cover picture and imagine it on your coffee table. The screen doesn't do it any justice. You can't see the embossed logo and lettering, or the smooth, glossy pages. They say we eat with our eyes, so it's only right that a book about food be appealing to that sense. But it's more than that; it's the texture of a book that also appeals to the touch.
I've had this debate with several people over the last few months and I obviously love to read physical, analog books (my shelves can attest to that), but I like the convenience of ebooks, especially for fiction. There are some books, however, that don't translate well as ebooks, and for me cookbooks are one of them. It's just not the same cooking from an eReader, believe me I've tried, so when a publisher embraces the physical experience of a cookbook, I greatly appreciate it.
Food historian and archivist of ʻono grinds, Arnold Hiura, brings us a hana hou to his previous cook book (Kau Kau: Cuisine & Culture in the Hawaiian Islands) with From Kau Kau to Cuisine: An Island Cookbook, Then and Now (Watermark Publishing, 2013) showcasing a collection of 60 recipes that embody all of the unique characteristics we expect from local eating past and present.
From Kau Kau to Cuisine is a unique culinary guide that connects the old with the new, featuring plantation era recipes and their contemporary counterparts side by side in a full color "then and now" of local food. Chefs Derek Kurisu and Jason Takemura have taken time-proven local dishes and paired them with new, reinterpreted creations inspired by similar flavors, ingredients and cooking styles. Hiura masterfully ties these recipes together with interesting histories on Hawaiʻi's culinary evolution and illustrates how trends in modern cuisine—-sustainable, foraged, nose-to-tail eating—-are actually old practices that were adopted out of necessity in plantation and war era Hawaiʻi.
Favorites from THEN: Miso Pork, Goteborg "UFO's" (jobo?), Pipi kaula poke
Favorites from NOW: Kim chee-Smoked Pork, Roasted Kabocha Risotto, kalua pig and shrimp spring rolls
How can a book possibly pull off being both nostalgic and modern at the same time? With clever design and gorgeous photos! However, there were a couple of pairings where I raised an eyebrow…the "then" being Vienna sausage Shoyu-style (so simple, so salty, texturally strange but SO YUM–hello my childhood) juxtaposed by the "now" pastrami reuben sandwich. Hmmm, I guess they're similar? What I love most about the older recipes is that they are simple and timeless. And while you may have some of them already or have seen them in other books, in Kau Kau you're also getting the STORY that goes with them.
Apart from being a valuable collection of recipes and drool-worthy photos, From Kau Kau to Cuisine offers readers a glimpse of the food sources and practices of Hawaiʻi's plantation years, the social and economic variables that shaped them, and how they have shaped contemporary trends in turn. By exploring what we eat and the way we eat it in a historic context, Kau Kau ultimately encourages a continuation of dialogue in food consciousness and sustainability.
Follow Kau Kau on Facebook for more about the book, local food and events.
[gn_divider /]
From Kau Kau to Cuisine
by Arnold Hiura, featuring Derek Kurisu and Jason Takemura
Watermark Publishing, 2013
Hardcover, 196 pages