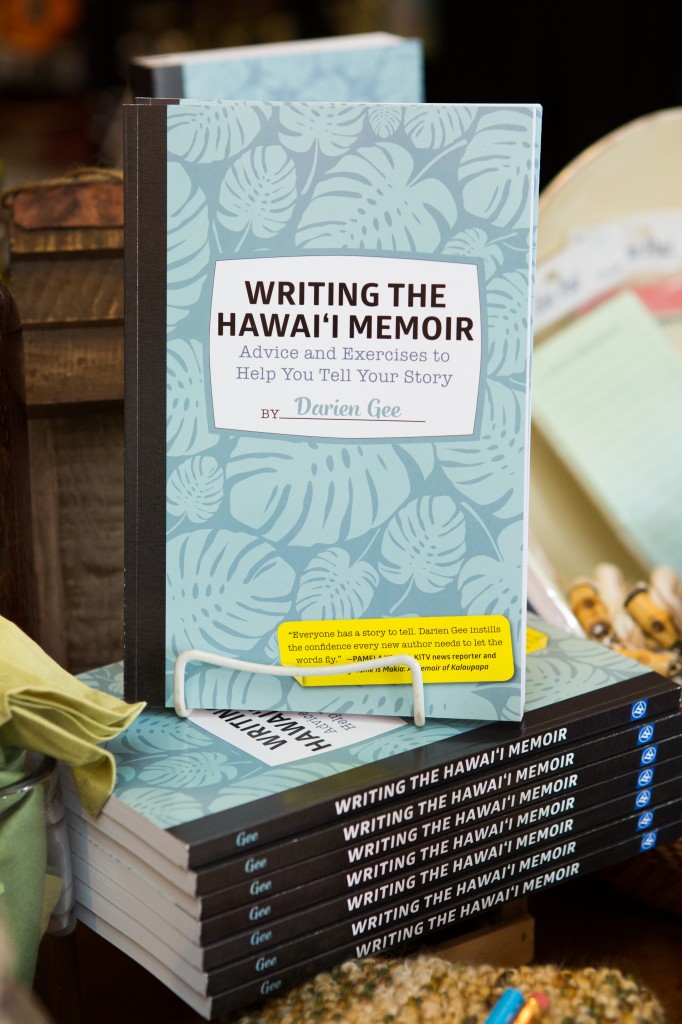 No plot, no problem! 30 days to a complete manuscript! Publish your own Kindle bestseller!
I'm no stranger to the market of these writing/publishing guide books. In the ever-long quest to improve my word-smithing skills I've purchased, borrowed, downloaded and read through my fair share of books on the craft. Books with lengthy chapters on plot, scene, character, syntax, pacing, voice, conflict… you get the picture.
It's an educational way to procrastinate from actually writing anything. I mean, I can't possibly work on my book until I perfect parallel sentences, dammit! Right?
In reality this is very counterproductive. I've learned that the best writing guides are short and sweet, filled with less examples of what your writing should look like and more motivational ways to create and organize what your writing will look like. Well…
Writing the Hawaiʻi Memoir: Advice and Exercises to Help You Tell Your Story (Watermark, 2014) by Big Island resident and national best-selling author Darien Gee, is everything that's good about how-to books on writing without all the pedantic fluff. It's well organized and concise while managing to be encouraging and clever in that gracefully fun way that only Gee could manage.
It's a fast read, with just enough advice and examples to provide guidance and support without bogging you down. It answers basic questions about publishing and copyright so that you feel more confident about taking your stories further. It's also pretty. I love that the cover resembles a composition book, visually reinforcing the theme that this isn't a book on writing, it is a book OF writing, with over 25 different writing exercises that help you get to the basic roots and emotions of your story.
Writing the Hawaiʻi Memoir offers a variety of exercises but the best ones appeal and apply to local culture, like the bento box analogy and worksheets that help you fill and structure your story. I think what I love most is that this is truly a book about Hawaiʻi writing, about encouraging people to share and record their moʻolelo by providing tips from local authors and books (favorites like Lee Cataluna, Mark Panek, Bob Buss, Stuart Coleman, Craig Howes, Frances Kakugawa, Victoria Nalani Kneubuhl, Christine Thomas and more). And the appendices cover other types of life-writing like autobiography and oral history.
Writing about real-life events can be daunting, but Gee helps you to tell your story in the clearest and best way possible. This really shouldn't surprise me since Darien Gee has been teaching memoir writing workshops in Hawaiʻi for years. The first time I met her was at a memoir writing session of the National Pen Women's Hawaiʻi Conference and I've been a fan ever since! But more valuable than anything else, Writing the Hawaiʻi Memoir encourages you to write. Write your stories, long or short. It doesn't have to be grand or historic. It just has to be.
You can WIN a copy of the book by writing a six-word memoir and entering here. And check out Darien's website for downloads, links and other info.
For more details on thise book, or packages to help you publish your memoirs and family histories locally, visit Legacy Isle Publishing.
[gn_divider /]
Writing the Hawaiʻi Memoir: Advice and Exercises to Help You Tell Your Story
Author: Darien Gee
Softcover, 144 pp
Watermark Publishing, May 2014
ISBN-13: 978-1935690535