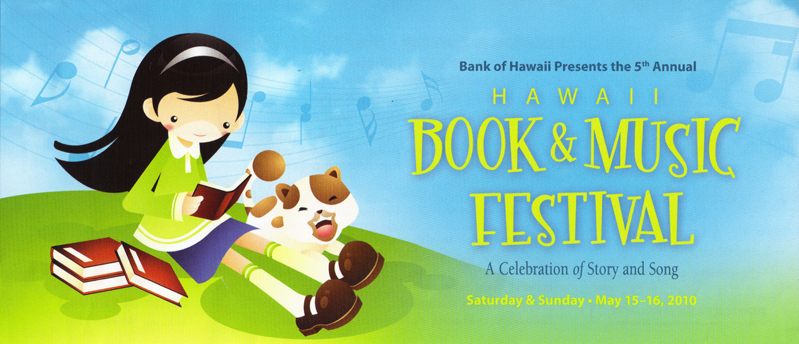 The 2010 Hawaii Book & Music Festival (HBMF) ended this past Sunday, and Hawaii Book Blog had a blast!  Misty and I got to meet a lot of great people for the first time and rekindled with a number of others who we've previously had the pleasure of meeting.  For more information about what HBMF is all about check out our preview post here.  Here's a very brief recap of some of the things HBB was into this year: 
The theme for this year's HBMF was Telling Tales: The Uses of Memory and various panels concerning memory were hosted at the Hawai'i Council for the Humanities Pavillion.  We missed most of the panels on Saturday, but on Sunday we (especially Misty) saw quite a few including the "Testing Memory/Revising History" panel with Tom Coffman, Jonathan Okamura, Jonathan Osorio and John Rosa; the "Selective Memory/Memoir" panel with Gov. Ben Cayetano, Derek Bickerton, Craig Howes and J. Arthur Rath; and the "Staging Memory" panel with Lee Cataluna, Victoria Kneubuhl, Edgy Lee and Sean T.C. O'Malley.  We were most excited to hear from this latter group as we had seen all but Edgy Lee on Saturday perform for a "Playwright Slam" at the Talk Story Pavillion.  Misty was able to meet both Lee Cataluna and Victoria Kneubuhl and briefly chat with them and have their respective books signed (Folks You Meet at Longs and Other Stories and Murder Casts a Shadow). 
On the first day of the festival, I had a crazy idea to have authors pose for photos with our Hawaii Book Blog flyer.  At first I was hesitant to enact such a cheesy idea, but finally decided to go through with it.  Thankfully, the few authors I had the opportunity to ask were very receptive to the idea!  Kaui Hart Hemmings jokingly told me I was "living on the edge," but Dan Kois put it best when he said (paraphrased), "it's akin to Ludacris doing a shout-out for the local radio station."  Mahalo to Jocelyn Fujii, Kaui Hemmings, Dan Kois, Lisa Linn Kanae and Douglas Corleone for being so accommodating (and photogenic)!  I had previously met three of these five authors, so one of the highlights of the festival for me was meeting Dan Kois and Lisa Linn Kanae for the first time.  Dan Kois, whose book Facing Future we reviewed here, was a great guy who shared lots of interesting information and has a hearty appetite for our island cuisine.  Seriously, check out his Twitter feed for the days he was here and you'll see it's primarily him eating his way across the island—it's fantastic.  Meeting Lisa Linn Kanae turned out to be such a pleasure for Misty and I.  The nice staff at Bamboo Ridge Press directed her to me since I asked them if Lisa could sign a copy of her book Islands Linked By Ocean. Lisa was extremely friendly and down-to-earth (especially considering she just came back from her ceremony for winning the Cades Award) and even wanted to take a picture with us!  It's the encounters like these that really make doing this worthwhile. Then she introduced us to Buss Laugh (a book we'll review sometime soon) author Lee Tonouchi whose poems and short stories just crack us up, especially Misty. We were delighted to meet them both! 
I spent a lot of my time visiting the various publisher's tents, Makai Authors Pavillion and Barnes & Noble tent (with their awesome staff).  At the Bishop Museum tent I met author Van James whose revised edition to Ancient Sites of O'ahu just came out this year.  At the Kamehameha Publishing tent, Misty got a great deal on some Hawaiian legends books.  It was also great meeting the generous Carol Abe from UH Press, the sweet Jane Gillespie from BeachHouse Publishing and the talented artist Jon J. Murakami whose new book Geckos Up Geckos Down we recently reviewed.  You can check out some of Jon's work here.  There are so many others we spoke with, both new and old, who we are always grateful to talk to.  For those we didn't get the opportunity to meet, we hope another chance will arrive in the near future. 
The weather was gorgeous this year, unlike the downpour of 2009, but it did seem like there weren't as many people as previous years.  It's important for the community to continue supporting our local literary scene.  We have such a great assortment of skilled writers and many great local publishers that bring these writers' talents into your hands.  We truly are lucky we live Hawai'i.  If you didn't attend the Festival this year, I highly recommend you to attend it 2011. 
For more great photos from this event check out our 2010 Hawaii Book & Music Festival album on Facebook.  Mahalo to all the volunteers, workers and guests who help to make the Hawaii Book & Music Festival what it is!