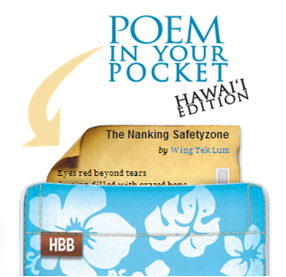 It's finally here! The 2014 Poem In Your Pocket: Hawaii Edition
Click here for the 2014 pocket
…an eclectic mix of words, thoughts and feelings bonded by place.
This year we are excited to feature eleven poems by very talented authors with diverse backgrounds and experience. From nationally acclaimed writers like Sue Cowing and Frances Kakugawa to newly published poets like Tamara Woods and local favorites like Gail N. Harada and Wing Tek Lum. Each poem includes a bio and a link where you can find out more about the author or their books.
We are also honored to include two poems from the Hawaiʻi Review Editor's Blog e-chapbook "Whea You From…Whea You Going" which was produced by the residents of TJ Mahoney & Associates, a community reentry program in Honolulu.
All the poems are thought provoking and memorable, combined to create a truly unique collection that celebrates the art of verse and encourages us to keep poetry in our daily lives.
Spread the word and share the poems so we can put Hawaiʻi literature in as many pockets as possible for 'Poem In Your Pocket Day' on April 24th!
Mahalo to everyone who contributed a submission and to all our readers. With your continued participation and support we can make each year's poetry pocket better and support local writing.