The Puna region of Hawaiʻi is having a tough a year. Hurricane Iselle seemed to do her worst there, crippling businesses and residents for weeks without power and water. And just when things started to improve, the communities of Pahoa have been in the path of a steadily moving lava flow for the past month. As it looms ever closer to homes and streets, and county officials prepare for the worst, we can only hope that Madam Pele is benevolent and merciful.
It's been awhile since we've done a book list and though we've done a short list for Pele before, we thought we'd appease the goddess with more reading recommendations, nothing too esoteric, just good books that honor her story and image.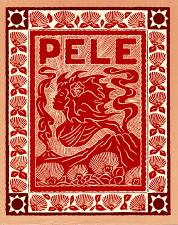 Pele: The Fire Goddess (Bishop Museum Press, 1991) as told by Dietrich Varez and Pua Kanaka`ole Kanahele; illustrated by Dietrich Varez
This is a retelling of the Pele myth with complementary linocut print illustrations by one of Volcano's celebrated artists, Dietrich Varez. The bold images on every page bring the straightforward tale to life. It also really makes you want to buy a poster or calendar. Check out Dietrich's other work Pele and Hi'iaka, A Tale of Two Sisters from Petroglyph Press in Hilo.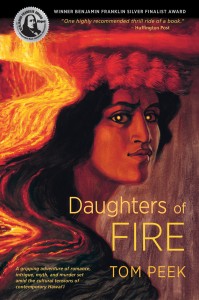 Daughters of Fire (Koa Books, 2nd edition 2014) by Tom Peek
It isn't a surprise that this mystery novel is steeped in culture, mythology and spirituality, given its setting. But it's also a modern tale of social and political discord. I like this book because, though Pele is not an actual character, her presence is imbued in the story. The second edition includes lots of great extras in the appendices–study and discussion questions, further reading recommendations, and author interviews. Check out our earlier review for this award winning book.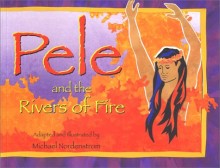 Pele and the Rivers of Fire (Bess Press, 1998) by Michael Nordenstrom
Aside from the "Papyrus" font used for the cover title, this is an interesting book for reading to the keiki. It's an adequate introduction to Pele's role in Hawaiian mythology and folklore, although it does lack some of her depth of character. Illustrated in a paper-cut collage style with vibrant acrylic and water colors, this picture book follows Pele on her journey from Tahiti to form the Hawaiian Islands.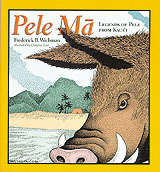 Pele Ma (Bamboo Ridge Press, 2001) by Frederick B. Wichman, illustrated by Christine Faye
Wichman is known for his 'Kaua'i Tales' and Pele Ma continues this tradition with an amusing collection of stories that not only cover the activities of Pele, but also Kamapua'a, Hi'iaka, Lohi'au, and their other companions. Pele is most commonly associated with the Big Island, but Wichman's collection reminds us that Pele also has a strong connection and link to Kaua'i.
Here are a couple more book recommendations from an earlier post, including the must-read The Epic Tale of Hi'iakaikapoliopele.