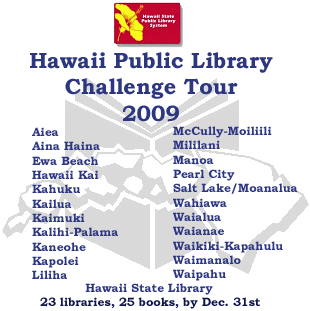 First off, I hope everybody is enjoying the holiday season!  It's been very fun, but very busy for both Misty and I.  You may have noticed we've been on a slight hiatus the last two weeks and one of the casualties of the rigors of holiday is our Library Tour.
We started our Hawaii Public Library Challenge around the time that the State first announced they might possibly shut down a few library branches to help trim the budget.  Because we love our public libraries so much and we wanted to spotlight how each library is unique and provides an essential service to the community it belongs to, we started this Library Tour in the hopes of helping to raise awareness and instill pride and interest in one's local library.  Our initial goal was to visit all of the public libraries on O'ahu by the end of the year–talking to a librarian from each branch and getting a book recommendation from them which we would then review as part of the challenge.
Unfortunately time, work, scheduling conflicts, the holidays (going back to Thanksgiving), and other extraneous events have forced us to concede to the year 2009.  However, just like the Jamaican bobsled team ("I see pride, I see power…"), we believe that finishing is the most important thing.
We continue to thank all of our readers for your patience, especially to the libraries and their staff who have been so kind to let us into their world the last few months and might be waiting for their library to be featured.  Don't worry, we love this project and are still excited to complete it and share with everyone the things we've learned about each library branch.   We actually visited a ton of libraries in November in the hopes that we'd have time to do all the posts in December…but unfortunately we didn't factor in all of the outside variables (shopping, family/social gatherings, work, etc…)!
Of course, our ultimate goal is to eventually visit the neighbor island libraries and do write-ups for each library in the entire State.  After all, no other library system in the country has a state-wide system such as ours, and that's part of what makes our libraries so exceptional.
Here are the libraries that we've already visited over the past two months that we will be doing write-ups for in the near future.  January brings not only a new year, but a reinvigoration of spirits and hopefully you'll see a few of these soon posted in the coming weeks:
Ewa Beach
Wahiawa
Hawaii Kai
Pearl City
Waikiki-Kapahulu
Mililani
Kaimuki
Kalihi-Palama
Aina Haina
Waipahu
Salt Lake-Moanalua
LBPH
McCully-Moiliili
Once again, thank you everyone who is reading Hawaii Book Blog and following our Library Tour.  We appreciate your readership and are always open to any comments or suggestions you may have!  I know that 2010 will be an awesome year and we promise to make Hawaii Book Blog even better than before.
Mahalo and Hau'oli Makahiki Hou!