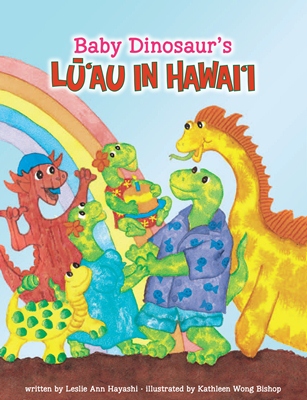 Baby Dinosaur's Luau in Hawaii (Mutual Publishing, 2012) by Leslie Ann Hayashi is a new keiki book celebrating the local tradition of throwing a 1st Birthday luau.
It's baby Dino's 1st Birthday luau and the Dino family is coming from all over the islands to celebrate. All the dinos are 'ohana—like Uncle Eli Elasmosaurus and many more aunties and cousins. One brings poi from Kaui and another brings pigs from Waimanalo. There're games and music just like the parties we've all been to. Toward the end of the luau, just like in real life, Baby Dino is fast asleep as everyone wishes her a Happy Birthday. (The birthday baby always falls asleep at the 1st birthday luau, it's such a busy, and almost traumatic, day for them being passed around from person to person).
This is a nice book for reading out loud because it does have some onomatopoeia. Sounds are always fun and engaging for young readers. The text is large and easy to read with short sentences for beginners. Different font sizes and colors are used to make certain words pop for emphasis. The watercolor pictures by Kathleen Wong Bishop are colorful and bright, with wonderful shapes and textures. I do wish they were a little more polished but it does have a whimsical quality— like a child's drawing. Also, when illustrating dinosaurs there's that tendency to be too detailed, and this one has just the right amount to help you differentiate between the various dinos.
The back of the book has a fun picture of the birthday party invitation and an explanation that, although dinosaurs were extinct long before the formation of these islands, it's still fun to imagine the different dinos coming from each island bearing different gifts. Overall, it's a cute book that reflects an important part of our social culture. First Birthday luaus are a celebration of life and always a good excuse to gather the family, eat ono food and listen to some jams.
(best for younger ages 4-6)