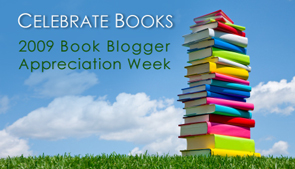 Hopefully this week you've been visiting a bunch of new book blogs and maybe noticing some things about them you'd like to try yourself. Or maybe you've just had some ideas for improvements to your blog you'd like to put into place or new ideas for content. But there's also probably something you really love about your blog, too, something you're really proud of. It's time to show off! Tell us and this is really important, in 50 words or less what you love best about your blog! And then in 50 words or less where you want your blog to be by the next BBAW! Ready? GO!
What I really like about Hawaii Book Blog is getting to read all these great books from local authors and publishers—and getting to meet interesting people on events like our Hawaii Public Library Challenge.
My goal is constant improvement.  I want to write better reviews, improve the page layout, get more involved in the community and the book blog world, start doing giveaways, and continue to striving to do the best that we can.