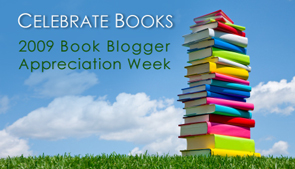 This week is Book Blogger Appreciation Week (BBAW), which is an effort to recognize the hard work and contribution of book bloggers on the Internet.  This is Hawaii Book Blog's first time participating in this celebration and we are excited to learn more about all of the fascinating book blog sites out there.  HBB was nominated for Best Cultural Review Blog and Best New Blog, but unfortunately did not make the shortlist.
We haven't yet delved into too many new blogs, but we are looking forward to discovering more this week and in the future.  We bring this up because one of the blogging topics for today is to highlight some of your favorite blogs that haven't made the shortlist.  Our blog list (right now) is small and a number of them made the shortlist.  We would, however, like to make two recommendations:
The first is by an English teacher who spends her summers here and considers Hawaii a second home.  She writes great, personal reviews with an emphasis on YA fiction, Ethnic Literature, Contemporary Fiction and Romance.  The second is done by a travel writer which is made interesting by her constant traveling.  She will often recommend a book from a part of the world she has visited which makes her blog a fascinating read. 
For any BBAW people reading this, HBB would appreciate any suggestions or recommendations on book blogs you'd like to leave in our comments section.  That way, we'll definitely take the time to explore those you suggest.  We really love all manner of books, but to (extremely) simplify things:  Misty enjoys fairy tales and period fiction while Alex enjoys non-fiction, especially history.
Thank you book bloggers for the time and effort you put into each and every one of your websites.  We look forward to connecting with many of you, learn and talk about books, and hopefully encourage many of you to discover the wonders of Hawaii and its books.  And to our readers who haven't heard of BBAW, if you're interested in books we recommend taking a look at the BBAW site for links to a vast number of excellent book blogs.
Mahalo!