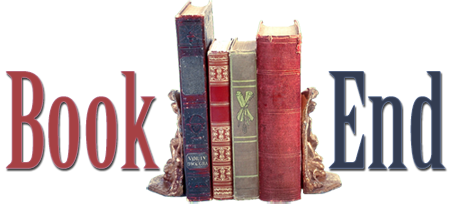 It's time…it's time…it's Book End Time! Welcome to this week's Book End, highlighting the week's literary and library events here in Hawaiʻi.
Support our local literary scene and our local libraries by attending these events.  Have a great weekend, everyone!
[gn_divider /]
Award-winning Students' Artwork Display
Award-winning artwork by Leilehua High School students is currently on display at Wahiawa Public Library through August 31, 2013 in the Young Adult and Teen Section. The Library's Summer Art Exhibition 2013 features current Leilehua students' pencil drawings and other mixed medium art, some of which has been showcased in Washington, D.C.  This free exhibition is suitable for all ages and available for viewing when the Library is open.  A printed guide to the art exhibit is available at the Library. Wahiawa Public Library is located 820 California Avenue.  For more information, please call the Library at 622-6345.
Saturday, July 20
Friends of the Waialua Public Library Book Sale – The Friends hold a book sale at the library every 3rd Saturday of the month! There is also a bake sale at the book sale. Join the Waialua Friends in supporting Waialua Public Library and find cheap books and ono treats! Waialua Public Library (67-068 Kealohanui St.); 9:00 A.M. to 2:00 P.M. Call (808) 637-8286 for more info.
Meet Author & Illustrator Roy Change – Chang will talk about creating manga style illustrations for his new chapter book, Cacy and Kiara and the Curse of the Ki'i, about sixth grade cousins who couldn't be more different from each other. When their two schools take the same field trip to Hawai'i Volcanoes National Park, Cacy and Kiara are thrown into an adventure filled with mystery and murder. Throughout their adventure, they learn about the power of their connection to ancient Hawai'i and the importance of working together. Over sixty manga-style illustrations accompany the story adding another layer of action to an already action-packed tale. This 45-minute program will be held in the Middle Reader Room and is suitable for ages 9 and older. Hawaii State Library (478 South King St.); 11:30 A.M. For more information, call 586-3510.
Sunday, July 21
Talk by Ann Wright – Ann will speak about her recent visit to Yemen, the drone war on the people of Yemen, and the plight of 56 Yemenis cleared for release from Guantanamo years ago but still held by the US. Ann spent over 30 years in the U.S. military before retiring as a Colonel and has since become an internationally recognized activist against U.S. wars and drone attacks. She is author of Dissent, Voices of Conscience published by Koa Books. Revolution Books (2626 S. King Street); 3:00 P.M. For more information visit the store's website or call 944-3106.
[gn_divider /]
Remember, all events listed above may be subject to change. Please contact the venue beforehand if you plan on attending. We encourage you to click on the links that are included with the events in the time line above. More events can be found on our Hawaiʻi Book Blog Events Calendar. You can also keep up with events through us on Twitter by following @HawaiiBookBlog.
If you have an event you would like us to help promote, please leave us a comment here or e-mail me at aalba@hawaiibookblog.com. Mahalo and have a great weekend!