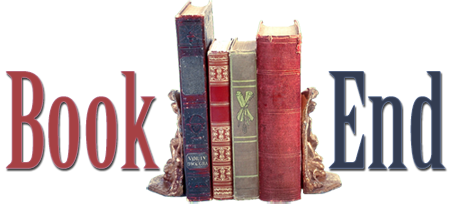 It's time…it's time…it's Book End Time! Welcome to this week's Book End, highlighting the week's literary and library events here in Hawaii.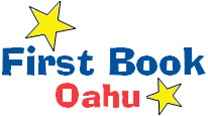 First Book-Oahu Fundraiser
Do you love Chinese food (fast-food style)?  Do you support giving free books to impoverished children?  If you deny either of these…I don't want to know you!  But if you agree to both, then Saturday is the perfect day to get your grubbin' on and support keiki literacy in Hawaii!
First Book-Oahu is raising money all day Saturday to help buy books for Hawaii's children.  You can help!  All you have to do is print this flier out and take it to any Panda Express on Oahu!  Do that, and 20% off your purchase will go to First Book-Oahu!  What a great way to get some yummy food and help out the community.
For more information, visit their website at firstbookoahu.org.

Mutual Publishing's Back 2 School Contest
Enter Mutual's Back to School contest by posting a comment anywhere on their Facebook page about your child going back to school in Hawaii. Prizes are suitable for school aged children 1 – 9 years old and can be picked up at the publisher's offices in Kaimuki. Two winners will be chosen. Winners will be able to choose 4 books from a list of age appropriate books. Contest ends Aug. 22.
Seriously, all you have to do is post a comment on their Facebook page and your child can win four free books.  Do it now!
Statehood Day
For those of you lucky enough, today is a holiday!  That means that all Hawaii State Public Libraries will be closed today (Friday).  It's also the observance for the 52nd celebration of Statehood here in Hawaiʻi.  A year ago, I celebrated the 51st celebration by reviewing the excellent historical book, Nation Within: The History of the American Occupation of Hawaiʻi.  Unfortunately, I don't have another history book to review this year, but I highly recommend checking out Nation Within if you haven't already.  Make sure you get the blue cover version from Koa Books, as that's the most recent revised edition.
[gn_divider]
Now on to the events…
Friday, August 19
Maya Soetoro-Ng book signing – First Sister and author Maya Soetoro-Ng signs her children's book Ladder to the Moon. The book was inspired by her daughter's questions about her late grandmother.  Her book will be available both in the Gallery and at Talk Story Bookstore and a portion of the proceeds will benefit the Garden Island Arts Council.  Hanapepe TalkStory Bookstore & Shaning Cierras & Veronica's Gallery (Hanapepe, Kauai); 6:00 P.M. to 8:00 P.M.  Source
Hawaiian Surfing on TV – John Clark, the author of Hawaiian Surfing: Traditions from the Past [read our review], will be a guest on Neil Tepper's The Creativity Salon which airs on public access television channel, OAHU 52.  Tepper is also the author of Prescriptions for Living a Creative Life [read our review].  The show will stream live at http://olelo.granicus.com/MediaPlayer.php?publish_id=91 and will also be archived on the show's website. Viewers will be invited to email the show to enter a drawing for a free, autographed copy of Hawaiian Surfing. Watch the show for details!  Channel 52 (Oceanic Cable); 8:30 P.M.  Click here for more info (including repeat times).
Saturday, August 20
Friends of the Waialua Library Book Sale – Every third Saturday of the month, the Friends of this library hold a book sale!  There is also a bake sale at the book sale. Join the Waialua Friends in supporting the Library and find cheap books and ʻono treats!  Waialua Public Library (67-068 Kealohanui St., Waialua, HI); 9:00 A.M. to 2:00 P.M.  Call (808) 637-8286 for more info.
Keiki Reading & Arts Festival – Enjoy live music and entertainment, games, food and craft booths, storytelling, costumed characters and more. Encourage your keiki to bring one piece of his or her artwork to put on display at the event—and be entered for a chance to win a prize. Other highlights include: • Special improv performance by Laughtrack Theatre Group • Free shaved ice • Bounce houses • Friends of the Library Children's Book Drive • Keiki-friendly food trucks. Also get Eddie Wen' Go reading by Marion Lyman-Mersereau & the audio cast and a Hawaii Book of Rice Rice Bowl Art Contest. This event is a benefit for the Kualoa Big Brothers Big Sisters scholarship fund. Admission: $3 per person; $10 per family of four. For more information, call (808) 237-7321 and click here.
Baby Awearness Anniversary Party – Baby Awearness is celebrating their anniversary with a whole slew of events!  On the literary side, Mutual author Lance Wheeler will be doing a ukulele sing-a-long and book reading session at 10:00 A.M.  BeachHouse author, Vera Arita will host a storytelling art time and book signing at 11:00 A.M.  In addition to these, there will also be lots of craters & vendors, face painting, Japanese sing-a-long, and an Uncle Wayne performance with birthday cake.  Check it out if you're in Manoa!  Baby Awearness, Manoa Marketplace, 2nd Floor; 10:00 A.M. to 3:00 P.M.  For more info visit www.babyawearness.com or call 988-0010.
Children's Storytime – Come to the book store every Saturday for a fun keiki story time reading.  This week they will be reading Biscuit (An I Can Read Picture Book) by Alyssa Capucilli.  It's Biscuit's bedtime, but this little yellow puppy doesn't want to sleep! He thinks its time to play! Barnes & Noble Ala Moana Center; 11:00 A.M.  For more information, click here.
Sunday, August 21
Maya Soetoro-Ng book signing – She will be signing copies of her children's book "Ladder to the Moon" at the "Meet the Artists" gathering sponsored by the Garden Island Arts Council Van Go! program. This event is an opportunity for the students who participated in making the ceramic murals embedded in the walls of the Kamalani Pavilion to see their artistic results.  Kamalani Pavilion at Lydgate Park (Kauai); 1:00 P.M. to 3:00 P.M.  Source
An Afternoon of Poetry – Featuring Sia Figiel, a poet/painter/writer from Samoa with three novels and a collection of poetry. She'll be joined by three Pacific Island poets — Nou Revilla, Tagi Qolouvaki and Marie Alohalani.  Free event.  Revolution Books, 2626 S. King St.); 3:00 P.M. Call the bookstore at 944-3106 for more information.  Source
[gn_divider]
Remember, all events listed above may be subject to change. Please contact the venue beforehand if you plan on attending. We encourage you to click on the links that are included with the events in the time line above. More events can be found on our Hawaii Book Blog Events Calendar. You can also keep up with events through us on Twitter by following @HawaiiBookBlog.
If you have an event you would like us to help promote, please leave us a comment here or e-mail me at aalba@hawaiibookblog.com. Mahalo and have a great weekend!