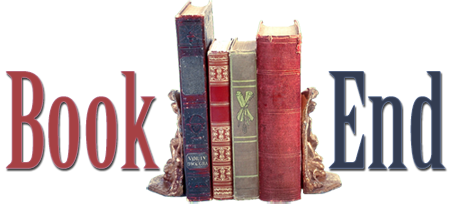 It's time…it's time…it's Book End Time! Welcome to this week's Book End, highlighting the week's literary and library events here in Hawaii.
[gn_divider]
Now on to the events…
Friday, August 26
Friends of the Wahiawa Library Book Sale – Today is the last day for the book sale.  The proceeds of the sale go to the support of the Library. Come early to get the best deals!  Wahiawa Public Library; 9:00 A.M. to 3:00 P.M.  For more information call the library at (808) 622-6345.
Saturday, August 27
7th Anniversary Celebration – The anniversary celebration for Kapolei Library will begin at 10:30 a.m. with a magic show featuring Alan Arita. As a gift to their loyal patrons, DVD may be rented at no charge. This special offer is only available at the Kapolei Public Library on the 27th at ten (10) DVD rental limit per valid library card. The Friends of the Library Kapolei (FOLK) will also have an outdoor Book Sale on the side lawn. There will be great bargains to be had, so arrive early for the best shopping. A free mini-scrapbook craft program will also be available for teens in the Young Adult section. Instructions and supplies will be provided. For more information on any of these events, call 693-7050.  Kapolei Public Library; 10:30 A.M.
Meet the Author: Petronella Evers – Keiki ages 5 and older, accompanied by a parent or caregiver, are invited to meet local children's author Petronella Evers who will present and read her picture book The Little Greenies: Manu the Seabird [read our review of the book here] followed by a question-and-answer session and a simple craft activity for children. For more information, call the library at 266-9911.  Kailua Public Library; 10:30 A.M.
Children's Storytime – Come to the book store every Saturday for a fun keiki story time reading.  This week they will be reading Memoirs of a Goldfish by Devin Scillian.  At storytime you can find out more about this special goldfish!  For more information, click here.  Barnes & Noble Ala Moana Center; 11:00 A.M.
"Get Ready" Emergency Preparedness Workshop – Hurricane season is here and runs through November 30. This workshop will provide important information for residents to know such as when and where to evacuate, and explain the difference between hurricane and tsunami shelters. Learn how to make an emergency plan for your family. Find out how to stay informed when there is a hurricane or tsunami watch, and what are the best resources available from local government. One emergency kit item per workshop will be awarded as a door prize. This workshop is suitable for ages 12 and older.  For more information, contact the library at 483-7333.  Aiea Public Library; 11:00 A.M.
Origami Folding Workshop – The workshop is designed for all origami enthusiasts, from beginning to advanced students.  Macri will demonstrate how to make a variety of origami models and there will be a question-and-answer session.  Paper will be provided and participants can take home their origami creations.  Seating is limited.  This workshop is suitable for ages 12 and older.  For more information or to make a reservation, please call the Library at 397-5833.  Hawaii Kai Public Library; 1:00 P.M. to 4:00 P.M.
[gn_divider]
Remember, all events listed above may be subject to change. Please contact the venue beforehand if you plan on attending. We encourage you to click on the links that are included with the events in the time line above. More events can be found on our Hawaii Book Blog Events Calendar. You can also keep up with events through us on Twitter by following @HawaiiBookBlog.
If you have an event you would like us to help promote, please leave us a comment here or e-mail me at aalba@hawaiibookblog.com. Mahalo and have a great weekend!