It's time…it's time…it's Book End Time!  Welcome to this week's Book End, highlighting the weekend's literary and library events here in Hawaii.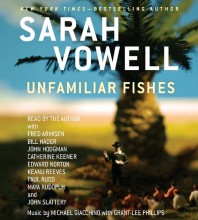 Unfamiliar Fishes Preview

More news has come out about Sarah Vowell's upcoming book covering 19th Century Hawaiian history.  For those of you interested, you can already take a sneak peak at the book on Google Books (link here).  In typical Sarah fashion, she interweaves old surfing movies and plate lunches from Rainbow's into her narrative to help the reader understand her perspectives.  She even calls Barack Obama "our first plate-lunch president."
In addition, the audio book version of her books have always been extremely popular.  The cover for the audio book version was recently released and guest speakers included Fred Armisen, Bill Hader, John Hodgman, Catherine Keener, Edward Norton, Keanu Reeves, Paul Rudd, Maya Rudolph and John Slattery.  Looks to be a great cast, though I'll be interested to see how they handle pronunciation of Hawaiian words and names.
To keep up with the latest news on Unfamiliar Fishes (due out March 22), visit the official Sarah Vowell Facebook page.
Moose News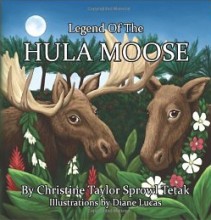 Received the following news from local author, Christine Taylor Sprowl Tetak:
Aloha HBB, News from Hula Moose Farm is that the website is launched for Legend of the Hula Moose. The address is: www.legendofthehulamoose.com

I invite you to discover our Hula Moose and go to the Kid's Page, click on coloring pages, scroll down, choose your favorite original illustrator's pencil sketches, download, print and get out those crayons. Be a kid again!

The book now is in 24 Hawaii State Libraries!!
Book Giveaway Winner….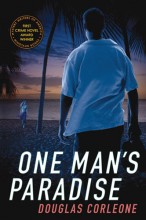 We recently posted a book giveaway for an autographed copy of Douglas Corleone's debut novel, One Man's Paradise. After tallying up all of your responses on the post and on Twitter, assigning each person a number and running it through Random.Org, we finally have a winner!
Congratulations to Jen from Missouri.  You can check out Jen's own book blog at the following URL:  http://cleanromancereviews.blogspot.com. We hope Jen enjoys this great book and mahalo to everyone who participated. Don't fret, we will be giving away a whole host of books in the near future, so please stick around!
###
Now on to the events!
Friday, February 18
11:00am – Book Signing event at BYU-Hawaii Book Store (55-220 Kulanui St in Laie)!  Meet author Donald J. Carey as he signs copies of his debut novel Bumpy Landings [read our review here].  Joining him is Hilo author, Susan Corpany who will be signing her book Lucky Change.  Both novels have recently been published by Bonneville Books, and Lucky Change has been selected as a Whitney Award finalist.  For more info on this event, visit this link here.
01:00pm – Author Event with Virgil Mayor Apostol, author of Way of the Ancient Healer at Basically Books in Hilo on the Big Island.  Virgil will be discussing and signing copies of this book, which provides an overview of the rich tradition of Filipino healing practices, including their origins, world influences, and roles in daily life.  More information on Basically Books website here.
03:00pm – Come to Kahuku School & Public Library for "Writing Journeys" with authors Donald J. Carey and Susan Corpany.  The two of them will be sharing their books, Bumpy Landings by Carey [read our review] and Lucky Change by Corpany, respectively.  They will discuss and receive questions from readers.  For more info on this event, visit this link here.
Saturday, February 19
08:30am – Have your picture book and fiction manuscripts written for children and young adults critiqued by award-winning writers and editors from 8:30am until 4pm at the Ala Moana Hotel in Honolulu.  The cost ranges from $30 – $35.  For more information call 295-2866.  Source
09:00am – The Friends of Kaimuki Library will host a Book Sale at Kaimuki Public Library from 9 am to 2 pm.  Choose from an enormous selection of books priced at just $1.00 each.  There will also be a large assortment of CDs, DVDs, videos and audiobooks on sale. Come early for the best selection.  Proceeds from the book sale will benefit the Library.  Contact the library at 733-8422 for more information.
10:00am – Meet author S.P. Grogan as he talks about and signs copies of his new book Captain Cooked: Hawaiian Mystery of Romance, Revenge…and Recipies! He will be at Kona Bay Books (Big Island) which is at 74-5487 Kaiwi Street in Kona.  Also learn about his special geo-caching treasure and how to obtain hints.  Call the store at 326-7790 for more information.
11:00am – Kauai!!  Come to the Borders in Lihue (4303 Hala Road) for a book signing event!  Author Patsy Iwasaki, who is a Kauai native and Kauai High School grad, and illustrator Avery Berido will be on hand to discuss and sign copies of their graphic novel, Hamakua Hero: A Plantation Story [read our review here], about Japanese immigrant and plantation worker Katsu Goto.  Don't miss out on this event!  Call (808) 246-0862 for more info.
11:00am – Enjoy Children's Story Time at Barnes & Noble Ala Moana.  This week they'll be reading Up and Down by Oliver Jeffers.  More info here.
11:00am –

*NEW*

Maui!!!  Author June Kramin will appear at a signing for her new novel, Dustin Time, from 11am – 1pm at The Coffee Store in Azeka Place Mauka (1279 South Kihei Road).  The book, published by Champagne Books, is described as a paranormal romance involving time travel.  For more info read the full story on The Maui News.
11:00am – Aloha KiKi Book Event w/ Angel M. Hiatt at Books, Nooks & Crannies; 14 Waianuenue, Hilo (Big Island).  The event is from 11am – 1pm with the book reading happening at Noon!  The illustrator Scott Bosshardt will also be present.  For more information call the bookstore at (808) 961-1110.  This event will include a special appearance by the Hawaii Island Humane Society along with one Animal Control Officer and one Veterinary Technician, plus they will be bringing with them a few cats and dogs from the shelter.  Read our review of Aloha Kiki here.
02:00pm – Come to Basically Books in Hilo on the Big Island for an awesome author event!  S.P. Grogan will be on hand to discuss and sign copies of his new book Captain Cooked: Hawaiian Mystery of Romance, Revenge…and Recipes!  Captain Cooked is non–stop mystery and excitement— and there is even a real treasure hunt embedded in the pages! A Hawaiian war club is currently hidden somewhere on the Big Island. If it is found, the finder will receive $5,000 cash!  For more information on this event, visit Basically Books here.
Sunday, February 20
07:30am – Chef Alan Wong will be signing copies of his latest book The Blue Tomato [read our review here] from 7:30am – 10am at the LCC Culinary Arts Program Scholarship Brunch.  It's a morning of GREAT food, good entertainment, and terrific shopping!  A perfect way to spend your Sunday morning.  Pre-sale tickets are being sold at the PA'I Arts & Culture Center.  Call us at 375-0847, or e-mail them at kaiu.pacc@gmail.com if you have any questions or wish to purchase tickets.  For more information on this event, click here.
10:00am – Into Geocaching?  Big Island Geocachers will be at Island Lava Java restaurant (75-5799 Alii Drive, Kailua-Kona, HI) to meet author S. P. Grogan, author of Captain Cooked: Hawaiian Mystery of Romance, Revenge and Recipes and learn about his special geocaching treasure and how to obtain the hints.  Open to all.  Phone 808-327-2161 for more information.
04:00pm – Famed Tiki artist Brad Parker will be joining S. P. Grogan to host a joint signing event for Grogan's new book Captain Cooked: Hawaiian Mystery of Romance, Revenge and Recipes! They will be at the Royal Kona Resort (75 5852 Ali'i Drive.) for this event which will last until sunset.  Don't miss out on a chance to meet these two creative individuals.
###
Weekly Wrap-Up – A smattering of events happening from Monday – Thursday next week (Feb. 21 – 24).
Thinking Out Loud – Monday's guest on the popular radio program, "Thinking Out Loud: Talking Issues, Taking Action" will be John Clark, author of Guardians of the Sea.  Thinking Out Loud is on every Monday at 6:30pm on KZOO 1210AM.
Mysterious Phenomenon of Patterning, evident in language, the arts and nature will be the topic of discussion for author Frank Stewart as he uses images from the recent  photography book Akule by Wayne Levin.  This event will happen on Tuesday, February 22 from Noon to 1pm in the first floor Multipurpose Room of the Hawaii State Art Museum.  Free event.
Meet Michael Haas, Editor of Barack Obama, The Aloha Zen President
on Wednesday, February 23rd at 3pm.  He'll be doing a book signing event for his new book at the Basically Books store in Hilo, HI.  Michael Haas is the editor of the book, and several contributing local writers will also be on hand for the event.  For more information, please
contact the bookstore.
###
Remember, all events listed above may be subject to change.  Please contact the venue beforehand if you plan on attending.  We encourage you to click on the links that are included with the events in the timeline above.  More events can be found on our Hawaii Book Blog Events Calendar.  You can also keep up with events through us on Twitter by following @HawaiiBookBlog.
If you have an event you would like us to help promote, please leave us a comment here or e-mail me at aalba@hawaiibookblog[dot]com.  Replace the [dot] with a '.' when you compose the message.  Mahalo and have a great weekend!