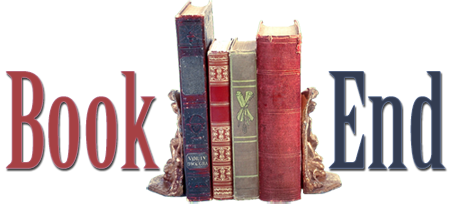 It's time…it's time…it's Book End Time! Welcome to this week's Book End, highlighting the week's literary and library events here in Hawaiʻi.
Support our local literary scene and our local libraries by attending these events.  Have a great weekend, everyone!
[gn_divider /]
Saturday, February 23
Mililani Library Used Book Sale – The Friends of Mililani Public Library will sell a large variety of books, CDs and DVDs. Proceeds from the sale will go to help fund the Mililani Library. Mililani Public Library, 95-450 Makaimoimo St.); 9:00 A.M. to 3:00 P.M. For more information, please call the Library at 627-7470.
Chinese New Year Celebration – The Library will be celebrating Chinese New Year on multiple Saturdays! These programs are suitable for ages 5 and older.  This Saturday: The Story of the Lantern Festival—Carry an animal shaped lantern just like the children in China and Taiwan. Fun craft activities like making a paper lantern and using playdough to make Yuen Xiao. Manoa Public Library (2716 Woodlawn Dr.); 10:30 A.M. to 12 Noon. For more information, call 988-0459.
Keiki Storytime featuring Olivia Goes to Venice – Olivia is on a family vacation to Venice! Ooops, need to stay away from the pigeons but the Gelato was great and…. Whoa! Don't tip the gondola! Barnes & Noble Ala Moana Center (1450 Ala Moana Blvd. STE 1272); 11:00 A.M. For more info, click here.
Carnegie Libraries: Past and Present – In celebration of the Hawaii State Library's Centennial Anniversary. Between 1883 and 1929, more than 2,500 libraries were built with money donated by Scottish-American businessman and philanthropist Andrew Carnegie.  Through the years, Carnegie libraries, initially developed as free public libraries, have experienced varying fates.  Some, like our Hawaii State Library, have retained their original function.  Others have been razed, or the buildings re-purposed. Dr. Rebecca Knuth, a University of Hawaii at Manoa professor of the Library and Information Science Program, will discuss the fate of Carnegie libraries today, more than 100 years from the time Carnegie began building his libraries. The Hawaii Center for the Book is sponsoring this one-hour presentation that is suitable for ages 12 and older. Hawaii State Library (478 S King St.); 11:30 A.M. For more information, please call the Library's Language, Literature and History Section at 586-3499.
Bean Camp to Briar Patch book event – Author John Powers wrote Bean Camp to Briar Patch, Life in the POW Camps of Korea and Vietnam to help record the facts of the experience for the children and grandchildren of those veterans. Unlike reports on WWII camps, Korea and Vietnam were largely undocumented. By acknowledging their experience we honor their sacrifice. This is a free event. Basically Books (160 Kamehameha Ave., Hilo); 1:00 P.M. For more info visit basicallybooks.com.
Black Aviation Pioneers – Maui historian Adesina Ogunelese will read books on black aviation pioneers to children ages 6-12 years.  Learn about Bessie Coleman, the amazing woman who became the first licensed African American pilot in 1921. Since 2006, Adesina Ogunelese has presented lectures on many aspects of Black History at Maui Libraries and schools.  Adesina believes that your history and culture should be preserved and shared from your own point of view. In order to go forward with excellence, our children, who are the future, need to know their past history and the challenges their ancestors overcame. Makawao Public Library (1159 Makawao Ave.); 2:00 P.M. For more information, call 573-8785.
How to Create Your Own Comic Book – Wow Lau Lau!  This free workshop will be presented at the Library Meeting Room. Comic Jam Hawaii, a local artists group, will conduct the three-hour workshop for ages 8 and older.  Participants will learn simple methods for creating their own multi-page comic books, as well as basic storytelling skills. These methods can easily be duplicated at home. The workshop will consist of approximately 30 minutes of instruction, followed by a period of assisted comic book creation time.  Paper, pencils, and crayons will be provided.  Participants may also bring their own drawing utensils. Aiea Public Library (99-143 Moanalua Rd.); 2:00 P.M. For more information, please call the Library at 483-7333.
Sunday, February 24
Maui Friends of the Library Used Book Sale – Maui Friends of the Library will be having a used book sale in front of the library. Please stop by and check out our selection of fiction, non-fiction and oversize books. All proceeds help support all of the libraries in Maui County. Membership applications will also be available. Makawao Public Library (1159 Makawao Ave.); 9:00 A.M.
[gn_divider /]
Remember, all events listed above may be subject to change. Please contact the venue beforehand if you plan on attending. We encourage you to click on the links that are included with the events in the time line above. More events can be found on our Hawaiʻi Book Blog Events Calendar. You can also keep up with events through us on Twitter by following @HawaiiBookBlog.
If you have an event you would like us to help promote, please leave us a comment here or e-mail me at aalba@hawaiibookblog.com. Mahalo and have a great weekend!