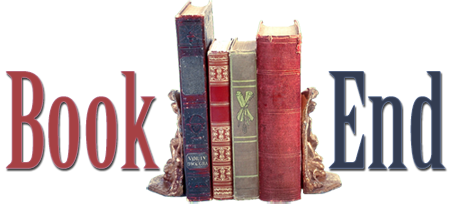 It's time…it's time…it's Book End Time! Welcome to this week's Book End, highlighting the week's literary and library events here in Hawaiʻi.
Support our local literary scene and our local libraries by attending these events.  Have a great weekend, everyone!
Volunteers Needed
The Friends of Kaneohe Library are looking to recruit volunteers willing to work at least two hours a week. Volunteers would help sorting, pricing, and shelving books at the Friends' used book store below Kaneohe Public Library.  Potential helpers can apply in the book store on Sundays from 1-4pm or Wednesdays from 6-7:45pm. Call 247-4819 for more information on how to help.
[gn_divider /]
Friday, February 8
Words in the World: Literatures, Oratures, and New Meeting Grounds – This symposium is being held at the University of Hawai'i at Mānoa from February 7 to February 9, 2013! This symposium has its impetus in the movement within literary, cultural, and performance circles to reconceptualize the field of "world literature." Working from a location in Hawai'i and Oceania, the symposium pursues an alternative vision of "words in the world" that foregrounds perspectives and cultural forms from around the world that the field of "world literature" previously peripheralized. A central theme will be the need for the literatures and oratures of the world to engage indigenous aesthetic and ethical traditions of speaking from and for particular places, while developing lines of connection and affiliation among disparate communities of writers and scholars. On Friday see "Mele Panel and Performance," "Literatures of the World" panel, "Global Native Literary Studies" panel, and "Performing Arts and Decolonization," an evening of spoken word poetry, dance and music. All events are FREE and OPEN TO THE PUBLIC. University of Hawaii at Manoa; 12:30 P.M. to 7:45 P.M. For more info, visit the Facebook Event page.
Saturday, February 9
Friends of the Library Kona (FOLK) Book Sale – Every second Saturday, the Friends of the Library, Kona hold a book sale. F.O.L.K. Members receive 20% off Lanai Sales.  Proceeds from the sale will go to help fund Kona libraries.  The book sale will be held on the library's lanai. To volunteer email: booksales@folkhawaii.com. Kailua Kona Library Lanai (75-138 Hualalai Rd.); 9:00 A.M. to 1:00 P.M. For more info, visit the FOLK website.
Words in the World: Literatures, Oratures, and New Meeting Grounds – Last day of this symposium. For a description of this event, read the previous day (Friday's) write-up. On this day a panel on "Translation(s)" and a Closing Roundtable discussion. University of Hawaii at Manoa; 9:00 A.M. to 12:15 P.M. For more info, visit the Facebook Event page.
50th Anniversary Celebration of Kahului Library – The library will celebrate its 50th Anniversary with special performances and events.  The schedule of events and performances includes: 9 a.m. – Traditional Hawaiian blessing by Rev. Laki Kaahumanu and presentations honoring Kahului Public Library's 50th Anniversary; 10 a.m. – Maui Taiko: demonstration of Taiko drumming and discussion of "Great Grandfather's Drum" DVD; 11 a.m. – Plunkers, Hawaiian music and hula performance; Noon – Jeff Peterson, Grammy and Na Hoku Hanohano Award award-winning slack key guitarist; performance produced by UH-Manoa Outreach College's Statewide Cultural Extension Program (SCEP); 1 p.m. – Au's Shaolin Arts Society, Chinese Lion Dance and Martial Arts demonstration; 2 p.m. – Face painting by Kisha Milling; for keiki of all ages; 3 p.m. – Peter and Melinda Wing Storytelling Variety Show. Refreshments will be served. The Library, which opened on February 9, 1963, is the largest public library on Maui and serves as an extensive resource center for the islands of Maui, Molokai, and Lanai. Kahului Public Library (90 School St, Kahului); 9:00 A.M. to 3:00 P.M. For more information, call 873-3097.
Chinese New Year Celebration – The Library will be celebrating Chinese New Year on multiple Saturdays until Feb. 23! These programs are suitable for ages 5 and older. This Saturday, Miss Panda will share the story of "Nian" Beast & the story of the Red Envelopes. Fun craft activities like making a little dragon (snake) and making Chinese dumplings with playdough. Getting to know a traditional Chinese instrument and performance. Learn the most important Chinese New Year greetings. Manoa Public Library (2716 Woodlawn Dr.); 10:30 A.M. to 12:00 P.M. For more information, call 988-0459.
The Hawaii Sons of the Civil War – (Presented by Historians Nanette Napoleon and Anita Manning). When the American Civil War broke out in 1861, King Kamehameha IV declared the Hawaiian Kingdom neutral .  However, that did not stop more than 100 men from Hawaii from volunteering to fight in a war that was not their own.  This presentation will focus on the contribution of these men and how their families at home in Hawaii helped support care of the wounded and keep up morale. Kapolei Public Library (1020 Manawai St.); 10:30 A.M.  For more info, call the Library at 693-7050.
Valentine's Day Storytime – Come on down with your keiki to the bookstore for a special Valentine's Day Storytime. They will be featuring a reading of Joanna Walsh's The Perfect Hug, including some fun activities and treats! Barnes & Noble Kahala Mall (4211 Waialae Avenue); 11:00 A.M. For more information, visit B&N's website.
Costume Character Keiki Storytime – Come down to the bookstore for a very special and fun costume character keiki storytime in the Children's Section! Curious George will be on hand as the featured book is Curious George Goes to a Chocolate Factory. George and the Man in the Yellow Hat stop to shop at a chocolate factory store. George naturally becomes curious about how chocolates are made. Though he begins to follow the factory tour, George is soon off on his own. Come to see George, stay for the story! Barnes & Noble Ala Moana Center (1450 Ala Moana Blvd. STE 1272); 11:00 A.M. For more info, visit the B&N website.
Learn How to Write a Children's Book – Three local children's book authors will present this one-hour program in the Adult Reading Room (First Floor). Scott Goto, Sue Cowing, and Lynne Wikoff, all published members of the Society of Children's Book Writers and Illustrators, Hawaii Chapter, will lead a free discussion program for adults on what you should know about writing for children. The authors will share information about the craft and business of writing for children, and provide tips on how to polish your writing skills. Learn how important it is to "hook" the reader by skillful use of plot, character, dialogue, setting and timing. Contact the Library as soon as possible if a sign language interpreter or other special accommodation is needed. Hawaii State Library (478 S King St.); 1:30 P.M. For more information, please call the Edna Allyn Room for Children at 586-3510.
Music Education Can Help Your Keiki Succeed in School – Ralph Hedges, a music theorist and piano instructor, will conduct this presentation for adults about the benefits of music education for young students. Hedges will discuss how music lessons could improve a young student's ability to master non-music academic subjects, and will provide information about music-learning theory. Hedges, who has a Master of Music degree from Manhattan School of Music in New York, performed as a professional musician in California and Hawaii, has taught music in Hawaii, and has written articles about music theory. Mililani Public Library Adult Reading Area (95-450 Makaimoimo St.); 2:00 P.M. For more information, please call the Library at 627-7470.
2nd SATurday's Poetry Slam & Open Mic – Youth Speaks HI (as seen on HBO) presents this event. Hosted by Kamalei Hee & Emceed by Samson Tafolo. $3 ADMISSION (the most affordable slam in town!) Doors and sign-up @ 2:30PM. Starts @ 3:00PM. ALL AGES WELCOME. February features Matthew Cuban Hernandez, spoken word rich with hip hop, as well as the fifth qualifying slam for Grand Slam Finals 2013. The ARTS at Marks Garage (1159 Nu'uanu Ave.); 2:30 P.M. to 5:30 P.M. For more information contact sterling@YouthSpeaksHawaii.org or (808)782-7868.
Sunday, February 10
How to Download eBooks to Mobile Devices – This free instructional program will be offered in the Adult Reading Section. Learn how to check out eBooks from the Library and download them to your eReader or tablet. Interested participants should bring their mobile device with them for this hands-on demonstration. Participants of all ages are invited to attend this one-hour program. Contact the Library as soon as possible if a sign language interpreter or other special accommodation is needed, and to sign up for individual assistance with your mobile device after the program. Pearl City Public Library (1138 Waimano Home Rd.); 2:00 P.M. For more information and to sign up for individual assistance, please call the Library at 453-6566.
[gn_divider /]
Remember, all events listed above may be subject to change. Please contact the venue beforehand if you plan on attending. We encourage you to click on the links that are included with the events in the time line above. More events can be found on our Hawaiʻi Book Blog Events Calendar. You can also keep up with events through us on Twitter by following @HawaiiBookBlog.
If you have an event you would like us to help promote, please leave us a comment here or e-mail me at aalba@hawaiibookblog.com. Mahalo and have a great weekend!