Check it out: BeachHouse Publishing is the first Hawaii publisher to bring you local children's books available on your iPhone and iPod Touch, produced locally in Hawai'i by Bluewater Media.  In addition to the colorful, whimsical illustrations and text in the printed book, the ibeachhouse books are narrated and animated so children can enjoy the book on a whole new level in English or Hawaiian.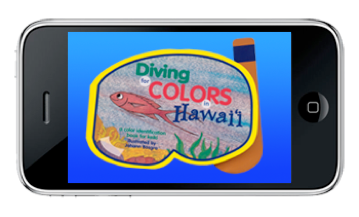 Their first book, currently available at the iTunes store is Diving for Colors in Hawai'i.  For more information check out the BeachHouse Publishing web site.
Don't Forget: You have only two days left to go to the library and enter your haiku about tofu for a chance to win a family package to Wet 'n' Wild Hawaii or runner-up prizes from Aloha Tofu. For ages 7–17. Kapolei Public Library, 1020 Manawai St.: Deadline expires Saturday, 1/30. 693-7050.
Now on to the events:
Friday, January 29
09:00am – Library Book Sale at Wahiawa Public Library from 9am to 3pm.  Used books, CDs and videotapes will be on sale at bargain prices. Come early for the best selection.  For more information, please call the Library at 622-6345.
10:30am – At Princeville Public Library (Kauai):  Honolulu Theater for Youth presents "Keiko and Louie: Best Best Friends (Mostly)"  Created by Daniel A. Kelin, HTY's Director of Drama Education, this 30-minute interactive program uses humor, movement, and participation to engage young audiences directly in the performance.  More Info
06:00pm – A book signing and public lecture featuring Allan Winkler, author of To Everything There is a Season:  Pete Seeger and the Power of Song (2009), Franklin D. Roosevelt and the Making of Modern America (2006), and Home Front, U.S.A.:  America During World War II (2000).  More Info
Saturday, January 30
10:00am – Every Saturday is Children's Storytime at Barnes & Noble Lahaina (Maui).  More Info
11:00am – It's Children's Storytime at Barnes & Noble Ala Moana, reading Creaky Old House by Linda Ashman.  More Info
01:00pm – Book Signing event at Borders Pearlridge.  Arnold Hiura signs his book Kau Kau: Cuisine & Culture in the Hawaiian Islands.
01:00pm – Book Signing event at Barnes & Noble Kahala.  David Heenan will be signing copies of his new book Bright Triumphs from Dark Hours.  More Info
01:00pm – Author Event at Kona Stories Bookstore (Big Island).  Harry Uhane Jim will talk story about his Laulima work and sign copies of his book Wise Secrets of Aloha.  More Info
Remember, all events listed above may be subject to change.  Please contact the venue beforehand if you plan on attending.  More events can be found on our Hawaii Book Blog Calendar.
If you have an event you would like us to help promote, please leave us a comment here or e-mail me at aalba@hawaiibookblog[dot]com.  Replace the [dot] with a '.' when you compose the message.  Mahalo and have a great weekend!
Photo credit: BeachHouse Publishing