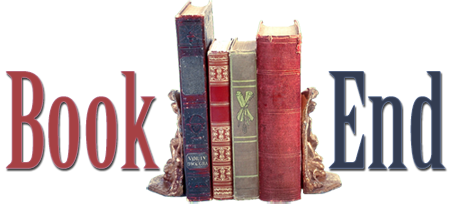 It's time…it's time…it's Book End Time! Welcome to this week's Book End, highlighting the week's literary and library events here in Hawaiʻi.
Support our local literary scene and our local libraries by attending these events.  Hope everyone has a great weekend!
[gn_divider]
Now on to the events…
Friday, January 27
Wahiawa Public Library Book Sale – It's the FINAL day for this book sale, so be sure to stop by!  A variety of gently-used books, CDs, and videotapes will be on sale at bargain prices.  Come early for the best selection.  All proceeds from the book sale will benefit the Library.  Wahiawa Public Library (820 California Avenue); 9:00 A.M. to 3:00 P.M.  For more information, call the Library at 622-6345.
Saturday, January 28
Hanafuda: Hawaiʻi Style – Helen Nakano will present the basics of Hanafuda: Hawaii Style. She will discuss the history of Hanafuda and share myths and symbolism of the card designs. Seating is limited; available on a first-come, first-served basis. This 1 hour & 45 minute program is suitable for ages 8 and older. Hawaii Kai Public Library; 10:30 A.M. For more information, call 397-5833.
Preventing Dementia: The Importance of Brain Stimulation and Other Key Factors – This is a free workshop for adults. Dr. Thomas Harding, Forensic Neuropsychologist and Brain Rehabilitation Specialist, will conduct the workshop and present proven brain stimulation principles and exercises that strengthen brain function and stop memory decline. Dr. Harding will identify current dementia-related risk factors to learn what risks may be present in a person's life. He will demonstrate strategies to reduce risk factors – to keep more of the brain function one has and the gains made with the brain stimulation exercises.  Dr. Harding is the author of You CAN Prevent Alzheimer's: A Neuropsychologist's Secrets to Better Brain Health.  Kapolei Public Library; 10:30 A.M.  For more information please call 693-7050.
Don't Look Back Book Signing event – Come and meet some of our most talented local writers!  Christine Thomas, J. Freen, Victoria Kneubuhl, Marion Lyman-Mersereau and J. Arthur Rath III will all be on hand for this book signing to commemorate the release of their compilation with 12 other Hawaii writers, Don't Look Back: Hawaiian Myths Made New [read our review of the book].  In this book, editor Christine Thomas has collected 17 tales of old Hawai'i—lovingly re-imagined and retold for the 21st century.  Barnes & Noble Kahala Mall; 11:00 A.M.  For more information, call the publisher at (808) 587-7766; toll-free (866) 900-BOOK.
Four Legal Tools to Protect Yourself from Elder Abuse, Long-Term Care Expenses and Taxes – Scott Suzuki, volunteer community services attorney for the University of Hawaii at Manoa's Elder Law Program, will discuss power of attorney, advanced health care directives, the differences between wills and trusts, and options for financing long-term care, including insurance and Medicaid. This program will include a question-and-answer session.  Mililani Public Library; 11:00 A.M.  For more information please call 627-7470.
Author Sydney Iaukea: The Queen and I – Join the book store in welcoming Sydney Iaukea, author of The Queen and I. Sydney's great-great-grandfather Curtis P. Iaukea was an advisor to Queen Liliʻuokalani.  This fascinating book covers the territorial history of Hawaiʻi as seen through his eyes.    Barnes & Noble Kahala Mall (4211 Waialae Avenue); 1:00 P.M.  For more information, click here.
Calendar Gift Bags: An Eco-Friendly Craft Workshop – Eco-friendly craft expert Evelyn Nakamura will conduct a one-hour workshop on creating calendar gift bags. Your old calendar pages can be reborn as useful, attractive gift bags. Use them for gifts, favors, or goodies. Learn a process that can be applied to any size or type of paper. Additional ideas for using calendars will be shared. Attendees will have enough supplies to make about a dozen bags. Space is limited and registration is recommended. Program is suitable for ages 18 and older.  Hawaii State Library – Art, Music & Recreation Section; 2:00 P.M.  For more information or to register, contact the library at 586-3520.
An Evening with Alice Inoue – Presenting an Astrological and Spiritual Perspective for 2012.  Make the most of 2012 and join Alice for an enlightening evening as she shares upcoming astrological and spiritual cycles with you.  $30 in advance; $35 at the door.  Ala Moana Center, Macy's Special Events Room; 7:30 P.M. to 9:30 P.M. For more info, visit: astrology-fengshui.com.
Sunday, January 29
Hobey Goodale author event (Kauai) – Hobey Goodale shares stories from his new book Hobey. Goodale has lived most of his 80+ years on Kauaʻi. St. Michael's Church (4364 Hardy St., Lihue); 8:30 A.M. to 9:15 A.M.  For more information call 245-3796 or visit www.stmichaels-kauai.org.
Healthy and Easy Vegetarian Cooking – Ori Ann Li, a former Mrs. Hawaii International who has found her niche as a vegetarian chef, will present a free lecture-demonstration program in the Adult Reading Section.  Chef Li will demonstrate how to cook tasty and easy-to-prepare vegetarian dishes and offer free taste samples. In addition, she will discuss the health and environmental benefits of a vegetarian lifestyle.  Chef Li has attended culinary schools in North America and Europe, including Le Cordon Bleu in Paris, and is a certified ayurvedic nutrition advisor. This one-hour program is suitable for all ages.  Kaimuki Public Library (1041 Koko Head Avenue); 2:00 P.M.  For more information, please call the Library during normal hours of operation at 733-8422.
Chinese Lion Dance to welcome the Year of the Dragon – This free program will be conducted in the Adult Reading Section. Keiki and their parents are invited to join in the festivities and "feed" the lion from the Lung Kong Physical Culture Club for good luck in 2012. All keiki must be accompanied by a parent or caregiver.  Pearl City Public Library (1138 Waimano Home Road); 3:00 P.M. For more information, please call the Library at 453-6566.
[gn_divider]
Remember, all events listed above may be subject to change. Please contact the venue beforehand if you plan on attending. We encourage you to click on the links that are included with the events in the time line above. More events can be found on our Hawaiʻi Book Blog Events Calendar. You can also keep up with events through us on Twitter by following @HawaiiBookBlog.
If you have an event you would like us to help promote, please leave us a comment here or e-mail me at aalba@hawaiibookblog.com. Mahalo and have a great weekend!