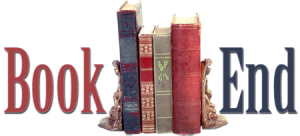 It's time…it's time…it's Book End Time! Welcome to this week's Book End, highlighting the week's literary and library events here in Hawaii.
Here's some interesting book news first: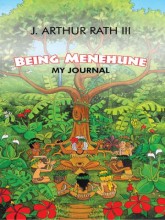 Digital Menehune

I received word from J. Arthur Rath III that his latest book, Being Menehune, My Journal was recently released as an e-book (it's coming out soon on paperback).  The book is available for purchase as a Kindle Edition, a Nook Book, or just in general on Google Books.  The brief description of the book ends with, "Being Menehune, My Journal is filled with history, creativity, inspiration, and A-l-o-h-a."  If you've read and enjoyed Arthur Rath's unique writing style in the past, then I'm positive you'll enjoy his latest.  I know I'm looking forward to it!
Vultures Like Sumo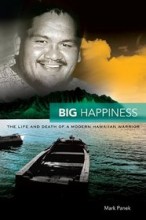 Dan Kois, author of the IZ book Facing Future [read our review here], included Mark Panek's latest book about local sumo champion Percy Kipapa, Big Happiness: The Life and Death of a Modern Hawaiian Warrior, in his "Five Good Books for the Summer, in Order From Enjoyably Brainy to Delightfully Brainless." His recommendations are a part of NYMAG's Vulture Recommends feature, where critics provide five recommendations on what to see, hear and read.  You can even find Sarah Vowell's (Unfamiliar Fishes) recommendations on History a couple lists below Dan's.  It's a fine endorsement for Panek's book.  If you haven't checked it out yet,  the book is available at UH Press. We're currently working on a review of the book as well, so look out for that!
[gn_divider]
Now on to the events!  Since this weekend is very sparse on literary/library events, I've also included some major highlights happening during the rest of the week (Monday thru Thursday).  It's not a complete list, so please check out our Events Calendar for a more complete schedule of events.

Saturday, June 11
All Public Libraries – In observance of Kamehameha Day, all Hawaii State Public Libraries will be closed today.
Children's Storytime – Bring your keiki to the book store every Saturday for storytime!  This week they'll be reading When a Dragon Moves In by Jodi Moore.  Barnes & Noble Ala Moana Center; 11:00 A.M. For more info, click here.
Monday, June 13
It's Book Time with Ronald McDonald! – Ronald McDonald will offer a fun-filled interactive performance featuring a creative blend of music, magic and games to reinforce the idea that reading is fun.  Kapolei Public Library (1020 Manawai St.; 693-7050); starts at 10:30 A.M.
The Fire and Ice Spectacular! – A fast-paced, high energy and educational demonstration of science experiments involving fire and dry ice.  Kaimuki Public Library (1041 Koko Head Avenue; 733-8422); 6:00 P.M.
Tuesday, June 14
OMG! Bunny Story and Pet A Bunny! – Ms. Jolene will present a special Bunny Storytime and children will have the opportunity to see and pet live rabbits from Zac's Rabbitry.  Waipahu Public Library (94-275 Mokuola Street); 10:30 a.m. For more information, please call the Children's Librarian at 675-0358.
Modern Troubadour James McCarthy – Blending characters, audience participation and musical selections, McCarthy's songs and stories highlight the values of respect and conservation from a variety of cultures.  Kailua Public Library (239 Kuulei Road); 6:30 P.M. For more info, call the Library at 266-9911.
Wednesday, June 15
Make Dad a Father's Day Craft – Children ages 4 through 12, accompanied by a parent or caregiver, are invited to make something for their father to show their appreciation for all the things he does.  Aiea Public Library (99-143 Moanalua Road); 10:00 A.M. For more information, please call the Library at 483-7333.
Sing Along with Uncle Wayne – Join musician and early-education specialist, "Uncle Wayne" Watkins, for an energetic and always entertaining sing along. Just right for toddlers and preschoolers!  Ewa Beach Public & School Library (91-950 North Rd); 10:30 A.M. Call 689-1204 for more info.
Meet Author Kathie Fong Yoneda – Meet the author of The Script-Selling Game: A Hollywood Insider's Look at Getting Your Script Sold and Produced, independent script consultant Kathie Fong Yoneda. She will be signing copies of her book at Barnes & Noble Kahala Mall; 6:00 P.M. Call 808-737-3323 for more information.
Thursday, June 16
Stories from Around the World – Storyteller Dave Del Rocco will share folktales from Hawaii and other places such as Africa, Alaska, Italy, Laos, and the Philippines. His tales are mostly humorous in nature and explain how different cultures view aspects of their world.  Mililani Public Library (95-450 Makaimoimo St); 2:30 P.M. For more info call 627-7470.
Harry Potter Mystery Movie Marathon – This is an ongoing series of Harry Potter movie nights (started on June 2), leading up to the premiere of Harry Potter and the Deathly Hallows, Part II.  Call the library at 483-7333 to find out which movie is playing or for more info.  Aiea Public Library (99-143 Moanalua Road); 5:00 P.M.
Sing Along with Uncle Wayne – Uncle Wayne will also hold two sing-alongs on Thursday at Hawaii Kai Public Library (249 Lunalilo Home Rd; 397-5833) at 10:30 A.M. and at Waikiki-Kapahulu Public Library (400 Kapahulu Ave.; 733-8488) at 4:00 P.M.  Call the respective branch for more info and/or to confirm times.
Remember, all events listed above may be subject to change. Please contact the venue beforehand if you plan on attending. We encourage you to click on the links that are included with the events in the time line above. More events can be found on our Hawaii Book Blog Events Calendar. You can also keep up with events through us on Twitter by following @HawaiiBookBlog.
If you have an event you would like us to help promote, please leave us a comment here or e-mail me at aalba@hawaiibookblog.com. Mahalo and have a great weekend!