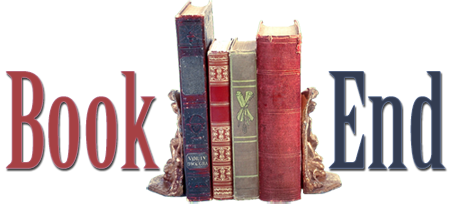 It's time…it's time…it's Book End Time! Welcome to this week's Book End, highlighting the week's literary and library events here in Hawaiʻi.
Support our local literary scene and our local libraries by attending these events.  Have a great weekend, everyone!
[gn_divider]
Friday, June 15
Sing Along With "Uncle Wayne" Watkins & Jason Pfahl – Join musician "Uncle Wayne" Watkins and drummer Jason Pfahl for an energetic and always entertaining sing along. Just right for toddlers and preschoolers, this 45-minute program will have youngsters laughing, singing, dancing, and moving to music that inspires and entertains. Young children must be accompanied by a parent or caregiver. Ewa Beach Public & School Library; 10:30 A.M.  For more information, call the library at 689-1204.
Teen Beaded Necklace Program – All programs run about one hour. All children 5 years or younger must be accompanied by a parent. Craft models on display in the library.  Kealakekua Public Library; 2:30 P.M.  For more info, call the library at 323-7585.
Lego Building Event – Parents and children ages 4 and up are invited to visit their local store for the Lego Building Event. Kids will hone their fine motor skills while having a blast building with Lego micro bricks! Reserve your space on the in-store sign-up sheet.  Barnes & Noble Kahala Mall (4211 Waialae Avenue); 5:00 P.M.  For more information, click here.
Saturday, June 16
Friends of the Waialua Public Library Book Sale – Friends of the Waialua Public Library holds a book sale at the library every 3rd Saturday of the month! There is also a bake sale at the book sale. Join the Waialua Friends in supporting the Library and find cheap books and ono treats!  Waialua Public Library (67-068 Kealohanui St.); 9:00 A.M. to 2:00 P.M.  Call (808) 637-8286 for more info.
Mask-Making Workshop – Mask-maker extraordinaire Yuki Shiroma, a featured artist for the 2012 HSPLS Children's Summer Reading Program, will present a free Mask-Making Workshop. Learn how to create a three-dimensional mask using paper, glue, scissors, pipe cleaners, and markers. The workshop is designed for ages 8 and older and limited to 20 participants. Registration is requested. All children must be accompanied by a parent or caregiver. Shiroma, co-artistic director of Monkey Waterfall, has performed and taught dance and mask-making for more than 20 years nationally as well as internationally. In addition, Shiroma directs the productions of the performing arts company.  Liliha Public Library (1515 Liliha St.); 10:30 A.M.  For more information and to register, please call the library at 587-7577.
"Stories From Around the World" with Dave Del Rocco – Storyteller Del Rocco will share folktales from every corner of the globe, including Hawaii, Laos, Italy, Alaska, the Philippines, Africa, and more. These tales are mostly funny and explain how different cultures view aspects of their world. Dave has been a student of the Hawaiian language for many years and has worked as a librarian for the Hawaii State Public Library System for nearly eighteen years, twelve of those as a children's librarian. This 45-minute program is recommended for ages 5 and older.  Hawaii Kai Public Library (249 Lunalilo Home Rd.); 10:30 A.M.  For more info, call the Library at 397-5833.
Sandra MacLees, "Spookies" – Sandra MacLees, who has been a storyteller for more than 30 years, will share spooky stories from around the world of things and beings that you'd never believe in unless you happened to bump into them.  MacLees has had a few encounters herself and can speak from experience. Kapolei Public Library (1020 Manawai Street); 10:30 A.M.  For more information, please call the Library's Children's Services Desk at 693-7050.
Maisy Visits Storytime! – Join the bookstore for a very special Storytime with Maisy! They'll be reading some of her most favorite books, including Maisy Goes on Vacation by Lucy Cousins.  This is a costume character storytime event.  Barnes & Noble Kahala Mall (4211 Waialae Avenue); 11:00 A.M.  For more information, click here.
Special Children's Storytime – Come to the book store every Saturday for a fun keiki story time reading.  This week they will be reading Captain America Joins the Avengers by Rich Thomas.  No lazy slacker, Captain America gets into the fight and joins the Avengers! Brace yourself: high-kicking fun is on the way!  Barnes & Noble Ala Moana Center (1450 Ala Moana Blvd. Suite 1272); 11:00 A.M.  For more information, click here.
Shadow Puppet Fun with Jeff Gere – Storyteller Jeff Gere will teach you how to make simple shadow puppets (freeform or from templates) and improvise stories using them.  The Friends of the Library of Hawaii is sponsoring this program which is recommended for ages 8 to 12.  Hawaii State Library's Edna Allyn Room for Children (478 South King Street); 11:30 A.M.  For more info, call the library at 586-3500.
Author Event with David L. Hammes – Join the bookstore for an event with author and UH Hilo economics professor David L. Hammes! Hammes' new book, Harvesting Gold, explores Thomas Edison's quest to take American money off the "gold standard" — a subject as historically interesting as it is relevant today. In the years following World War One, America's most celebrated inventor was convinced that gold as a foundation for money was wasteful, dangerous, and could not persist. In his view — contra the experts of his day — he was absolutely correct.  Come and discuss this issue with Hammes at the store!  Basically Books (160 Kamehameha Avenue, Hilo); 1:00 P.M. to 3:00 P.M.  For more info, click here.
Author Event: Colleen Houck ("Tiger's Curse" series) – Come and meet Colleen Houck for a special author event at the bookstore.  Houck is the author of "Tiger's Curse," the first book in this New York Times bestselling series.  The last thing Kelsey Hayes thought she'd be doing this summer was trying to break a 300-year-old Indian curse. With a mysterious white tiger named Ren. Halfway around the world. But that's exactly what happened. Face-to-face with dark forces, spellbinding magic, and  mystical worlds where nothing is what it seems, Kelsey risks everything to piece together an ancient prophecy that could break the curse forever. Tiger's Curse is the exciting first volume in an epic fantasy-romance that will leave you breathless and yearning for more.  Barnes & Noble Kahala Mall (4211 Waialae Avenue); 1:00 P.M.  For more information, call the bookstore at 808-737-3323.  Source.
Sunday, June 17
Happy Father's Day to all of the wonderful dads in Hawaii and around the world!
[gn_divider]
Remember, all events listed above may be subject to change. Please contact the venue beforehand if you plan on attending. We encourage you to click on the links that are included with the events in the time line above. More events can be found on our Hawaiʻi Book Blog Events Calendar. You can also keep up with events through us on Twitter by following @HawaiiBookBlog.
If you have an event you would like us to help promote, please leave us a comment here or e-mail me at aalba@hawaiibookblog.com. Mahalo and have a great weekend!