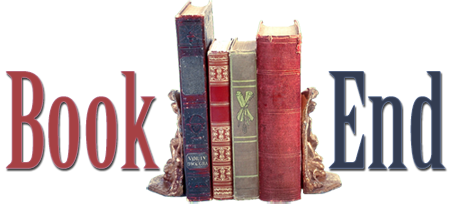 It's time…it's time…it's Book End Time! Welcome to this week's Book End, highlighting the week's literary and library events here in Hawaiʻi.
Support our local literary scene and our local libraries by attending these events.  Have a great weekend, everyone!
Hawaii Libraries Observe Kamehameha Day
In observance of the Kamehameha Day 2012 Holiday, all public libraries will be closed on Monday, June 11.  Twelve libraries which are normally closed on Mondays will also be closed on Tuesday, June 12:
Oahu
Aina Haina Public Library
McCully-Moiliili Public Library
Waialua Public Library
Waikiki-Kapahulu Public Library
Island of Hawaii
Hilo Public Library
Kailua-Kona Public Library
Thelma Parker Memorial Public & School Library
Kauai 
Hanapepe Public Library
Princeville Public Library
Maui
Kahului Public Library
Kihei Public Library
Lahaina Public Library
Please visit the HSPLS website for a complete listing of public service hours for libraries.
[gn_divider]
Saturday, June 9
Friends of the Library Kona (FOLK) Book Sale – FOLK host a book sale on the second Saturday of each month with a few exceptions.  F.O.L.K. Members receive 20% off Lanai Sales.  Proceeds from the sale will go to help fund Kona libraries.  The book sale will be held on the library's lanai. To volunteer email: booksales@folkhawaii.com. Kailua Kona Library Lanai (75-138 Hualalai Rd.); 9:00 A.M. to 1:00 P.M. For more info, visit the FOLK website.
Grand Opening Ceremony: Manoa Public Library – The public is invited to attend this free event and parking will be available at Noelani Elementary School Field.  The new 29,425 square-foot Manoa Public Library is located on the site of the original building at 2716 Woodlawn Drive. The celebration will feature live music, a book brigade from the interim site to the new Library, scavenger hunt, reading time, speakers, stenciling and crafts, refreshments, and much more.  Manoa Public Library (2716 Woodlawn Drive); 10:00 A.M. to 2:00 P.M.  For more info, click here.
Dreamers and Schemers: Folks with Big Ideas! – Peter and Melinda Wing, a husband-and-wife duo of storytellers and musicians, will present "Dreamers and Schemers: Folks with Big Ideas!" which will feature interactive and humorous stories, songs, and skits derived from traditional folklore and music especially for children and families.  Admission is free.  Children ages 3 and older, accompanied by a parent or caregiver, are invited to experience this event.    Kihei Public Library; 10:30 A.M.  For more information, please call the library at 875-6833.
Special Children's Storytime – Come to the book store every Saturday for a fun keiki story time reading.  This week they will be reading Red & Yellow's Noisy Night by Josh Selig.  Red and Yellow live together in the branches of an olive tree — but these two friends are as different as can be and sometimes have trouble co-existing together.  Barnes & Noble Ala Moana Center (1450 Ala Moana Blvd. Suite 1272); 11:00 A.M.  For more information, click here.
Origami with Ashley Nishimura – Nishimura and assistant Ted Uratani will teach you how to fold paper into animals, boxes, and much more.  This program is recommended for ages 8 to 12.  Edna Allyn Room for Children-Middle Reader Room at The Hawaii State Library (478 South King Street); 11:30 A.M.  For more information, please call the Library at 586-3510.
Meet The Stars – Join together in the library meeting room, as the Institute of Astronomy from the University of Hawaii presents a closer look at our stars with Starlab, a portable planetarium. StarLab is an innovative mobile planetarium that simulates the stars and constellations of the nighttime sky. Children under 12 years must be accompanied by an adult.  Liliha Public Library; 1:00 P.M.  For more info, call the Library at 587-7577.
Let's Talk About 'The Dreamer' by Pam Munoz Ryan – Todd Sammons, Associate Professor of English at the University of Hawaii at Manoa, will lead a discussion of the author's fictionalized account of the childhood of renowned Chilean poet Pablo Neruda, an imaginative dreamer despised by his harsh authoritarian father. "The Dreamer" has won numerous awards including the Pura Belpre Medal, and was a Boston Globe-Horn Book Honor Book.  Children's Literature Hawaii will provide free copies of the book to participants.  Hawaii Council for the Humanities is sponsoring this program.  This program is for ages 8 through adult.  Edna Allyn Room for Children-Middle Reader Room at The Hawaii State Library (478 South King Street); 2:00 P.M.  For more information, please call the Library at 586-3510.
Reknown Healer Book Reading –  If you're on the Big Island, come to this Book Reading and Signing with healer Cindy Sellers for her new book You Don't Have to Hurt Anymore…a holistic approach to the understanding of body, mind, and spirit.  Have you ever wondered what to eat to be healthy?  Have you ever wondered what your spleen is for?  Do you understand what causes diabetes, cancer, and headaches?  Did you know that the liver does 535 different functions including regulation of your blood pressure, cholesterol, and sugar?  Have you ever felt unwanted and alone?  How does judgment and criticism affect your kidneys and your life?  What does love have to do with a healthy immune system?  Do you know you can heal your heart and know your purpose?   Miracles Happen!  Pahoa Village Museum (15-2931 Pahoa Village Road); 3:00 P.M.  Source
Sunday, June 10
Kempo Demonstration – Kempo is a practical form of self-defense developed in Hawaii that uses the most effective techniques of several different Japanese and Chinese martial arts.  Practitioners not only learn self-defense, but also self-confidence and a positive attitude.  Children benefit by learning personal safety, discipline, and respect for others.  Head Instructor Brian Wong and his students from a local Kempo group will demonstrate techniques that can be used by children, teens and adults.  Wong, who has 20 years of experience in Universal Kempo Karate, has developed a training system that focuses on using techniques in realistic situations.  This one-hour demonstration is suitable for ages 5 and older and anyone who wants to learn more about this "local" form of self-defense.  Kaimuki Public Library; 2:00 P.M.  For more information, call 733-8422.
[gn_divider]
Remember, all events listed above may be subject to change. Please contact the venue beforehand if you plan on attending. We encourage you to click on the links that are included with the events in the time line above. More events can be found on our Hawaiʻi Book Blog Events Calendar. You can also keep up with events through us on Twitter by following @HawaiiBookBlog.
If you have an event you would like us to help promote, please leave us a comment here or e-mail me at aalba@hawaiibookblog.com. Mahalo and have a great weekend!