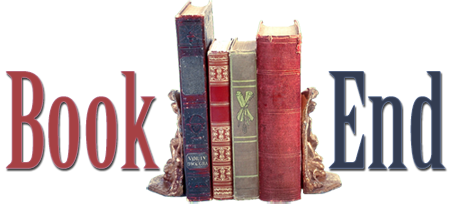 It's time…it's time…it's Book End Time! Welcome to this week's Book End, highlighting the week's literary and library events here in Hawaiʻi.
Support our local literary scene and our local libraries by attending these events.  Have a great weekend, everyone!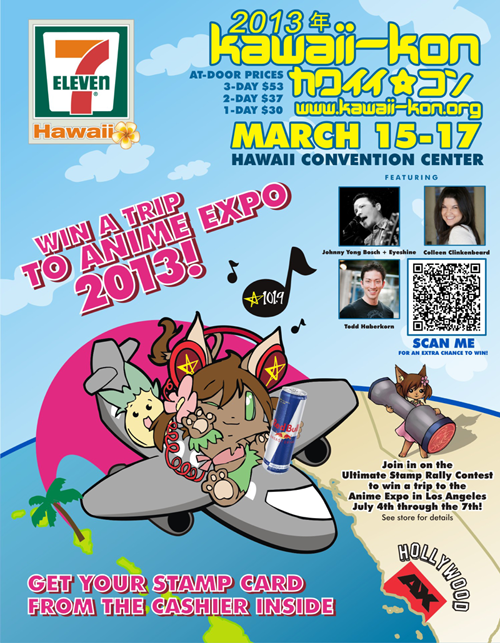 Kawaii-Kon (March 15-17)!
Kawaii-Kon is starting today, Friday, and happening through the weekend!
Pen & Ink Works will be located in the Artist Alley at table #66. They return with the Charity Calendar Project consisting of Hawaii's hottest up-and-coming anime artists, Karina Bailey, Rose Dela Cruz, Brady Evans, Katie, and Siena Kubo. Calendars are 11×17″ posters and available for $5. All profits will be donated to Shriners Hospital for Children Honolulu.
Local sci-fi author Linda Nagata, whose latest novel The Red: First Light recently came out, will be at Kawai-Kon today (Friday), leading a discussion titled From Initial Idea to Printed Book: One Path to Writing and Publishing a Sci-Fi Novel from 5:30pm-6:30pm.
Children's book illustrator and Star-Advertiser's "Calabash" cartoonist Jon J. Murakami will debut his new comic series "Senbei Sentai: The-Ara Rangers" at Kawaii-Kon. He'll be located at Artist Alley table 55.
For even more about this event, check out Jasan Yadao's article on Honolulu Pulse and coverage on Otaku Ohana and Twitter.
Spring Reading Program (Kapolei Public Library)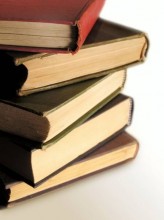 This program will last from March 18 to March 30. Children in sixth grade and younger are invited to sign up for this two-week program which encourages reading at least 20 minutes a day, and coincides with most schools' spring intercessions.  The Friends of the Library Kapolei is sponsoring this program and participants will receive weekly prizes and be eligible to win bonus awards… just by reading!  Younger children whose parents read aloud to them are also invited to participate in the program.  For more information, call 693-7050. Some upcoming events related to the program include:
March 18, 10am: Ohana Music Together will present a music and movement event for keiki to kick off the program. 
March 30, 10:30am: Zachary Johnson of Zac's Rabbitry and some of his pet rabbits will be featured in the Library's 2013 Spring Reading Program Finale event.  Learn about rabbits and how to care for them.
[gn_divider /]
Friday, March 15
Ma'i Lepera Book Launch – Come along to the bookstore for Ma'i Lepera: Disease and Displacement in Nineteenth Century Hawai'i by Kerri A. Inglis. UH Hilo associate professor of history Kerri Inglis will discuss her newly published work, Ma'i Lepera, which sheds light on the Kānaka Maoli who contracted leprosy and were sent to the remote peninsula traditionally known as Makanalua, in north Molokai. The book offers compelling evidence of how the disease and its treatment altered Hawaiian perceptions and changed the way Kānaka Maoli viewed themselves—affecting their connections to each other, their families, their islands, and their nation. The book can be purchased at the event for $24. Please stay for a book signing and refreshments after the talk. Native Books/Nā Mea Hawai'i at Ward Warehouse; 6:00 P.M. to 8:00 P.M. 

For more information call (808) 596-8885.
Saturday, March 16
Waialua Library Book Sale – Friends of the Waialua Public Library holds a book sale at the library every 3rd Saturday of the month! There is also a bake sale at the book sale. Join the Waialua Friends in supporting the Library and find cheap books and ono treats!  Waialua Public Library (67-068 Kealohanui St.); 9:00 A.M. to 2:00 P.M. Call (808) 637-8286 for more info.
Aiea Public Library Groundbreaking – 

The Hawaii State Public Library System (HSPLS) will conduct a groundbreaking ceremony for the new Aiea Public Library on the site of the old Aiea Sugar Mill. Governor Neil Abercrombie and other invited dignitaries are scheduled to attend the ceremony. 

The new 17,200 square foot replacement Library was designed by CDS International and will replace the existing 10,000 square foot Library at 99-143 Moanalua Road that opened in 1964. The new Library is expected to achieve LEED Silver Certification and will be highly sustainable with features including a high efficiency air-conditioning system, 6,000 square feet of photovoltaic panels, natural daylight harvesting to minimize use of artificial lighting, motion sensors, and a light-dimming system. Pohai Place off of Halewiliko St. (see map); 10:00 A.M. For more information, call 483-7333 and/or view this flyer.

Local Genealogy Workshop – James (Sonny) Gay will conduct a workshop on how to search for your local genealogy information using the free website familysearch.org. Mr. Gay is an experienced, trained genealogy researcher and as a Kapolei resident and board member of the Villages of Kapolei Association, knows his community well. He will be conducting a live demonstration of the website and attendees are encouraged to bring their questions. This one-hour program is suitable for ages 18 and older. Registration is not required. Kapolei Public Library (1020 Manawai Street); 10:30 A.M. For more information, call 693-7050.
Children's Storytime – Join the book store for a special Storytime as they will be reading Nothing Ever Happens at the South Pole by Stan & Jan Berenstain. Is there anything going on at the South Pole? Any slippery slopes? Wild animals? Mr. Penguin says "nothing is going on," but he should take another look. What was that? Held in the Children's Section. Barnes & Noble Ala Moana (1450 Ala Moana Blvd. STE 1272); 11:00 A.M. For more info, click here.
Book Event for Maya and the Turtle: A Korean Fairy Tale – Come down to the Hilo bookstore for an event with local authors John Stickler and Soma Han! Stickler and Han will read and sign their latest collaboration, an authentic Korean fairytale entitled Maya and the Turtle. This delightful tale features a generous heroine with a glorious destiny that she has yet to fulfill. When her father falls ill, Maya is determined to cure him. With the help of her lucky turtle friend, she faces the evil centipede that haunts a neighboring village to get the supplies she needs to help her father. Engaging illustrations and facts about Korean culture sprinkled throughout make the book worthwhile. Maya and the Turtle is dedicated to Soma's mother, who heard the story at her mother's knee during the reign of King Kojong and passed it along to Soma when she was a little girl. Don't miss this fun, keiki–friendly event at Basically Books! Basically Books (160 Kamehameha Ave., Hilo); 1:00 P.M. For more info, visit basicallybooks.com.
Book Reading w/ Tom Peek (Daughters of Fire) – Tom Peek will be reading from his new novel, "Daughters of Fire" at the book store! Come to listen to the reading and stay to talk story and/or get your book signed! This reading is also part of a Bookfair to benefit the Pacific Writers' Connection. Barnes & Noble will donate 10% of all purchases by PWC's supporters in their stores or online on March 16-17 to support PWC's writing programs. This includes books, music, DVDs and coffee/food from Starbucks in B&N stores. Just mention the Pacific Writers' Connection when you make the purchase, and give the salesperson PWC's 

Bookfair ID# 11066164

. Barnes & Noble, Kahala Mall (4211 Waialae Ave.); 1:00 P.M. 

For more information, call the book store at 767-3323.
Haleakala talk w/ author Jill Engledow – Maui author Jill Engledow will share stories from her new book, Haleakala: A History of the Maui Mountain. Her talk, titled "The Park in Our Backyard," will offer a short history of Haleakala National Park, the people and events that led to its establishment, and its growth and impact on the island today. Engledow is a free-lance writer who specializes in Maui history. Haleakala, tells the story of the mountain that makes up East Maui, the "crater" at its peak and the national park that protects its pristine lands and endangered species. Maui Friends of the Library is a volunteer-run organization that supports public libraries in Maui County. The group sells used books in several venues, as well as new Hawaiiana titles. Maui Friends of the Library bookstore (Queen Kaahumanu Center); 2:00 P.M. 
Sunday, March 17
Book Reading by Tom Peek from Daughters of Fire – Tom Peek will read from his new novel, Daughters of Fire. 

Tom Peek's novel offers a window into the complex reality of life in contemporary Hawai'i. His storyline moves between, in, and around native/western worlds with relative ease, creating an intriguing tension and discomfort that makes for great storytelling. Peek's understanding of place, culture, and current issues is deep and respectful, without being heavy-handed. Daughters of Fire is a terrific read for people who want more than a "fun-in the sun" read." —Maile Meyer, founder and owner of Native Books / Na Mea Hawaiʻi. 

Revolution Books (2626 South King St.); 3:00 P.M. For more info, visit Revolution Books website.
Monday, March 18
Mixing Innovative Arts March Event – Poetry, Music, Fiction, Arts! This month is March Madness featuring two M.I.A. events! This first event features fiction superstars Kaui Hart Hemmings and Lauren Grodstein. Hemmings is the author of the novel-turned-film The Descendants. Grodstein's last novel A Friend of the Family was a Washington Post Book of the Year. All ages welcome, bar is open with ID. Parking is available in their parking lot along the side of the cafe. Additional parking can be found at the warehouse next door at 839 Queen Street, Wesellthings4u. They also recommend parking on Ward or Cooke Street and taking a healthy stroll to Fresh Cafe. Fresh Cafe's Loft in Space (831 Queen Street); 7:30 P.M. For more info, visit M.I.A.'s website.
[gn_divider /]
Remember, all events listed above may be subject to change. Please contact the venue beforehand if you plan on attending. We encourage you to click on the links that are included with the events in the time line above. More events can be found on our Hawaiʻi Book Blog Events Calendar. You can also keep up with events through us on Twitter by following @HawaiiBookBlog.
If you have an event you would like us to help promote, please leave us a comment here or e-mail me at aalba@hawaiibookblog.com. Mahalo and have a great weekend!