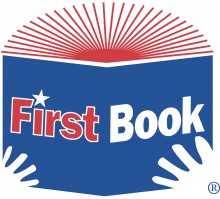 Wow, what a busy time we had the last week.  We arrived back from Japan on Tuesday of last week, had all kinds of personal and organizational commitments to attend and then worked hard on our annual Rec-Fest on Saturday.  It was a lot of fun, and we hope you enjoyed the reviews.  But the fun doesn't end there…next week Thursday, March 25, marks the beginning of the celebration for Hawaii as there will be a big rally at the Hawaii State Library hosted by First Book-Oahu.  Hawaii Book Blog is helping as one of the sponsors for the event and will be present for all the festivities.
They're hoping a lot of people will attend the rally to mark Hawaii winning First Book's "What Book Got You Hooked?" campaign which provides 50,000 books to the state who received the most votes.  You may remember back in September when Hawaii shot up from 45th to 1st place in a matter of weeks thanks to social networking, word-of-mouth and a few spots on the 5 o'clock news (I'm looking at you Brianne Randall).  Well, now everyone who helped bring Hawaii's keiki to the forefront can join in the celebration at the Hawaii State Library.  Check out the First Book-Oahu website to keep up to date with more information about this event.
Now on to the weekend!
Friday, March 19
Don't forget it's Library Furlough Day.  All Hawaii State Public Libraries are closed. 🙁
10:00am – Library and Faculty Development, Honolulu Campus of the University of Hawaii is hosting "12 Exciting Things You Can Learn From A Librarian" at the HCC Library.  Join Reference/Instruction Librarians Carol Hasegawa and Stefanie Sasaki as they share tips and tools to improve, enhance and sharpen your research skills and entertain your friends.  More info
04:30pm – At the University of Hawaii, Manoa Campus, Moore Hall 319:  Book launch and signing for Professor Robert Perkinson's new book, Texas Tough: The Rise of America's Prison Empire.  Remarks by Mari Matsuda and Meda Chesney-Lind.  More info
10:00pm – Twi-hards: At all Borders Bookstores in Hawaii, an exclusive Midnight Release Party will feature the Borders New Moon Movie Awards. Visit this site for more information and to vote! Activities will vary by store.
Saturday, March 20
Sunday, March 21
10:00am – Barnes & Noble Kahala will be hosting The Hawai'i Tolkien Society book club.  Free and open to the public, they will be discussing the work of J.R.R. Tolkien.  More info
10:30am – Children's storytime at Kaimuku Public Library.
12:30pm – Author event at the Maui Ocean Center, Ma'alaea.  Book signing and apperance with Jamie David, author of Johann Sebastian Humpbach.  More info

01:00pm – Meet the Author Book Signing at the Maui Ocean Center, Ma'alaea.  Meet authors Judi Riley, Maile Getzen and Cooper Riley.  More info
02:00pm – Learn the art of flower arranging at Kaimuki Public Library from 2pm – 4pm.  Call 733-8422 for more info.
Remember, all events listed above may be subject to change.  Please contact the venue beforehand if you plan on attending.  More events can be found on our Hawaii Book Blog Calendar.
If you have an event you would like us to help promote, please leave us a comment here or e-mail me at aalba@hawaiibookblog[dot]com.  Replace the [dot] with a '.' when you compose the message.  Mahalo and have a great weekend!