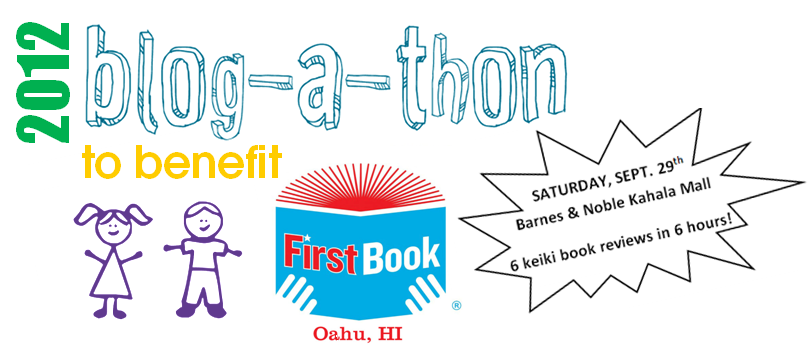 This weekend, Sept. 29th and 30th,  First Book Oahu is having a Book Fair Fundraiser at Barnes & Noble! Make any purchase, EVEN at the coffee shop, at any B&N or online using the code 10886000, and help First Book Oahu raise money to provide new books to needy children and organizations in the local community.
Hawaii Reads will be there at B&N Kahala from 10:00am – 4:00pm live blogging keiki book reviews from the store. Send us a tweet or leave us a comment with your book recommendation and maybe we'll feature it as one of our 6 keiki books in 6 hours Blog-a-thon to support First Book Oahu!
There will be bookmarks and coloring pages for the kids, plus a special story time with Feng Feng Hutchins author of "Plenty Saimin" at 11:00 am. Later, at 1:00pm a reading and book signing for the latest Kalaupapa memoir My Name is Makia.
Even if you can't come to the store, you can still support First Book by purchasing online. Visit BN.com/bookfairs from September 29, 2012 until October 5, 2012 and enter our Bookfair ID 10886000 at checkout. By doing so you will be helping give the power of literacy to local keiki who otherwise couldn't afford their own books. Mahalo!
**Don't forget, leave a comment with your favorite keiki book suggestion and enter to win a cute reading tote bag filled with local books! Your recommendation might be part of our 6 books in 6 hours Blog-a-thon!
(see giveaway guidelines)