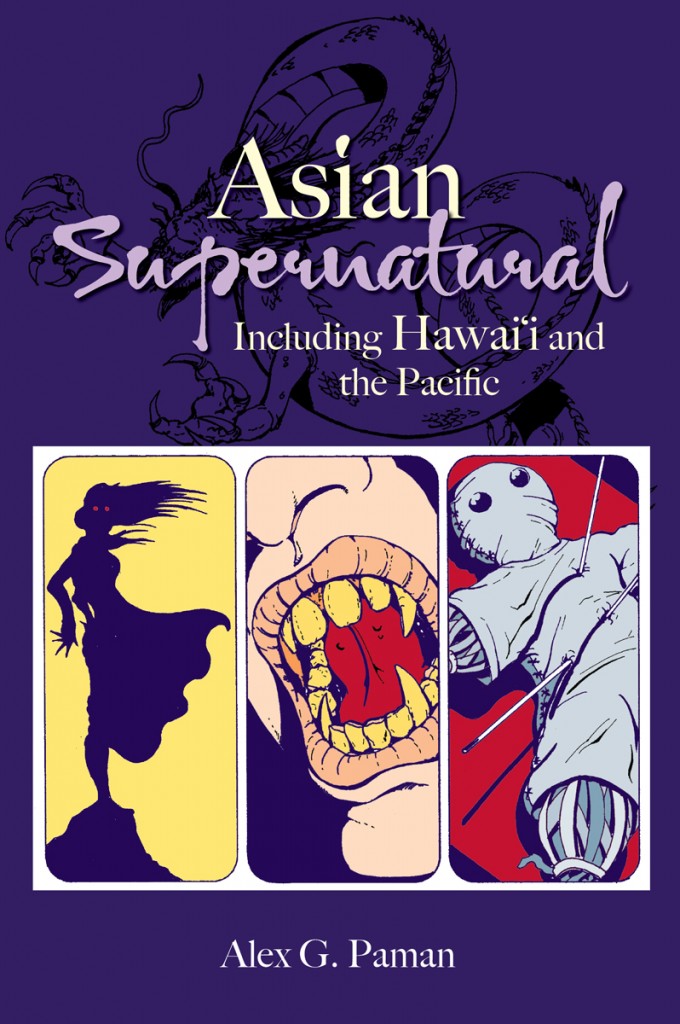 Misty and I love Halloween, it's one of our favorite celebrations during the year.  When October comes, the thought of ghosts, ghouls, demons and witches fill our creative heads as we work with her family to construct a frightening but fun experience for the children trick-or-treating in her neighborhood.  Naturally, we love listening to ghost stories, watching horror films, and reading about paranormal topics.  If this sounds anything like yourself then there is a new book from Mutual Publishing that might pique your interest.
Asian Supernatural: Including Hawaii and the Pacific by Alex G. Paman is a comprehensive guide into the world of Asia and the Pacific's mystical heritage.  Paman spent years passionately searching and cataloguing supernatural references from Asian cultures and it has payed off in this wide-ranging collection.
Organized by country, Asian Supernatural lists entries like a dictionary, briefly explaining each item with information ranging from a short sentence to a small paragraph.  You'll discover the Thabe who in Myanmar are the ghosts of women who died in childbirth and are particularly feared;  Vietnam's Ma Than Vong which is a spirit that compels people to commit suicide by whispering in their ears; Tibetan Towos who are ferocious, brain-eating beings; and the Malay/Indonesian Hantu tetek, "breast ghost", who is a spirit known for having ridiculously enormous breasts that it uses to smother its victims.  Pretty cool stuff, huh?  In addition, Alex Paman shows off his artistic talents by visually enhancing a few select entries with his own personal illustrations.
One of the more useful features toward the back of the book is the Cross-Cultural Index which compares the names of supernatural creatures, items, and occurrences across the different included cultures.  For example, I can tell you that ogres are known as busaw in Filipino, oni in Japanese, hariti in Sanskrit and yakshas (yaksas) across India and Southeast Asia.  Over thirty different categories are compared ranging from Vengeful Women Ghosts and Mysterious Ape-Men to Fireballs and Amulets.
There is one interesting tidbit about this book that you might not read about elsewhere.  I noted it a few weeks ago in my post about Filipino-American History—while Asian Supernatural covers a broad spectrum of Asian and Pacific supernatural definitions, where it highly excels is in the extensive cataloguing of Filipino entries, even breaking them down by region and dialect.  This section, obviously culled from the author's own personal background and experience—Paman was born in Quezon City—is more than twice as long as the second largest chapter in the book, which happens to be Japan.  Also, although Hawaii is included in the title, the amount of information from our island home is relatively sparse.  In fact, Hawaii is grouped together in one chapter with other Pacific islands like Samoa, Tonga, Tahiti and New Zealand.  It's a small gripe, as the broad spectrum of Asian countries included is still very impressive.
So this Halloween season, if you're looking for a new book to educate you on the darkest creatures of Asia and the Pacific, I highly recommend taking a look at Alex Paman's Asian Supernatural.  Just don't go crying into your pillow at night when you can't get the vision of Hantu tetek smothering you in your sleep out of your head.  🙂
You can also check out Mutual Publishing's Facebook page for some free examples.  Every day this month they've been posting a different entry with illustration from Asian Supernatural.
Celebrate Halloween with Asian Supernatural:
In celebration of Halloween, you can meet author Alex Paman of Asian Supernatural this weekend at the following special events:
Oct. 29th, 7pm – Borders Ward
Oct. 30th, 1pm – Borders- Waikele
Oct. 30th, 3pm – Barnes and Noble- Ala Moana
Oct. 31st, noon – Borders Pearlridge
Oct. 31st, 1pm – Barnes and Noble- Kahala Mall
Asian Supernatural: Including Hawaii and the Pacific
By Alex G. Paman
Mutual Publishing, 2010
288 pages, paperback
*Disclaimer: We received a complimentary copy of this book from the publisher in exchange for our honest review.