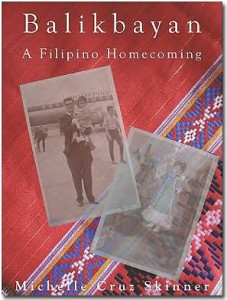 It was the Marcos regime in the mid-1970s that coined the term balikbayan by joining the Tagalog words balik, to return, with bayan, meaning town and nation. A balikbayan's relationship to the Philippines is construed in terms of his sentimental attachments to his hometown and extended family rather than his loyalty to the nation-state. At the same time, being a balikbayan depends on one's permanent residence abroad. It means that one lives somewhere else and that one's appearance in the Philippines is temporary and intermittent, as if one were a tourist.1
It's my mom who is always bugging me to go in my closet and pick out some old t-shirts that I don't want anymore and any used hats or cheap trinkets lying around the house.  I am a bit averse to doing so because a) I'm somewhat of a packrat, and b) I'm lazy.  Eventually, through pangs of guilt, I'll sort through my closets and drawers and pick a few shirts I'll probably never wear again (who wants Red Sox t-shirts?).  She  asks me for these things so she can prepare a Balikbayan box to send back to our relatives in the Philippines.  My contributions are in addition to the non-perishable food, toiletries, American or Hawaiian souvenirs and other household items that she so skillfully packs into that big, cardboard box.  The box along with the relationship of the people who send and receive them are such a unique part of the Filipino culture—an aspect that is touched on along with numerous others in Michelle Cruz Skinner's debut collection Balikbayan.
Balikbayan is a compilation of eleven short stories, set in the Philippines, colored with the accounts and experiences of Skinner's youth and adulthood.  These stories were originally published in 1986, but the modern edition I read is printed by Bess Press and is available for sale on their website and in your local book stores.  These stories provide intimate perspectives that will resonate with you, even if you're not of Filipino decent.  Even if you can't relate, it's hard not to empathize with the simple human struggle portrayed in these stories. They provide an insider's look into the socioeconomic divide and reckoning of disparate cultures living together in the contemporary Philippines.  These stories carry the burden of the common Filipino national, struggling to relate with strangers in their own communities—foreign and indigenous—as well as grasping with their own social and cultural identities.
All of the stories, deep with personality if often simple in its words and description, evoke certain emotions from you as you read your way through the book.  Most of them are sad or solemn in some way or another.  Not only are they about Filipinos from various backgrounds—but through the backdrops and interactions of the characters within the stories you get a glimpse of the various facets and uniqueness of Filipino culture.
The book opens with the story "Faith Healer" which was selected for nationwide syndication in the PEN Syndicated Fiction Project.  It's told from the perspective of a young child interacting with her Lolo (grandfather) during the time of martial law declaration in the Philippines.  "They Don't Give Scholarships to Artists" is a very brief, simply stated account of a young girl's attempt to get a scholarship to go to high school.  The conflict is that she is honest in her aspiration to be an artist—which is looked down upon as essentially a useless profession, and that if she goes to school she can't work to help the family out.  "Simbang Gabi" shows us the disparity in economies within a small township as two teenage girls from different backgrounds are joined together in a common yearning for freedom.  For each, this means two different things as they both find each other envious of the other.  "The Television Man" highlights the often gruesome spectacle of devoted flagellants who take part in Easter crucifixion rituals, while "An American Romance" and "In the Neon City By The River" presents the self-importance that foreigners display and their ignorance of the local's lifestyles while interacting with Filipinos in the Philippines.
The one link between nearly all the stories in the book, is one of youth.  The narrators or protagonists for the most part are young, apparently under 40.  We see old people and their thoughts, but only through the eyes of youth.  Nosy aunties, overbearing mothers, wise grandfathers, gruff foreigners, helpless authority figures—they all play a part in the shaping of the characters and culture.  But through reading Balikbayan, we look into the world of the Philippines not as a native, but as a "tourist" trying to comprehend these distinct lives, like Macarthur in "An American Romance," with a little bit of compassion and a lot of arrogance.
About the Author:
Michelle Cruz Skinner, originally from the Philippines, has published two short story collections, Balikbayan and Mango Seasons (nominated for the 1996 Philippine National Book Award). Michelle has read her stories at the Filipino American Literature Forum, UCLA, Society for the Study of Multi-Ethnic Literature of the United States Conference, Ateneo de Manila University, the University of the Philippines, and the University of Hawai'i. She currently teaches English at Punahou School in Honolulu.2
In 2009, Michelle Cruz Skinner's third collection of short stories, In The Company of Strangers, will be released by Bamboo Press.  On November 17, 2009 at 6:30PM, there will be a book launch and reading at Punahou School, free and open to the public.  Click here for more information.
Balikbayan: A Filipino Homecoming
By Michelle Cruz Skinner
Bess Press, 2008 (Originally published: 1986)
80 pages