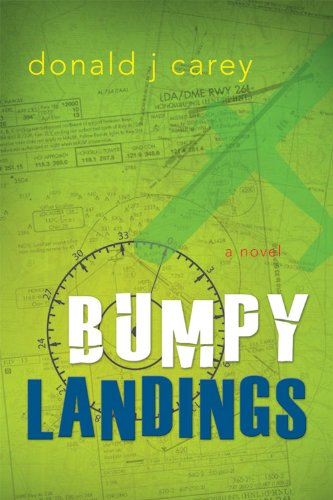 When I first got this book in the mail, I was immediately drawn to the cover design.  I loved the aviation references including the terminal chart, aircraft silhouette and the spiffy "Signed By Author" sticker in the shape of an aircraft turn indicator.  Then, I heard somewhere that the book was something of a "romantic tale" and suddenly had some apprehension.  Not that I can't appreciate a good romance, but as a guy it's usually not the first thing I grab in a pile of books…I leave that sort of thing for Misty.
Bumpy Landings by Donald J. Carey, however, turned out to be a nice surprise.
This book tells the tale of a twenty-one year old named Jordan MacDonald, recently returned to his hometown of Laʻie in Hawaii after a two year mission abroad in Utah.  Jordan is a generally likable fellow with a shy demeanor who is quick to embarrassment.  In fact, Jordan spends an almost awkward amount of time in a state of constant blushing.
This personality trait is just one of the many things Jordan attempts to overcome and conquer in his journey to self-discovery, independence, and achievement.  Jordan, who was the only member of his mission to not have a girlfriend, tries hard to find the right girl.  These sections are full of some touching moments, some funny situations, and some cringe-worthy scenarios.
Another major goal of Jordan's is to finish the flying lessons he began in Utah under the encouragement of his father, who passed away a few years prior.  Jordan has a natural love for flying and his quest for his private pilot's license serves as a metaphor for his development into a man.
Unfortunately, one of the biggest barriers to Jordan's growth is his overbearing mother, Beth.  Beth looms large in the book, whether she's in a scene or not, as she overshadows Jordan's every decision in life—from girlfriends, to spending money, to occupations.   She demands that Jordan give up the notion of flying because she says so, and in turn, serves as the antagonist preventing Jordan from fully realizing his goals.
The pacing of the book is smooth and well-managed; each chapter is long enough to pick up and put down in short bursts, yet ending on interesting notes which make you want to read more.  You could say that a part of this book is a love letter to Laie, as much of the book takes place within this confine—Laie beaches, shops, BYU-Hawaii, and the Mormon Temple figure as prominent settings.  Yes, this book features characters, settings, and morals that are very much Mormon, yet it's not a preachy or religious book by any means.  The simple, straight-forward narrative and basic human struggle to find happiness in life is something everyone can relate to.
Bumpy Landings is a sweet story and a perfect book to bring to the beach.  Sure, there are some goofy/silly romantic-comedy parts that will either make you laugh or cringe, and I thought the final act was a bit bumpy and anticlimactic after most of the main conflicts were resolved.  What I really like about this book is that Carey could have gone overboard on outside details and elaborate exposition which would've clogged down the brisk tempo of the book, but instead is able to incorporate such divergent topics as aviation, romance, personal relationships, Mormon life, Pacific culture and even some minor ethnic conflicts into such a tight, well-paced book.  A recommended read highlighting a part of Hawaii that is often overlooked in local literary circles.
Check out the trailer for Bumpy Landings below:
Bumpy Landings
By Donald J. Carey
Bonneville Books, 2011
ISBN: 978-1599554136
Size: 256 pages, 6×9, softcover
Bumpy Landings Events!!!
Don Carey will host two book events on Friday, February 18th.
The first is a signing at the BYU-Hawaii bookstore from 11:00am until 1:00pm.  The second is a Writing Journeys discussion at the Kahuku Library, from 3:00pm – 4:00pm in the Reading Room.  Carey will be joined at these events by Susan Corpany, an author from Hilo.
Don't miss these events, and your chance to meet author Don Carey!
Disclaimer: We received a complimentary copy of this book from the author in exchange for our honest review.