Tofu may not be as culturally significant to us (here in Hawaii) as rice is, but without it, things just wouldn't be the same. Pork tofu would just be pork! Those soft, pillowy squares of tofu at the bottom of your miso soup are like a surprise prize in your bowl. Without tofu, miso soup would be so sad (picture a frowny miso soup). Obviously my exposure to tofu is lacking if those are the only two dishes I can come up with. Well, enter  the Tofu Cookbook to help educate me.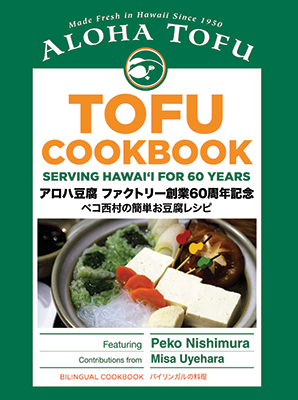 The Aloha Tofu, Tofu Cookbook is the latest culinary book from Mutual Publishing. A quick visit to Aloha Tofu's website and it's easy to see these people are passionate about their product. They've been making fresh tofu and other products locally for 60 years! There are even recipes on their website, and they all look amazingly ono.
The book features contributions from chef Peko Nishimura and Misa Uyehara, and there's enough delicious ways to prepare tofu in this book to last you a whole year! From fresh and healthy salads to hearty soups and stir-frys, and even dessert! The book contains over sixty recipes, in both English and Japanese, as well as step by step instructions for draining tofu, and even some helpful deep frying techniques. If you haven't had fried tofu, you're really missing out.
I love that the book also includes instructions on how to make dashi (Japanese soup stock)–so now I don't have to deal with that paste my dad uses too much of when he's making soup. And now we have sixty yummy new ways to eat healthier–because don't forget, tofu is good for you too! I also love that this is a local company, making a local product and using their expertise to share a book of recipes (that's published locally) with the community. Really a great example of buy local, eat local, read local. 🙂
The pictures are fantastic and the book is organized well. The only little complaint I had was that the Japanese text was a bit distracting at first but you kinda get into it after awhile and it becomes part of the book's charm. This book has been flying off the shelves but according to the Aloha Tofu Blog:
Don't worry, you haven't missed your opportunity to get a copy of your own.  Reprints have been ordered and should arrive in October!  So pre-order your cookbook and receive a FREE Aloha Tofu Cooler Bag ($15 value).  To order, call: 845-2669, fax: 848-4607, or email: sales@alohatofu.com.
Event info:
Tofu Cookbook Demonstrations with Peko Nishimura!
Only at Marukai Dillingham from 11 am to 1 pm on Saturday & Sunday, August 6-7.
Peko Nishimura will create tasty Tofu Donuts.  Stop by to try the "tofu delights" and to purchase your copy of our wonderful bilingual tofu cookbook (it comes with a free Aloha Tofu Cooler Bag).  Cookbooks & cooler bags available while supplies last!