[gn_quote] Ka poʻina nalu became an intense zone where Hawaiians, including politically astute and elite ones, clashed with haole on a battleground over more than simply a Hawaiian sport, but their physical and cultural domination. [/gn_quote]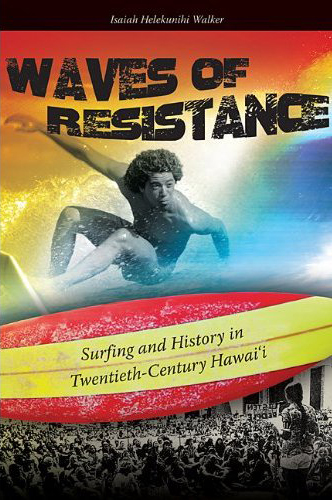 From its Polynesian origins, surfing has grown exponentially into a multi-million-dollar-a-year sport practiced along beaches and coastlines worldwide—even indoors1—covered ravenously by television and print media, and sponsored by fashion and equipment corporations looking to promote a specific lifestyle.  This lifestyle has been cultivated in the twentieth century through mainstream American music, film, and other media, promoting an image portrayed by characters such as Gidget, Jeff Spicoli, and musicians like the Beach Boys.
A quick trip to Wikipedia (the wellspring of all knowledge in the 21st century), and you'll find the statement: "Surfing's development and culture was centered primarily in three locations: Hawaii, Australia, and California. Until the 1960s, it had only a small following even in those areas."  While its arguable as to what "a small following" constitutes, author Isaiah Walker would find contention with that notion as it pertains to Hawaiʻi, and states as much in his new book Waves of Resistance: Surfing and History in Twentieth-Century Hawaiʻi (University of Hawaiʻi Press, 2011; $24.99).
In this book, Isaiah Helekunihi Walker takes a look at the Hawaiian history and culture of surfing—a sport practiced by the Kānaka Maoli for over 1,500 years and diffuses it through the lens of the social, political and cultural upheavals in the late nineteenth and twentieth century.  The focus is primarily on the poʻina nalu, or surf zone, which Walker argues Hawaiians turned to and used, especially after the Overthrow, to redefine their cultural image and assert their own brand of Hawaiian identity in the wake of colonialism.
As the subtitle states, most of the book takes place in twentieth-century Hawaiʻi, a time when academic accounts and surf history tends to gloss over the active participation and contributions of Hawaiians to surfing.  Walker begins with surfing moʻolelo and a history of the overthrow of the Hawaiian monarchy, which set the stage for the twentieth century encounters in the poʻina nalu between Hawaiians and haole.  Later chapters discuss the history of Hui Nalu, the famed surfing club headed by men like Duke Kahanamoku which was formed as a reaction to the prejudice of the haole-only Outrigger Canoe Club; the effects of the Hawaii Tourism industry on manipulating the image of Hawaiians, in a sense feminizing Hawaiʻi to appeal to tourists; the Hawaiian Renaissance of the 1970's and how the Save Our Surf (SOS) group in the 60's helped provide a strong catalyst for the later political protests to come; and the activism and conflicts surrounding the Hui O Heʻe Nalu—a predominantly Native Hawaiian North Shore organization formed to counter the predominantly haole professional surfing industry—and how the Hui were represented in the American media.
Waves of Resistance is a finely crafted book, with well-defined chapters that break down the strongest aspects of twentieth century Hawaiian surf culture into topics to support the author's thesis.  Isaiah Walker has obviously strong opinions and takes bold, confrontational stances against what he sees as a continuation of colonialism in the history of haole encroachment into the poʻina nalu.  Sometimes, especially early on, I feel like Walker almost wants to beat me over the head with his arguments, as their is much repetition to be had, but his points are very well-researched, finely attributed (he has an excellent index and bibliography), and more importantly, break down commonly accepted portrayals of both surfing and Hawaiian history that have often been overlooked by both academics and mainstream narratives.  Heʻe nalu is more than recreation, or a sub-culture to be appropriated.  In a sense Waves of Resistance is like the A People's History of the United States for surfing in the way that Walker eagerly attempts to correct years of non-Hawaiian dominated potrayals which consciously or not have suppressed Hawaiian culture and identity, and marginalized the importance of Hawaiians surfing and controlling their own waters.  As Walker states, "to detach…colonial history from twentieth-century tensions in the surf is culturally irresponsible."
I don't know enough about surfing history to know if there is another book out there that tackles surfing as it relates to Hawaiians in such a bold political manner.  I think that makes this a unique book, one which should be read by people in Hawaiʻi in general and the surfing community at large, if only to continue the dialogue that has started here.  I'll be interested in hearing what others from avenues outside of Hawaiʻi may have to contribute to the topics this book so fervently tries to dispel. Walker is certainly passionate about his subject matter, and history–especially controversial history like the colonizationof Hawai'i–needs passion.
Book Launch Celebration!
The official book launch for Waves of Resistance will take place on Saturday, May 7 from 6:30 p.m. to 8:30 p.m. at Native Books / Nā Mea Hawaiʻi on the ʻEwa end of Ward Warehouse.  Don't miss out on this chance to meet author Isaiah Walker and learn about the importance of surfing to Hawaiian culture.