Here's a new book perfect for October or really any time of the year:
When we think of October, it's easy to associate it with Halloween.  Ghost stories, haunted houses, scary costumes—all of these things go hand-in-hand with the month. But October is also Filipino-American History Month for those of you paying attention to our feeds.  Put those two celebrations together, and you'll find that this is the perfect book to satisfy both.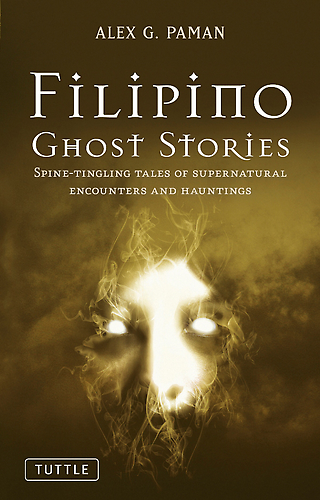 Alex Paman is a talented illustrator who, last year, wrote a book called Asian Supernatural that we reviewed here.  The book, published by Mutual Publishing, went on to win honors at the 2011 Ka Palapala Pookela Awards this past May.  In my review of Asian Supernatural, I noted that one of the largest sections of the book covered supernatural entities from the Philippines, and that this could very well have made up its own book.  Well, apparently Paman had a lot more material to work with and wrote a second book, Filipino Ghost Stories, covering the spooky tales that he'd heard from friends, family and others throughout his life.
These stories don't necessarily have the dramatic polish that you'd expect from Glen Grant's immense collection of tales.  In fact, many of the stories come off very much like word-of-mouth accounts that are told among acquaintances.  Some of the stories are simple where Paman describes how a friend from the village once told of seeing a black shape off beyond the river, or he'll relay a common tale that is well known among the area's inhabitants.  In other cases, the stories are more involved with people—often times named, with specific details and places—and these naturally, are more frightening.  Each tale is no longer than a page or two, but together, provide an interesting collection of supernatural accounts and eerie occurrences.
One of the more interesting aspects, and what ties greatly into Filipino-American History Month, is that these accounts are a great way of gaining insight into the typical day or life of a Filipino.  Culturally, these tales not only define the supernatural elements that pervade life in the Philippines, but also provide a snapshot of the daily regimen of the Filipinos involved.  Dispersed throughout the book are also a few photographs with captions like, "Filipino culture is a blend of East and West, of history and of modernity" and "At its heart, Filipino culture revolves around agriculture."  The book provides stories from three main facets:  provincial tales out in the country, black-out tales from the city, and haunting on American soil.  Rounding out the book is an index of supernatural terms, similar to what you might find in Asian Supernatural.
While these aren't the goriest stories you'll find, they do provide a valuable resource for people who are into Asian ghost stories, specifically Filipino tales and culture.  I'd recommend buying Asian Supernatural first as it's an invaluable reference guide, but Filipino Ghost Stories is a great companion piece to bring together the wealth of information about the Philippines that Asian Supernatural began, adding that much needed human element that brings these beings and places to life.
Filipino Ghost Stories
By Alex G. Paman
Tuttle Publishing, 2011
128 pages, paperback
ISBN: 9780804841597
*Disclaimer: We received a complimentary copy of this book from the author in exchange for our honest, uninfluenced review.