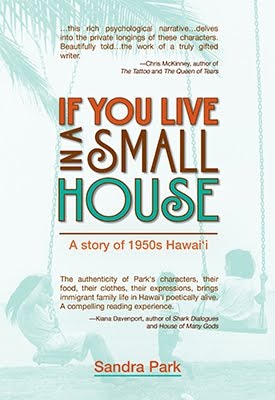 … the Honolulu house was condemned by the Territory of Hawai'i for a highway, a main artery to bring in office workers from the country to the city. Never before had residents lost houses to a highway; they received various explanations on embossed letterhead in long legal envelopes. … Gloria cried on her bed. …The big Honolulu house had gone up in smoke.

–Sandra Park  'If You Live in a Small House'
Somewhere between a novel and a really long poem, this "novella"  is a thought provoking experience of post war Hawaii. Photographs from the period add ambiance and context to this book that, like shards of a mirror, reflect whispery glimpses of what it was like to be an immigrant American living on an island on the brink of change. Park's ghost-like characters  float in and out of the pages where the past, present and future mingle.
If you're looking for a book with a solid plot and clear character arcs, then this is not the book for you. Half the time you're not really sure what's happening or what's already happened, but once you let go of that linear mentality the book is quite enjoyable. You should read this book for the beauty of the words and for the way Park elegantly uses language to construct dreamlike images of what living in a multi-generational home is like. The plot is loose, and weaves around her unique characters like the mist on the Ko'olau mountains.
I think this book will resonate well with locals, especially because they might easily pick up on some of the subtleties of Park's language and characters. It's not just a book about a family living on Oahu in the 1950's. It's more specific than that. It's what life was like for a family whose roots were in the plantation and whose lifestyle was changed by American landowners post-annexation. It's about living in the new and growing suburbs of the Windward side, cramming three generations into a three bedroom house, chasing the future and haunted by the past with everyone's hopes dreams, fears and regrets on top of each other. It's what's happening, even now.
Chris McKinney was spot on in his review calling it a "psychological narrative". The story is bittersweet. You get a sense of all the things they each long for (space, money, freedom, passion) but also see how much they love and need each other. It reminds me of Charlie Bucket from Charlie and the Chocolate Factory with Grandpa Joe, Grandma Josephine, Grandpa George and Grandma Georgina all in the same bed. Or like a really crowded dinner party, where everyone is talking at once—a jumble of overlapping thoughts and narrative thrown together all at once but it somehow makes sense. Each chapter is like a vignette, jumping from one person to the next.
I highly recommend this book, although frustrating if you're a sucker for serious plot, it's still a one of a kind read. I especially like it for the way it describes specific places on the Windward side, of the stores and buildings, and cultural things like music, products and television shows… it's a very different perspective on the 1950's nostalgia of America. Park also provides discussion points and reading group questions at the back, and a list of resources for further reading.
Check out another review of the book here on a blog that focuses on historical novels or visit blogtalkradio for a recorded interview of Sandra on the blog talk show "Writer's Sanctuary".
* A review copy of If You Live in a Small House (ISBN Soft Cover: 1-56647-927-4) was provided by Mutual Publishing in exchange for an honest review.