Being retired from politics for some time now, Fred Rohlfing isn't afraid to say "I told you so" on a number of political matters—in fact, he literally does so when it comes to the topic of mass transit.  Early in the book he mentions how he lobbied for surveys into mass transit and rail as early as 1961, and considers the current rail implementation idea "overly expensive and poorly planned," summing it up ever so humbly as "The Giant Rail Rat Hole."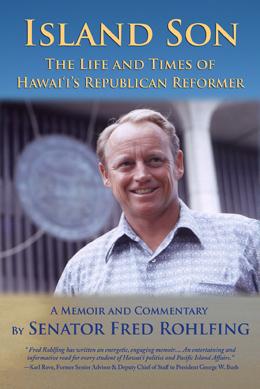 A diversified outlook on Hawaii's issues (despite the 'R' next to his name!) is one of the major points covered in Fred Rohlfing's new memoir from Watermark Publishing imprint Legacy Isle Publishing.  Titled Island Son:  The Life and Times of Hawai'i's Republican Reformer, Rohlfing offers his take on Hawaii politics from the 50's to the 70's, and his personal opinions and solutions on political issues from his era—some which still resonate today—all against the backdrop of his own upbringing in Hawaii from World War II through to his retirement from government in 1988.
While his kind words concerning mass transit provide a taste of some of the more interesting entries, don't be mistaken, this book isn't his platform to snipe at others—although he does offer very blunt and honest opinions on issues both during his political tenure and today.  For the most part Rohlfing both defends his Republican colleagues in Hawaii and calls upon his record as being not only true to his party's ideals but often progressive in nature.
Rohlfing wisely begins the first part of the book with the main course—his political career.  From his first days working for Governor William F. Quinn to moving up through the legislative ranks, Senator Rohlfing provides an interesting political outlook at a time of revolution, when young and idealistic Democrats took control of the government away from Republican rule.  Most of Rohlfing's career takes place during the decline of the GOP; going from a majority in the State Senate, control of the governorship and lieutenant governor, and a popular U.S. Senator to what the party is today—one State Senator, a handful of House members and no representation in the executive branch or in Washington D.C.  During this period, Rohlfing strongly supported his fellow Republican colleagues such as Hiram Fong, Patsy Mink, and D.G. "Andy" Anderson while fighting for issues such as mass transit, land reform, and supporting collective bargaining for the nurses' union.  It's interesting to note the many political battles Fred dealt with, both against Democrats and with rival factions in the GOP and some of the reasons he gives for losing electoral battles and his party losing political ground.
The middle two sections of the book go back in time, detailing Fred's upbringing in Hawaii, reading very much like your basic memoir.  Fred talks about his life in Hawaii—a haole kid growing up in the midst of World War II, going to Punahou and then Yale, and serving in the United States Naval Intelligence, all before becoming a politician of note in Hawai'i.  While interesting in providing a slice of life look at Hawaii during this period, I wasn't as engaged as I was when reading about his exploits in government service.
The final section of the book returns to politics as Fred goes over a number of topics which covers his work in Maui County and his views looking forward at Hawaii's major policy issues.  What I enjoy about Rohlfing is that he not only pinpoints problems in government that he sees from his  perspective, but also provides solutions and ways they can be implemented.  Some of his more interesting ideas include a unicameral state legislature, re-implementing an interisland ferry service (ala Superferry), and transforming "school complexes"—regional groupings of elementary, middle, and high schools—into formal school districts.
A favorite section of mine is one of the appendices entitled "Friends and Foes."  Here, Fred Rohlfing gives the reader his thoughts about prominent political figures from his early career such as Jack Burns all the way to those of today like Charles Djou.  His brief write-ups range from reproach at losing a contest to "a man [Cec Heftel] who bought his way into office," to saying about Democrat stalwart Dan Inouye, "Politics aside, he is my friend."
I appreciate the fact that Watermark's imprint, Legacy Isle was willing to publish a well-produced book from a politician in a party that represents roughly 10% of the elected officials across the State of Hawai'i.  I would love to see more books like this come out written by local public servants representing all corners of the political spectrum.  Fred Rohlfing not only provides a differing opinion from the current prevailing party, but also represents a unique voice from the party he claims as his own—one he felt alienated enough from at one point by what he referred to as "Sunday School Republicans" to recommend forming a completely new political party!  Overall, this book both serves as a unique looking glass from which to view Hawaii's past political experiences and as a guide for young and potential Republicans—there's an inkling of hope in Rohlfing's words that Hawaii's Republican Party, by following his example of moderate/progressive ideals, inventive problem-solving, and cooperative policy-making, can break out of its shell and become a contributing force once again in Hawaii government.
Book Event!
Who:Former Hawaii state senator Fred Rohlfing
What:Rohlfing will hold a Big Island book signing for his memoir, Island Son: The Life and Times of Hawaii's Republican Reformer
When/Where:Saturday, December 11 at Basically Books (160 Kamehameha Ave., Hilo),  808-961-0144.
Island Son: The Life and Times of Hawaii's Republican Reformer
By Senator Fred Rohlfing
Legacy Isle Publishing, 2010
Softcover, 256 pages
ISBN-13: 978-0984421299
Disclaimer: We received a complimentary copy of this book from the publisher in exchange for our honest review.