As regards Hawaii I take your views absolutely, as indeed I do on foreign policy generally. If I had my way we would annex those islands tomorrow.

–Theodore Roosevelt, 18971
Today is the observance of Statehood Day here in Hawai'i which means many things to many people.  Last year Hawaii celebrated fifty years as the 50th state, a convenient excuse our neighbors in the other 49 states might agree would be cause to have a massive celebration.  However, due to the history of the American acquisition of Hawai'i, there was naturally a low-key approach to commemorate the anniversary of statehood2.  A few months ago I read a fascinating book about the annexation of Hawai'i written by independent researcher, writer and producer Tom Coffman—Nation Within:  The History of the American Occupation of Hawai'i.  Given the relation of today's celebration of Hawaii being a part of America, I thought it would be timely to post my review now.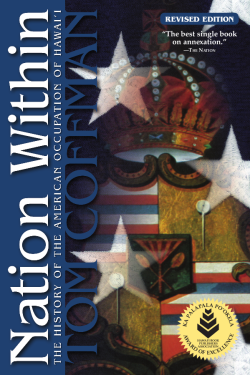 The version I read is the 2009 revised edition from Koa Books.  Originally in 1998, the subtitle of the book was "the American Annexation of Hawai'i", but enough time had passed, and enough thought went into it that Tom Coffman finally felt confident enough to change the word Annexation to Occupation.  On a panel at the recent Hawaii Book & Music Festival, Coffman mentioned that the word "annexation" is a legal word and he wanted to emphasize that America's actions as it relates to the Kingdom of Hawai'i's sovereignty was not an act of legality.  "We are left with the word occupation," he goes on to say in his note on this edition.
The core of Nation Within focuses specifically on the events that lead up to the Overthrow and Annexation of the Hawaiian Islands.  It poses an interesting thesis that many of the common misconceptions about annexation have been obscured by the Americanization of Hawai'i's history and that it was in fact a well-consented goal of the U.S. that Hawai'i should fold into the shadow of American imperialism.  
This book is meticulously researched; Coffman goes above and beyond in culling resources to push forward his main arguments.  He derives his conclusions using an abundance of quotes and references from various primary and secondary sources.  It's not just Coffman's analysis or opinions on display; with every paragraph, he manages to make points, create questions, settle arguments, and move forward the narrative with finely crafted references.  It's truly a dual-nation analysis as he not only covers the events and personalities involved in the plot to annex Hawai'i to the United States, but also analyzes the motives and actions of many key players in Washington D.C.  In fact, as my opening quote indicates, Theodore Roosevelt and his rise to power is an ongoing narrative in the book that parallels the growing push of the United States toward an expansionist and militaristic policy.  On the other end of the spectrum, Coffman also makes it a point to wipe away the historical notion that the overthrow and annexation were met with very little resistance.  In Nation Within he references numerous sources pointing to a very strong, patriotic and intelligent Native Hawaiian resistance that existed to oppose the encroachment of their land by the proponents of annexation.
There were a lot of little things about this part of history that I had never heard about, even through my readings of Hawaiian history in school and more recently in online debates and articles about sovereignty.  Coffman draws a truly fascinating link between a small town in Maine and Hawai'i.  Many of the key players in the overthrow and who pushed for American annexation in both Hawaii and in D.C. came from Kennebec, ME, complete with local rivalries of their own which carried over into Hawai'i politics.  Another key aspect I learned much about was, according to Nation Within, the fabrication of a Japanese scare by annexation proponents in the U.S. and Republic of Hawaii governments to stir up fear of a peaceful invasion by Japanese immigrants—one which would undermine the influence of the United States in Hawai'i and lead to Japanese control of the islands.  There are a lot more interesting gems like these spread throughout the book, shedding light on many areas of this time frame that have been hidden by the passage of time.
Yes, this is a controversial topic, and yes, not everyone will agree with all of the points made, the sources cited, and the conclusions, but you cannot deny the vast research and work Coffman put into this book and the end result.  Even though it's obvious his analysis is coming from a specific direction, I felt he did a good job trying to present the various possible viewpoints of each participant.  I haven't read enough books about annexation to call this a definitive work, but after reading it, Nation Within moves to the top of my list for recommendations about this controversial period of American/Hawaiian history.
Nation Within: The History of the American Occupation of Hawai'i
by Tom Coffman
Koa Books, 2009 (Revised Edition)
348 pages
Disclaimer: I received a complimentary copy of Nation Within from the publisher in return for my honest review.