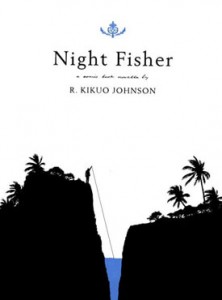 I thought it would be nice to highlight a different medium of literature here at Hawaii Book Blog.  Comic books and graphic novels have slowly gained respect over the years in literary circles and mainstream media.  The format has blossomed over the last few decades, engaging readers with  creative and innovative storytelling techniques.
Knowing that I enjoy a good comic book now and again, Misty borrowed a copy of Night Fisher by R. Kikuo Johnson (Fantagraphics, 2005) from the Kapolei Public Library.  Billed as a "comic book novella," I was able to devour the book in one sitting.
Drawn with sweeping black brush strokes, the novella is done completely in absence of color.  This, however, helps to magnify the tone of the story and brings a subtle heaviness to the work.  The artwork itself is excellent—just check out that beautiful cover in the picture above!  Johnson does a great job conveying character's moods and emotions through angles, posture, and facial expressions.   There is also a fantastic level of detail drawn into the local flora, as plants and agriculture play an important metaphoric role in the story.  Another notable aspect is the use of black and white space:  characters and settings are enveloped in shadows or become silhouettes since a good chunk of the book takes place at night.
Night Fisher is your typical "coming of age" story, highlighting the rougher, realistic aspects of this place we call paradise; shattering the common stereotypes of relaxed life and island luxury.  The main character is a high school senior named Loren Foster, whose workaholic dentist father moved to Hawaii from Boston six years prior.  Loren is a teenager who attends a prestigious private academy on Maui and finds himself slowly losing touch with his best friend Shane, who often keeps Loren out of the loop for his more dangerous (read: cool) ventures.
To paraphrase a line from Kaui Hemmings' House of Thieves, "Being uncool in Hawaii is the worst thing you could be."  Loren, despite his best attempts, always seems a step behind his counterparts.  He is chastised for being a virgin.  After a somewhat intimate encounter with a girl he likes, Loren chose to boost his reputation over advancing the relationship by letting sexual rumors spread.  Loren buys and uses marijuana to fit in, but his contemporaries have already graduated to methamphetamines.  It is this attempt to "catch up" with Shane that drives the majority of the story.  Shane guides him deep into the world of crystal meth, or batu, which leads to late night vagrancy, organized burglary and general apathy towards life.
I don't necessarily think the whole "dark side of paradise" angle is that original.  Many stories seem to revel in showing the seedy underbelly of our Island home.  However, the portrayal in Night Fisher is presented very well, without being judgmental or preachy.  The meth use is neither glamorized nor demonized.  I'm not privy to those circles, but it seems like a realistic take from a teenager's perspective.  You use it, it makes you feel good, it keeps you up all night, but there are still consequences—association with dangerous people, constant theft to pay for drugs, the slow isolation of life and goals which culminates in a surprise ending for Loren in relation to his "race" with Shane.
Some people may not like the ending as it is a bit anticlimactic and doesn't really tie up any loose ends.  But that is life.  Just like Maui, volatile changes and shifting faces affect Loren, but it's these exchanges that shape and create him.  He's constantly trying to keep up with his contemporaries, but finally accepts his fate and lets it take over.  Like everything that has created Maui from its inception, he is a transplant.  When the story ends, he realizes the island is a part of him just as he became a part of the island.
This comic novella may not be for everyone, but if you enjoy these realistic and unapologetic looks at adolescence I recommend giving Night Fisher a read.  Even if the story doesn't resonate with you, the skilled ink drawings will make you appreciate everything that R. Kikuo Johnson has put into this work.
About the Author:
R. Kikuo Johnson was born and raised on the island of Maui.  After attending the Rhode Island School of Design, Johnson relocated to Brooklyn, NY.  You can visit his official site here, although it hasn't been updated since 2007.  In addition, check out this cool, self-styled profile done on Valentiger.
Night Fisher
by R. Kikuo Johnson
Fantagraphics, 2005
144 pages