We've already begun reading books for the "Support Public Libraries" challenge that we signed up for on JKaye's blog. But as I mentioned in this previous post, simply checking out, reading and reviewing 25 books by December 31st isn't enough of a challenge for us. We REALLY want to support Hawaii's Public Libraries because of the important roles they play in our communities. So, as an added challenge we'll be going on a tour of Oahu's libraries, meeting librarians, getting book recommendations and highlighting the unique qualities and programs of each library.
The first couple of books that we'll review for this challenge are of our own choosing since there are only about 22 open library locations on the island. Afterward, each new book will be from a different library and we'll have a whole new story to tell about each visit. It'll be a different view of the Hawaii State Public Library System where each library will have a face, a personality… and they won't be just a list of addresses and "locations".  Not just buildings with inventories of shelves and books. We want everyone to get to know their closest public library and all that it has to offer. We're very excited to get started! So without further ado, here is the first book review in our "Hawaii Public Library Challenge"!
The first book for me was School for Hawaiian Girls (Permanent Press, 2005) by Georgia Ka'apuni McMillen. I was browsing the shelf at the library and hovered in the Hawaiiana fiction section (because I always feel like we don't do enough fiction review on this blog). The summary on the back cover intrigued me, and after reading a few pages from the first chapter I decided to take it home and finish it immediately. You can read the first chapter yourself here at McMillen's official website. I won't summarize too much of the story, for that you can check out this link  here.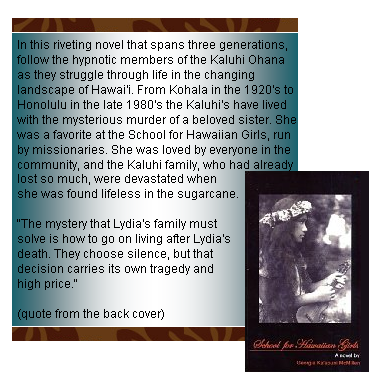 Thoughts on School for Hawaiian Girls:
When you talk about popular contemporary Hawaiian fiction there are a few authors that immediately jump to mind. Kiana Davenport, Lois-Ann Yamanaka, Chris McKinney, Susanna Moore, Milton Murayama and Sylvia Watanabe just to name a few. With the publication of School for Hawaiian Girls, Georgia Ka'apuni McMillen has surely joined the short list of notable Hawaiiana writers. I finished this book in two sittings and could literally not tear my eyes away from the pages.
This is one of those books that become a part of you. It seeps into your bones so that, long after you've finished reading it, you're still thinking about it.  I've read other reviews of this book (it got great feedback on Amazon) and many people have said it was "haunting", which was also my initial reaction in trying to verbally describe it. But it's really so much more than that.
I believe it has to a lot do with the characters. They are so well written that it's almost as if you know them. For me what was most shocking about this book is that it made me feel like these people were my family. The bitter and yet likeable Sam Kaluhi really reminds me of my uncle. Moani, the 37-year-old career oriented entrepreneur too late to jump on the breeding bandwagon who is constantly criticised by her Grandmother for not continuing the bloodline, reminds me of my cousin. In fact every character in the book feels like it could be your second-aunt or grandpa or even your best-friend's hanai sister. The characters are so relatable that you feel invested in the story and curiously motivated to find out what happens to them.
For example, the character of Sam Kaluhi. He's very enigmatic as a boy and grows up to be a controlling and pitiless man who is as far away from his native roots as he can get. He too, is one of the mysteries that unravels itself throughout the book. From a kolohe boy who liked to buck the system to a ruthless businessman with a penchant for violence, money and fighting is how he coped with the death, poverty and racism of his childhood. His whole life was a constant struggle to distance himself from his youth and escape the memories of his sister's death, and his own ultimate revenge.  I must admit, I was drawn to and most enamored with Sam Kaluhi, even with his violent tendencies. At the end, a great deal of his inner character is revealed and despite the despicable things he's done you still want to make excuses for him because of all that you've been through together in the book.
McMillen is a master of implication utilizing vague details that only add to the mysterious ambiance of the story. You feel like the more you read, the closer you are to finding something secret and forbidden (which indeed you are). The book is written as a series of narratives from different characters points of views, memories and events often jumping back and forth between 1922 and 1985. But it's crafted so seamlessly that the book reads very fluidly and goes by at a surprisingly quick pace, especially since more and more of what happened in 1922 is uncovered through Moani's detective work and the memories of Sam and the other characters.
There's so much more to this story than "who murdered Lydia Kaluhi?" and McMillen does an excellent job weaving in complex subplots and interesting, controversial scenes that are still relevant to people today. She didn't hold back in her portrayal of early 20th century Hawaiians who were forced to straddle two cultures–their tendencies toward crime and alcohol, early pregnancy and illiteracy. Her dialogue and descriptives perfectly emphasized the social separation of people living in the islands in the 1920's. Children were forbidden to speak Hawaiian and the native culture was frowned upon by missionary society. Native Hawaiians were treated as second class citizens, segregated from the missionary community yet forbidden to recognize one of their own. All of it gives weight to the characters, gives them substance and makes them real.  All of the situations and grievances that McMillen alludes to in the story were really a part of life for our great-grandparents, and the consequences of that past still haunt generations today like it did for the character Moani in the book.
Indeed as a Native Hawaiian, the family environment written in the story is so similar to the history of my own family. It's not uncommon for local people to have stories about their grandparents being separated from family to work in plantation fields and canneries. Only a couple of generations ago, sisters were sold off to families who needed help in the house. Girls were pulled out of school to start working at home raising their brothers and sisters. Or the younger ones were being taken away to live in missionary homes. It's not so much the compelling murder-mystery but the mixture of bleak realism and complex characters that makes this story so poignant.
School For Hawaiian Girls is a family saga that is as close to reality as a work of fiction can get. The characters are memorable and the story unforgettable. It's not a happy weekend beach-book. It's emotionally heavy with sadness and intrigue filling the pages but it's well worth it.  Something about it begs to be read and shared with as many people as possible. It makes you want to learn more about your own family history; makes you want to ask those hard questions and discuss those sensitive topics. Georgia Ka'apuni McMillen did a masterful job revealing the shadowy aspects of Hawaiian families and the results of generations of secrets. This is a great book to read for young adults and older, especially if you're interested in pre-statehood Hawaiian life. Just keep a box of tissue handy and definitely be on the lookout for more work by McMillen (I will be!).
To read more reviews on this book check out mostlyfiction.com.