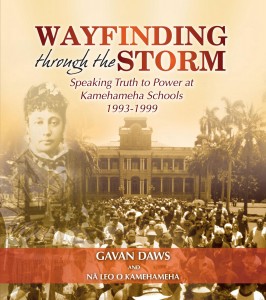 One of the books recommended to us by Manoa Library Branch Manager Christel Collins, as part of our Library Tour Challenge, is the latest historic composition of Gavan Daws. Wayfinding Through the Storm (Watermark, 2009) is one of the most unique books I've ever read.  With the subtitle "Speaking Truth to Power at Kamehameha Schools 1993-1999", Wayfinding Through the Storm is a compilation of 150 individual accounts of the controversy surrounding Kamehameha Schools Bishop Estate (KSBE) Trustees during the greater part of the 90's. It was a dark time, when Pauahi's benevolent legacy was thrust into the national limelight. The voices and perspectives of the people who lived through those tense years, seamlessly and meticulously organized by Daws, convey the events that made up the saddest decade in the history of Kamehameha Schools.
It's an extraordinary piece of non-fiction because the basic story of what went down is being told by 150 people, records and court transcripts, as if it were one narrative. It takes a little while to get used to the idea that you're reading separate pieces of dialogue one after the other; they somehow all make sense, and you can follow what everyone is saying as if the story were being told to you by one person. It's unlike any work of history I've read before and I think it's genius! Imagine asking 150 people to tell you the same story… then taking what everyone says, mashing it together and telling the story again. What a way to learn history!
The book itself is broken up into chapters, each one detailing how the expansion of education, language and cultural exchange were suffocated by the imbalance and abuse of power between KSBE Trustees. Although I am not an alumnus of Kamehameha, I was still interested in reading about what happened through the words of the people who experienced it. Reading about the progressive ideas of the Kamehameha faculty and staff, and the hard work they put into bringing these ideas into fruition for the benefit of Hawaiians, our children, our kupuna and our future (extended education programs, a Hawaiian cultural center, expanded language programs)–only to have those opportunities squandered and those ideas squashed by self-interested oppressors, was truly saddening. It's like watching the movie "Glory"… that feeling you get when you see people being treated unfairly. I had to constantly keep from shouting "but that's not fair! (and yes, the word "meanie" was mentioned several times on my behalf in regard to Lokelani Lindsey). Yet, the book is still hopeful of the future because it was an important lesson learned. Beadie Dawson's quote on the back of the book summarizes it perfectly, "absolute power corrupts absolutely."
This book is an inspiration. First obviously, in that we should always question totalitarian ideals, second, that people can unite and be heard, and third, that history can be learned and told in interesting ways. Wayfinding should be read by everyone, not just people with an interest in KSBE or Hawaiian history. It may seem like a niche subject but the theme is universal and I have to take this moment to congratulate the publishers at Watermark. They continuously produce well-made, provocative books. Not just those that are guaranteed to sell, with proven markets based on current trends or because tourists will buy them… but because they're important stories that deserve to be told.