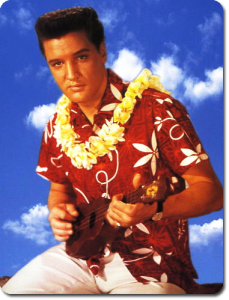 Did you know that August 10 through August 16 is officially designated as Elvis Week?  Graceland (in Memphis, TN) will be hosting a week full of Elvis-related festivities for the diehard Elvis tourist.  Even if you can't be in Memphis during Elvis Week, Elvis.com provides you with a number of ways you can celebrate online:
Twitter: Add a free Elvis Week 2011 Twibbon to your avatar. Also, follow @ElvisPresley and hashtag #ElvisWeek for the most up to date happenings.

Facebook: Watch for daily profile photos on Elvis Presley's Facebook page featuring fans from last year's celebration!

GetGlue: Earn excusive Elvis Week 2011 stickers by checking in and liking Elvis entertainment.

Elvis.com: Watch the live broadcast of the Elvis Presley Candlelight Vigil. The event is on Monday, August 15, from 8:30 p.m. – 10:00 p.m. CST. Don't forget to share your love of the King of Rock 'n' Roll on the virtual wall!

Elvis Mobile Apps: You can download the FREE Elvis Mobile iPhone or Android app for the most up-to-date information. You'll also have access to record Elvis sightings, watch Elvis videos, see exclusive photos and more.
Now, even the most casual Elvis fan knows that the King of Rock N' Roll was a huge fan of the Hawaiian Islands.  This was one of his most favorite places on Earth, so much that he filmed three of his movies here (Blue Hawaii, Girls Girls Girls, and Paradise, Hawaiian Style) along with a few live performances including the famous "Elvis, Aloha from Hawaii" world-wide telecast1.  In fact, think about the Disney movie Lilo & Stitch which is set here.  Hawaii and Elvis are so well connected, they chose to use a number of Elvis songs to litter the soundtrack of the movie.
To commemorate Elvis's time in Hawaii, there are a few books out there you can look at, two of which are put out by local publisher Bess Press.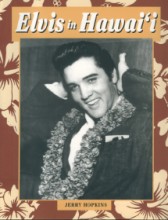 Elvis in Hawaii by Jerry Hopkins (Bess Press, 2002)

This 96-page book details the stories of Elvis and his affinity for the Hawaiian Islands.  Did you know that Elvis came to Hawaii as the result of a roll of the dice between an Australian promoter and Colonel Tom Parker?  Now, the story may be as much of a concoction as the Colonel himself, but it's an interesting tale to hear about; just one of many such tales littered throughout this well-designed book.  Aside from the interesting narratives and first-hand accounts from people who were in Hawaii with Elvis, the book features 100 photographs cataloging his many visits to our island home.  A must-have book for any true Elvis fan, Misty and I have given this book as a gift to friends and family who appreciate the stylings of the King of Rock N' Roll.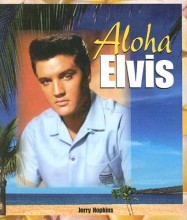 Aloha Elvis by Jerry Hopkins (Bess Press, 2007)
This is a pocket-sized, full-color book by the same author as Elvis in Hawaii.  In fact, although I have not personally read the book, it comes across to me like an abbreviated version of his previous book.  The two have a similar table of contents, though the content itself may differ.  Unlike Elvis in Hawaii, the first chapter includes a simple introduction on the history of foreign impact on Hawaii's music scene, including the introduction of the ukulele and hapa haole compositions.  The rest of the book is all Elvis, with chapters on his "coronation" in Hawaii, his visit to Pearl Harbor, his three Hawaii-set films and his famous live telecast performance—all similar to chapters in Elvis in Hawaii. While I would recommend getting his first book,  Aloha Elvis provides a wealth of information on Elvis' Hawaiian exploits wrapped up in a smaller and cheaper package.
Either way, both books would make a great gift for any Elvis fan worldwide and for any locals interested in the relationship between Hawaii and music, at least where the King is concerned.
So, what's your favorite Elvis song? I have to admit, I'm a big fan of his early Sun Records work. Misty will vouch for the fact that I love singing his rendition of "Blue Moon of Kentucky," albeit with my own made-up lyrics. And Misty is known for blasting "Suspicious Minds" while driving on the freeway with the windows rolled down and singing out loud.
Have a Happy Elvis Week!