Another special guest for the Celebrate Reading Festival is acclaimed author Matt de la Peña. His collection of young adult novels are critically praised, urban dramas with unforgettable characters and themes. Check out our review of Ball Don't Lie here.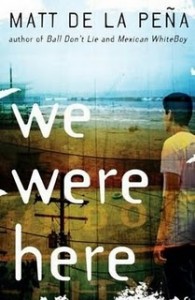 We Were Here is the story of Miguel, a Mexican-American teen who is court ordered into a group home for troubled youth. Here he meets Mong, a borderline sociopath, and Rondell who becomes their cognitively challenged sidekick with all the muscle. The three of them steal the home's petty cash envelope and make a break for Mexico to start over and forget the past. The idea of escape is what bonds them on their way, but freedom for each of them is something different. Through the trials and set-backs of their adventure the boys learn that the journey can often be more important than the destination.
The book is structured as Miguel's journal (another mandate of the court was that he'd have to keep one). Miguel wryly comments that he probably would have written a book about something in his life anyway. He begins with the day his mom dropped him off at juvie. She wouldn't even look at him and he knows it's because of what he did. It's so terrible that Miguel can't speak of it or even think of it. Instead, he buries it behind happier memories so that as the story progresses, you constantly wonder what it was.
After they escape the home and travel south, Miguel records the events that happen, how he feels and what he's thinking. As a narrator, Miguel's voice is amazingly genuine–he's just this misfit teen who is learning that the world is more complicated than he could ever imagine. As they move from one place to another, Miguel experiences more and the narration becomes more internal. The journal helps Miguel deal with his demons and he begins to question himself and his actions. With all of the chaos happening around him–the deep sadness of Mong, the childlike innocence of Rondell– he finally comes to terms with himself. Writing can change people.
Sometimes violent and a little bit graphic, I felt like I was reading a grittier version of Huck Finn. With Miguel as a spunky version of Huck with lots of heart and Rondell as his simple-minded, socially awkward friend the only thing missing was the raft. The book drags a bit in the middle and you wonder what else could they possibly run into to postpone the inevitable. Really though, what I enjoyed most about the book was the honesty of Miguel's character and the unique friendship that develops between the three boys. I also liked how Miguel would pick up books in various places and read them, he would write his thoughts about the characters and how he related to them. As a kid who was influenced by books herself, this resonated with me and made his character even more endearing. I also think the way Miguel uses his journal and the process of writing as a means of expressing his hopes and fears is an important lesson for kids.
There's so much to say about this book. It's perfect for book clubs and classroom discussions, but before I go I have to comment on the book's title. There's a lot of symbolism in the title, and after reading the book, I feel it's quite fitting. At one point in the story Miguel and Rondell carve their names into a rock… "Miguel was here". But you're never really in the same place twice, because you're always different. Even if Miguel goes back to his mom, back to juvie or back to the group home, he's not the same Miguel he was before. De la Peña did a great job of conveying this change while taking the reader through a gamut of emotions–happy, sad, hopeful; all in one book.
We Were Here is an ALA Quick Pick for reluctant young readers, a Junior Library Guild Selection, and the ALA/YALSA Best Book for Young Adults.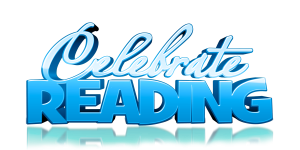 In preparation for Celebrate Reading 2011, check out the reader/teachers guide to Matt's books here. I like to look for online resources and discussion points for books because they sometimes raise questions and shed light on aspects of the story I missed or hadn't thought about. Visit his website to hear podcasts and recent student interviews.. here's a great interview answer from his contact page:
What about 'We Were Here'?

I follow another bi-racial character in WWH. The book was also inspired by two major elements that I pulled from my own experience. First, for two years I worked in a group home in San Jose, California. These kids were just out of juvi and thuggish, but many of them also had an incredible amount of heart. I wanted to show them to readers. But I also had a basketball teammate in college who had unintentionally committed an awful, unthinkable crime. I often watched him. Sometimes he would laugh and joke with the rest and then drift away, his eyes emptying out. In the book I use his crime.

The novel is also my ode to some of the literature that inspired me to pick up a pen myself including: Of Mice and Men, The Color Purple and Catcher in the Rye.