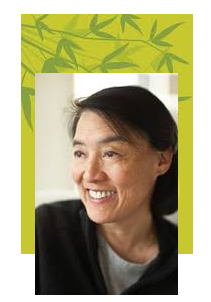 We are excited and honored to have author Gail Tsukiyama as the featured guest during the 2012 Celebrate Reading Festival. She kicks off the festival with a 5:30 pm reading and Q&A session tomorrow (4/19/12) at UH Manoa Art Auditorium. As you'll see from the interview below, Tsukiyama is a talented writer and you'll not want to miss this opportunity to hear her speak!
Gail Tsukiyama has been writing for many years, she is an award winning poet and the author of seven novels. A resident of the San Francisco Bay Area, she has been apart-time lecturer in Creative Writing at San Francisco State University, as well as a freelance book reviewer for the San Francisco Chronicle. Her talent for poetry shows in her mesmerizing stories with strong characters and melodic prose. Gail has been very gracious to answer a few short interview questions for us.
1. The passage of time is central in many of your novels, for example 
The Samurai's Garden has chapters separated by dates. Can you comment  on the importance of time and setting in your stories and how you choose which time frame to write in? 
– A timeframe provides the boundary lines in which to tell a story.  Because so many of my books are historically set, it gives me background information in which to understand how my characters think and live, and how it all colors their world.  The passage of time also allows my characters to grow and change within the circumstances they live through.  I seem to be drawn to the time before, during, and just after World War II.  It's purely subconscious, but my first six novels cross WWII in one way or another!     
2. Once you get an idea for a story or character what is your research  process?
– I usually start by researching the place I'm going to write about.  It gives me a real sense of how my characters are going to live and provides the immediate atmosphere in which my story is going to take place.  From there I begin writing and continue to research along the way.  It all goes hand and hand; one encouraging the other.
 3. In your opinion, what makes a good story? What sets it apart from  others? What do you like to read?
– Good strong characters whose stories draw you in, so that you can't help but want to follow their footsteps.  Language is also very important to me, using it both lyrically and economically.  Some of my favorite books do that for me; from Ian McEwan to Alice Munro to William Trevor.  I loved Room by Emma Donoghue, The Poisonwood Bible by Barbara Kingsolver, and The Book Thief by Markus Zusak.  There are too many books to mention. 
4. What inspires you to write?
– A certain amount of curiosity and that passionate need to have my questions answered, whatever they might be.  Each book has been an exploration of sorts, finding my way through a time and place or a subculture like the silk working girls in Women of the Silk or the Sumo culture in The Street of a Thousand Blossoms.  I also love putting down words on a page and watching them slowly emerge into a world with living, breathing characters.

5. If you could be any fictional character in the world, who would you be?
– That's a hard question because it's hard to narrow it down to one!  There's so many fictional characters with wonderful attributes.  If I were to go back to when I was a young girl, I remember thinking Jo March in Little Women by Louisa May Alcott was free-spirited, independent, creative, and strong enough to refuse to be a conventional female in the 1800's.  Since then there have been so many characters that embody these traits and inspire in much edgier ways, but that spirit remains the same. 

6. Tell us a little bit about your new book A Hundred Flowers coming out in August of this year?
– A Hundred Flowers, is set in late 1950's China during Mao's Hundred Flowers campaign at start of the Cultural Revolution.  It takes place over five months and as with all my books, it's about family and perseverance and courage through difficult times.  While the mother Kai Ying struggles to keep her family together after her husband has been sent away to be reeducated, their son Tao's accidental fall from a tree will uncover family secrets that will threaten everything they've believed in.
Thank you do much Gail for taking some time to answer a few of our questions!
For more interviews with Gail, check out this Conversation with WaterBridge Review.